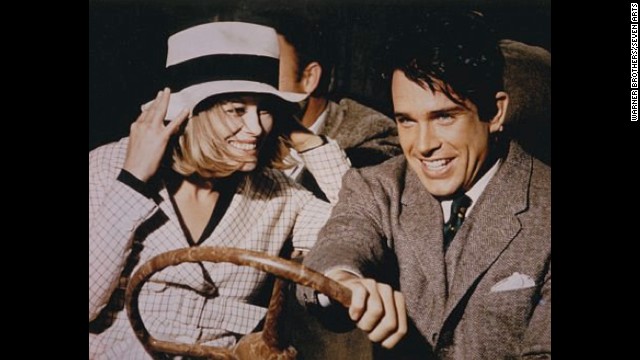 "Years from now it is quite possible that
'Bonnie and Clyde'
will be seen as the definitive film of the 1960s, showing with sadness, humor and unforgiving detail what one society had come to." Faye Dunaway and Warren Beatty starred in the title roles.
'Scenes From a Marriage.'
The marriage of Johan and Marianne will disintegrate soon after the film begins, but their love will not." Erland Josephson and Liv Ullmann played the couple.
"And so begins one of the truest, most luminous love stories ever made, Ingmar Bergman's
film
has ever been made about organized crime -- not even 'The Godfather,' although the two works are not really comparable." Ray Liotta, here with Gina Mastrogiacomo, starred.
"No finer
movie
has ideas enough for half a dozen films, but (Director Spike) Jonze and his cast handle them so surely that we never feel hard-pressed; we're enchanted by one development after the next." Catherine Keener and John Cusack starred.
"The
film
is rare. It is so easy to manufacture a thriller from chases and gunfire, and so very hard to fine-tune it out of exquisite timing and a plot that's so clear to us we wonder why it isn't obvious to the Iranians." Director and star Ben Affleck with Bryan Cranston.
"The craft in this
movie
. Hated hated hated hated hated this movie. Hated it. Hated every simpering stupid vacant audience-insulting moment of it. Hated the sensibility that thought anyone would like it. Hated the implied insult to the audience by its belief that anyone would be entertained by it."
"I hated this
Mad Dog Time
' is the first movie I have seen that does not improve on the sight of a blank screen viewed for the same length of time. Oh, I've seen bad movies before. But they usually made me care about how bad they were."
" '
movie
is an assault on the eyes, the ears, the brain, common sense and the human desire to be entertained. No matter what they're charging to get in, it's worth more to get out."
"The
'Deuce Bigalow: European Gigolo'
makes a living prostituting himself. How much he charges I'm not sure, but the price is worth it if it keeps him off the streets and out of another movie." Rob Schneider played the title role.
"
movie
thinks they are cute and funny, which is embarrassing, like your uncle who won't stop with the golf jokes." Ashton Kutcher and Amanda Peet were Oliver and Emily.
"Judging by their dialogue, Oliver and Emily have never read a book or a newspaper, seen a movie, watched TV, had an idea, carried on an interesting conversation or ever thought much about anything. The
Best: 'Bonnie and Clyde' (1967)
Best: 'Scenes From a Marriage' (1974)
Best: 'Goodfellas' (1990)
Best: 'Being John Malkovich' (1999)
Best: 'Argo' (2012)
Worst: 'North' (1994)
Worst: 'Mad Dog Time' (1996)
Worst: 'Armageddon' (1998)
Worst: 'Deuce Bigalow: European Gigolo' (2005)
Worst: 'A Lot Like Love' (2005)