STORY HIGHLIGHTS
The Netherlands was first country to legalize same-sex marriage in 2001
Several countries have pending legislation and may join that group soon
Uruguay and Vietnam are among the leading candidates
Editor's note: [Update: April 23, 2013] Since this story was originally published April 4, New Zealand's Parliament voted to legalize same-sex marriage, and France approved a bill Tuesday but is awaiting President Francois Hollande's signature before it becomes law.
(CNN) -- It's not just the United States grappling with the issue of same-sex marriage.
Many countries around the world are re-examining their laws, and some appear to be on the brink of changing them.
Senators in Uruguay approved a marriage equality bill Tuesday that puts them on course to be the 12th country in the world to legalize same-sex marriage.
And this week, senators in France will begin weighing a bill that would legalize same-sex marriage and allow same-sex couples to adopt children. The bill, which has the support of President Francois Hollande, has cleared the lower house of Parliament.
It "would be a major advance for our country in terms of equality of rights," said the French gay, lesbian and transgender rights group Inter-LGBT. "The law must allow all couples to unite themselves as they wish and must protect all families, without discrimination on the grounds of sexual orientation or gender identity."
But like the United States, France is far from united on the issue. In January, hundreds of thousands of people took to the streets of Paris to protest same-sex marriage. Most of France is Catholic, and the Roman Catholic Church strongly opposes the bill, along with social conservatives and other religious groups.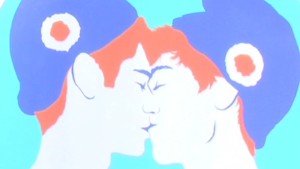 Same-sex marriage battle in France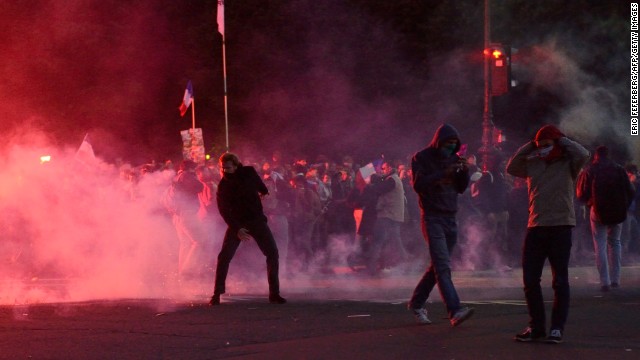 Protesters stand in the street as they face riot police on Sunday, May 26, in Paris on the sidelines of demonstrations against a gay marriage law legalizing same-sex marriage and adoptions for gay couples. President Francois Hollande signed the measure into law on May 18 following months of bitter debate and demonstrations, including a suicide at Notre Dame Cathedral in the name of protesting same-sex marriage.
Protesters gather and sit on the ground as riot police surround them on May 26. Tens of thousands marched through Paris today to protest the law.
Protesters stand in a cloud of tear gas on May 26.
Riot police stand in a line facing protesters on May 26.
Police clash with and arrest protesters on May 26.
Riot policemen face off with protesters on May 26.
Riot police arrest a protester on May 26.
Opponents of the law demonstrate in front of the headquarters of the Grand Orient de France, a Masonic order, in Paris on Friday, May 24.
A member of the FEMEN feminist activist group with writing on her chest reading "May fascists rest in hell" is arrested by police officers after taking part in a protest at Notre Dame Cathedral in Paris on Wednesday, May 22. The protesters were demonstrating against the suicide of a far-right activist inside the cathedral the previous day.
French police stand outside Paris' Notre Dame Cathedral on Tuesday, May 21, following the evacuation of the cathedral after a man shot himself dead in front of the altar. Historian and writer Dominique Venner killed himself in front of horrified tourists after denouncing same-sex marriage and immigration.
People holding rainbow flags attend the event Concert pour tous! (Concert for all!) on May 21 at Place de la Bastille square in Paris. The concert was a countermovement in reference to the French anti-gay marriage movement Manif pour tous (Demonstration for all), and celebrated the legalization of same-sex marriage.
Bare-chested men wearing white masks, members of anti-gay group Hommen, shout slogans as they are detained in a police bus during a demonstration against a bill legalizing same-sex marriages on May 17 in Paris.
Members of groups opposing same-sex marriage gather on Thursday, May 16, in front of the Sorbonne in Paris.
People celebrate at Paris City Hall on Tuesday, April 23, after the French National Assembly adopted a bill legalizing same-sex marriage and adoptions for gay couples.
Supporters cheer in front of the Paris City Hall on April 23. If the measure is enacted, France would be the ninth country in Europe to allow same-sex marriage.
People unfurl a rainbow banner in Toulouse on April 23 after the lower house vote.
Supporters of same-sex marriage pose for photos during Tuesday's celebrations in Paris.
Opponents of same-sex marriage shout slogans and wave French national flags in Lyon on April 23.
Activists opposed to same-sex marriage demonstrate on Concorde Square in Paris on April 23.
Opponents of same-sex marriage protest at the National Assembly in Paris on April 23.
More demonstrations take place outside the National Assembly in Paris on April 23.
Opponents of a gay marriage bill face riot officers at "La Manif Pour Tous," or demonstration for all, on Sunday, April 21.
Police officers hold down a demonstrator at the "La Manif Pour Tous" demonstration on Sunday.
Leader of the French Christian Democratic Party, Christine Boutin, center, and MP Gilbert Collard, right, participate in an anti-gay marriage demonstration on Sunday.
Tens of thousands of the bill's opponents gather on Sunday.
Paris Mayor Bertrand Delanoe speaks to journalists at Bastille Square during a pro-gay rights demonstration on Sunday.
Thousands of people gather in support of the bill in Bastille Square on Sunday.
Supporters of gay marriage gather on Sunday.
Gay marriage supporters raise signs in Bastille Square on Sunday.
People yell in support of the new law Sunday in Bastille Square.
Members of the anti-gay marriage group Hommen demonstrate on Saturday, April 20, in Rennes, France. The group was created in response to Femen, a feminist group that organizes topless protests for social issues.
The group Hommen gathers in Rennes to protest the bill on Saturday.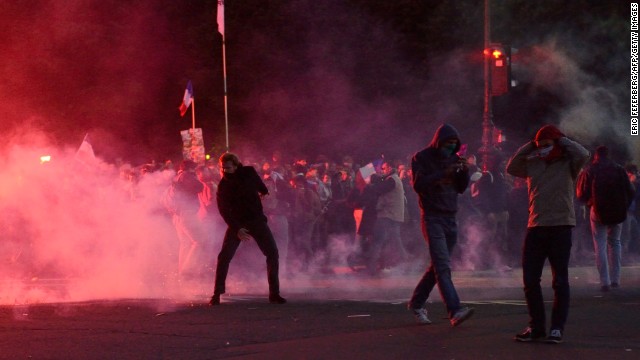 Photos: Protests over gay marriage bill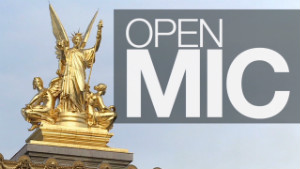 Open Mic: French on same-sex marriage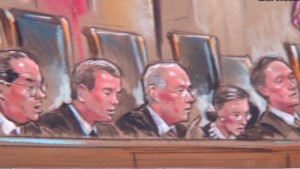 Justices divided over same-sex marriage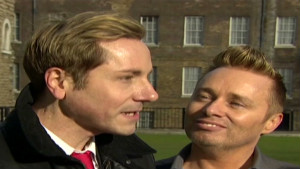 Britain considers same-sex marriage
"I do not personally agree with gay marriage, as I am a Christian and believe what the Bible says about marriage being between one woman and one man for a lifetime," said CNN iReporter Oluwasegun Olowu-Davies, who shot video of the Paris march on his phone. "If your lifestyle doesn't allow you to conceive, there is a reason."
Across the English Channel, the United Kingdom is also considering legalization. In February, lawmakers in the House of Commons approved the second reading of a bill that would legalize same-sex marriage in England and Wales. (Scotland has its own legalization bill in the works, while Northern Ireland rejected a similar measure in October.)
More debate and more votes are still necessary before the bill can become law, but the wide margin of February's vote -- 400-175 -- suggests that it may have the support it needs to eventually pass. Prime Minister David Cameron is also in favor of the bill, despite opposition within his own party.
"I am a great supporter of marriage," Cameron said in the House of Commons. "I want to promote marriage, defend marriage, encourage marriage.
"The great thing about (February's) vote is that two gay people who love each other will now be able to get married, and I think that is an important advance. I think we should be promoting marriage rather than looking at any other way of weakening it."
A former British colony, New Zealand, could legalize same-sex marriage this month. After a marriage equality bill passed two readings in Parliament -- the latest in March by a 77-44 margin -- the third and final vote is widely expected to be a formality.
The public, however, might be more split than its lawmakers. According to a survey conducted last month by the country's largest newspaper, the New Zealand Herald, opposition to same-sex marriage has increased to 48%. That sentiment is more in line with nearby Australia, where lawmakers overwhelmingly voted against a legalization bill in September.
In Uruguay, the bill approved Tuesday by a 23-8 margin now goes back to lawmakers in the lower house of parliament. That house approved a different version of the bill in December.
Same-sex marriage rights worldwide

Legalized nationwide: Argentina, Belgium, Canada, Denmark, Iceland, Netherlands, Norway, Portugal, Spain, South Africa, Sweden

Legalized in certain regions: Brazil, Mexico, United States

Civil unions or domestic partnerships: Andorra, Austria, Brazil, Colombia, Czech Republic, Ecuador, Finland, France, Germany, Greenland, Hungary, Ireland, Liechtenstein, Luxembourg, New Zealand, Slovenia, Switzerland, United Kingdom, Uruguay and parts of Australia, Mexico, United States and Venezuela
In 2009, Uruguay became the first Latin American country to allow same-sex couples to adopt children. It was also one of the first Latin American countries to allow civil unions. Same-sex marriage is backed by President Jose Mujica and, according to one poll, the majority of the public.
But Argentina is the only country in Latin America that has legalized same-sex marriage, doing so in 2010. Brazil and Mexico, like the United States, have same-sex marriages only in certain states.
Of the 11 countries where same-sex marriage is legal, eight are in Europe. The Netherlands was the first, in 2001, and it was later joined by Belgium, Spain, Norway, Sweden, Iceland, Portugal and Denmark. Argentina, Canada and South Africa are the three non-European countries in the group.
There are no Asian countries where same-sex marriage is legal, but perhaps that might soon change.
Last year, a same-sex Buddhist couple married in Taiwan, where a legalization bill has been pending since 2003. Taipei is also home to Asia's largest annual gay pride parade, according to organizers.
The Supreme Court of Nepal ruled in favor of legalization in 2008, but those rights haven't been put into effect because the country's new constitution has been stuck in limbo for years.
In July, the Justice Ministry in Vietnam said it would consider a provision for same-sex marriage rights in an amendment to the country's marriage laws.
"It's time for us to look at the reality," Minister Ha Hung Cuong said in an online debate at the time. "The number of homosexuals has mounted to hundreds of thousands. It's not a small figure. ... They may own property. We, of course, have to handle these issues legally."
CNN's Alexis Lai, Catherine E. Shoichet, Laura Smith-Spark and Saskya Vandoorne contributed to this report.