STORY HIGHLIGHTS
Waking up to a trophy in the hospital was "basketball Christmas," Ware says
"This is all God's plan," he says about the setback
"I just lost it," his mother adds about son's grotesque injury
(CNN) -- Kevin Ware's leg may be broken but not his spirit.
Not in the least bit.
Millions of television viewers cringed, when a bone punched through Ware's skin, protruding out of his leg after the University of Louisville guard landed hard from a jump to block a shot Sunday night.
It brought the Elite Eight game against the Duke Blue Devils to a screeching halt in the first half.
"I kind of joke a little bit," Ware said. "Like I should have blocked the shot because I jumped so high, but I guess I just landed wrong and didn't see where I was landing, so that's kind of what caused the injury."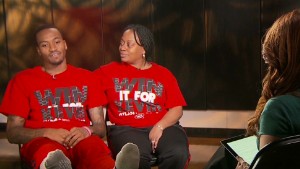 Kevin Ware: I went into shock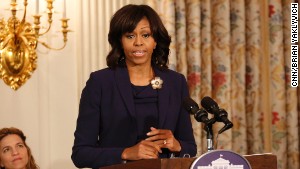 Ware to first lady: Please call me back!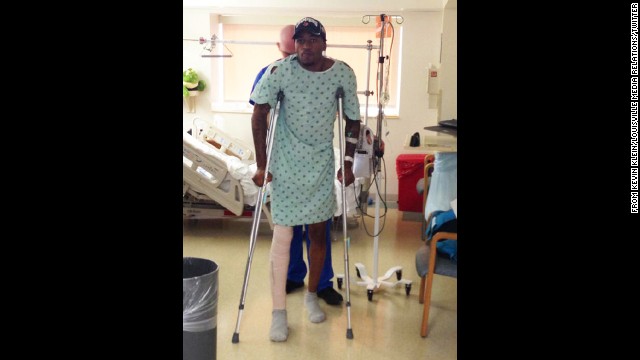 Louisville Cardinals guard Kevin Ware stands up with the aid of crutches on Monday, April 1, in a photo posted on Twitter by Kenny Klein from Louisville media relations. Ware snapped his leg after trying to block a shot against the Duke Blue Devils during their Midwest Regional NCAA men's basketball game on Sunday, March 31, in Indianapolis. Ware was taken to the hospital and had surgery that night. The gruesome injury left his teammates in tears, but they went on to defeat Duke 85-63.
Medical staff tend to Ware after he broke his leg on Sunday, March 31.
Ware tries to block Duke guard Tyler Thornton in the first half before landing awkwardly, snapping the bones in his lower leg.
From left, Russ Smith, Gorgui Dieng, Chane Behanan and assistant coach Kevin Keatts of the Cardinals react after Ware's injury.
Duke head coach Mike Krzyzewski, right, shares a moment with Louisville head coach Rick Pitino as medical technicians take care of Ware.
Teammates Peyton Siva, left, and Russ Smith hold Ware's hands.
Wayne Blackshear of the Louisville Cardinals sits dejected under the basket.
Louisville players react to Ware's injury.
The Cardinals huddle up on the court.
Ware is taken off the court on a stretcher.
Ware's teammates hold his jersey with the Midwest regional champion trophy after they won 85-63 against Duke.
Peyton Siva posted a photo of Ware in the hospital with the trophy.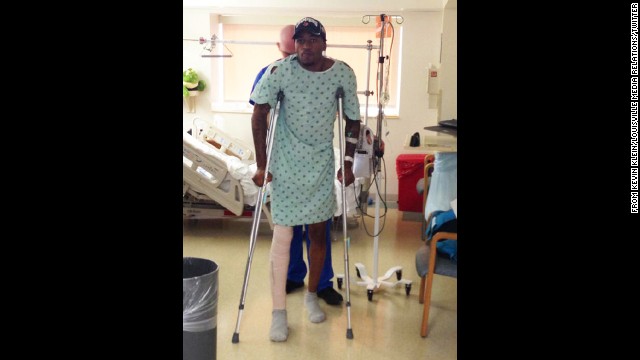 Photos: Kevin Ware's gruesome leg break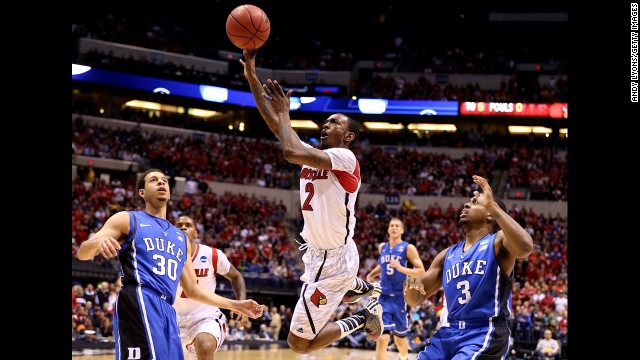 Russ Smith of the Louisville Cardinals drives for a shot attempt against Seth Curry, left, and Tyler Thornton of the Duke Blue Devils on Sunday, March 31, in Indianapolis. Louisville beat Duke 85-63. Check out the action from the fifth round of the 2013 NCAA tournament and look back at the NCAA tournament Sweet 16.
Mason Plumlee of Duke attempts a shot against Montrezl Harrell of Louisville on March 31.
Wayne Blackshear, left, and Chane Behanan of Louisville react after Kevin Ware suffered a compound fracture to his leg in the first half.
Kevin Ware, bottom left, is comforted by his teammates as his leg is examined by medical staff.
Kevin Ware of the Louisville Cardinals is taken off the court on a backboard after he injured his leg in the first half against the Duke Blue Devils on March 31.
Russ Smith of Louisville drives for a shot attempt.
Quinn Cook of Duke, left, passes the ball to teammate Mason Plumlee.
Trey Burke of the Michigan Wolverines, right, drives against Scottie Wilbekin of the Florida Gators on March 31 in Arlington, Texas. Michigan beat Florida with a final score of 79-59.
Nik Stauskas of Michigan shoots over Florida on March 31.
Nik Stauskas of Michigan celebrates after shooting a three-pointer.
Mike Rosario of Florida shoots past Mitch McGary of Michigan.
Scottie Wilbekin of Florida goes up against Nik Stauskas, left, of Michigan.
Patric Young of Florida blocks a shot by Jordan Morgan of Michigan.
LaQuinton Ross of the Ohio State Buckeyes, middle center, goes up for a shot against the Wichita State Shockers on Saturday, March 30, in Los Angeles. Wichita State defeated Ohio State 70-66.
From left: Sam Thompson of Ohio State, Carl Hall and Cleanthony Early of Wichita State, and LaQuinton Ross of Ohio State vie for the ball on March 30.
Cleanthony Early of Wichita State, left, and Aaron Craft of Ohio State go after a loose ball on March 30.
Deshaun Thomas of Ohio State goes up for a shot against Ehimen Orukpe of Wichita State on March 30.
Carl Hall of Wichita State goes up for a shot on March 30.
Malcolm Armstead of Wichita State goes up for a shot against Deshaun Thomas, center, and Amir Williams of Ohio State on March 30.
Syracuse Orange tips the ball off against the Marquette Golden Eagles on Saturday, March 30, in Washington. Syracuse won 55-39.
Chris Otule of Marquette draws contact against Baye Moussa Keita of Syracuse on March 30.
Syracuse and Marquette players fight for the rebound on March 30.
Michael Carter-Williams of Syracuse handles the ball against Jamil Wilson, left, and Vander Blue, right, of Marquette on March 30.
President Barack Obama watches Syracuse take on Marquette on March 30.
Todd Mayo of Marquette handles the ball against C.J. Fair of Syracuse on March 30.
Jerami Grant of Syracuse, bottom right, passes the ball to Brandon Triche, left, from the ground on March 30.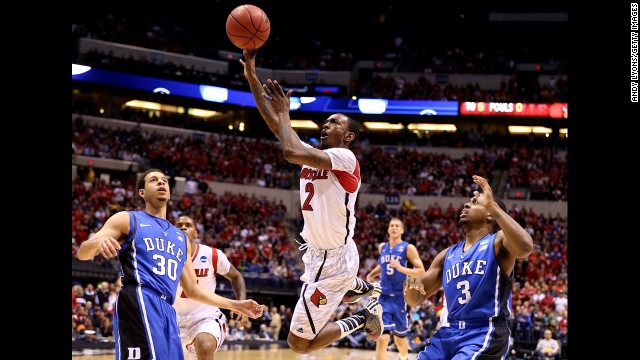 Photos: NCAA tournament Elite 8
Ware has taken a peek at the replay, but turned away from the screen, he told CNN on Wednesday. It's about keeping his attitude upbeat for his team.
Ware: 'I honestly never want to see the video' of broken leg
"I honestly never want to see the video," he said. "It puts me in a mental state that I don't want to be. That would just stop me from being where I need to be, especially if I feel I want to be successful with basketball."
And while his teammates were horrified at the gruesome injury, Ware said it was divine providence.
"This is all God. This is all God's plan. He would never let anything happen that He wouldn't want to happen," he said.
Ware was taken to hospital to repair the ugly break.
Louisville beat Duke by 22 points, while he was in surgery, to win the region for the Cardinals. He hopes he may have inspired the victory.
A photo posted on the Internet shows Ware's jubilant teammates holding up his jersey as they celebrated their win over Duke. It netted them the NCAA championship trophy for their region and propelled them to the tournament's Final Four in Atlanta this weekend.
Louisville player, injured badly on Sunday, out of hospital
Serendipity?
The mishap triggered a heaping dose of well wishes.
Ware got a phone call from first lady Michelle Obama. He is unable to remember the conversation, because he was still heavily sedated.
"Please, please call again," he implored the first lady in the CNN interview. "It's a once in a lifetime thing."
A Facebook fan page popped up Sunday and has filled with nearly 80,000 fans. It sported photos and well wishes documenting his journey from injury to surgery and beyond, and includes a photo of him in his hospital bed holding the NCAA regional trophy his team won in the game he was injured in.
Ware has been touched by the public support.
"I'm a very quiet guy, so a lot of this is really new to me, you know," Ware said. "I really just appreciate everybody and the support I have right now.
The NCAA regional trophy was lying in his bed while he was still unconscious. It was the first thing he woke up to.
"It was like Christmas, but basketball Christmas," he said.
Moment of shock
When Ware first crashed down onto the court's boards, his mother Lisa "just lost it," she said.
"It really did look that bad," she told CNN.
Ware called his mother from the emergency room to put her mind at ease.
"The first thing he said was, 'Mom, calm down, I'm OK,'" she said.
Ware intends to return the court.
The broken leg, held together by two metal plates, will heal in eight to 12 weeks, he said.
"I will play basketball again," Ware said. "I know patience is key."
Ware could be playing again in less than a year
Team rallies around him
Earlier Wednesday, Ware recounted at a news conference his distress the moment his leg broke and immediate support from his teammates.
He said he was surprised to see some of them crying.
"Everybody was in real shock, and just looking around and seeing that, it was devastating," said Ware, who was using crutches Wednesday.
"But they pulled it through, and that's really most important right now," Ware said.
The injured player looked down at his body. It changed his state of mind.
"I see my bone is 6 inches out of my leg, and I go into automatic shock," he told reporters at a news conference. His foot was dangling off of his shin like a limp rag.
Faith and inspiration
Teammate Luke Hancock came over to Ware as he lay on the floor and said a prayer for him.
Ware said to himself that "I'm either going to cry ... or I'm just going to try to say some words (to help the team)." He thought of his team and put the pain behind him.
In a two-hour surgery, Ware's broken tibia was straightened and a rod was inserted into it, according to a statement from Kenneth Klein, senior associate athletic director for media relations at the university.
For the team and victory
In spite of the pain and the road to recovery ahead, Ware is still thinking of his team, not himself.
"I'll be fine, but (we've) still got to win this championship," he said.
Mr. Inspiration is ready for the Final Four, where his team is two games away from a potential national championship.
He has already made his way to Atlanta to cheer the Cardinals on in person. During his interview with CNN, he and his mother donned T-shirts with the words "Win it for Kevin."
Louisville takes on Wichita State at 6:05 p.m. ET Saturday, with the winner advancing to the national championship game Monday.
CNN's Dan Moriarty contributed to this report.