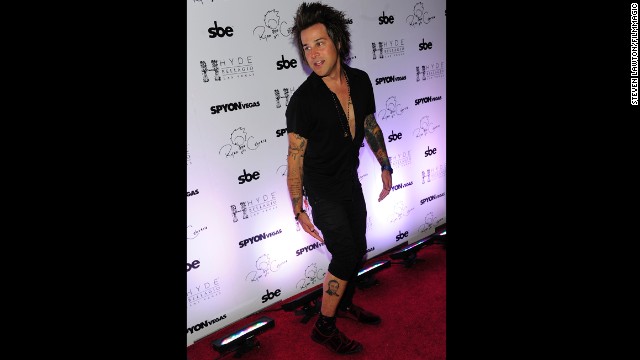 Thanks to a game Ryan Cabrera and his friends call "tattoo roulette," the singer is now walking around with a portrait of actor Ryan Gosling's face on his leg. "I consider it the Bentley of tattoos," Cabrera told the
Las Vegas Review-Journal.
Rapper Lil Wayne has tons of tattoos. Among them are the words "fear" and "God," which have been etched on his eyelids.
Megan Fox has two prominent tattoos. Shakespeare's "We will all laugh at gilded butterflies" is inked on her back, and she sports a picture of Marilyn Monroe on her forearm.
On Angelina Jolie's arm, she has a tattoo of the geographical coordinates of her children's birthplaces. The ink replaced the actress' old tat of a dragon that she eventually topped with "Billy Bob" for her second husband, Billy Bob Thornton.
Hayden Panettiere loves showing off her "Vivere Senza Rimipianti" tattoo. The phrase, which means "to live without regret" in Italian, is misspelled.
Reality mom Kate Gosselin has Winnie the Pooh tattooed on her leg.
"Jackass" star Steve-O is covered in tattoos, such as the giant picture of his face that's inked on his back. The tat reads, "Yeah dude, I rock!"
Eminem has a number of tattoos. One of the most noticeable ones is a picture of his daughter Hailie Jade, which sits above the words "Bonnie & Clyde." The rapper has a song called "97 Bonnie & Clyde."
Jamie Foxx has tattoos on his body and the back of his head.
Dean McDermott has a tattoo of wife Tori Spelling's face on his arm.
The real girl with the dragon tattoo, Pink shows off her ink while performing at the 2012 MTV Video Music Awards.
Melanie Griffith showed off her "Antonio" tattoo at the 2011 American Latino Media Arts Awards in Santa Monica, California. Griffith is married to actor Antonio Banderas.
Rolling Stone
that the image is "a reminder to fans of how he chooses to live his life. Cool as ice. As in 'I'm so icy, I'll make ya say Brr.' "
Gucci Mane is known for having a tattoo of an ice cream cone and the word "brrr" on his cheek. In 2011, a spokesperson for the rapper told
Actress Mena Suvari shows off her back tattoos at the Australian premiere of "American Pie: Reunion" in March 2012.
"Jackass" and "Viva La Bam" star Bam Margera has a tattoo of his uncle, Vincent "Don Vito" Margera, on his leg.
tattoo on his neck
that some people thought resembled a battered woman's face. "His tattoo is a sugar skull (associated with the Mexican celebration of the Day of the Dead) and a MAC cosmetics design he saw," his rep said in a statement. "It is not Rihanna or an abused woman as erroneously reported."
Chris Brown, shown here with Rihanna in December 2012, took heat when he debuted a
Ryan Cabrera
Lil Wayne
Megan Fox
Angelina Jolie
Hayden Panettiere
Kate Gosselin
Odd celebrity tattoos
Eminem
Jamie Foxx
Dean McDermott
Pink
Melanie Griffith
Gucci Mane
Mike Tyson
Mena Suvari
Bam Margera
Chris Brown