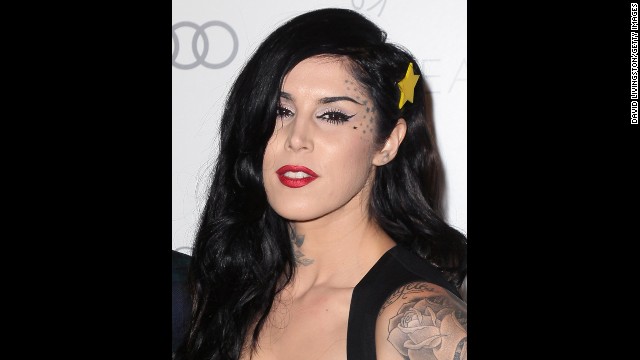 TV personality and tattoo artist Kat Von D is part of the growing number of celebrities with highly visible tattoos. In her autobiography she calls her body the "canvas" of her experiences.
The soccer legend and fashion icon David Beckham has tattoos on both arms, his chest and legs. He has even picked up new art in recent years.
Rapper Machine Gun Kelly has inked nearly his entire body, including tattoos that are an ode to the famous book "1984" and his late grandmother.
Gucci Mane is known for having a tattoo of an ice cream cone and the word "brrr" on his cheek. In 2011, a spokeswoman for the rapper told Rolling Stone that the image is "a reminder to fans of how he chooses to live his life. Cool as ice. As in 'I'm so icy, I'll make ya say Brr.'
Rapper Birdman has tattoos on his face, arms and legs including religious symbols, names, and even one of his record management company, Rich Gang.
Oscar-winner and recording artist Jamie Foxx has tribal tattoos on his body and the back of his head.
she shared on Twitter
, "but I love it!" Here are other celebrity tattoos that made us do a double-take:
The only reaction we have to Kelly Osbourne's new tattoo is "ouch." The E! personality revealed her new ink online Saturday, June 28, thanking her tattoo artist for inscribing the word "stories" on the side of her head. "Sorry mum and dad,"
Rapper Lil Wayne has tons of tattoos. Among them are the words "fear" and "God," which have been etched on his eyelids.
On Angelina Jolie's arm, she has a tattoo of the geographical coordinates of her children's birthplaces. The ink replaced the actress' old tat of a dragon that she eventually topped with "Billy Bob" for her second husband, Billy Bob Thornton.
Hayden Panettiere loves showing off her "Vivere Senza Rimipianti" tattoo. The phrase, which means "to live without regret" in Italian, is misspelled.
Reality mom Kate Gosselin has Winnie the Pooh tattooed on her leg.
"Jackass" star Steve-O is covered in tattoos, such as the giant picture of his face that's inked on his back. The tat reads, "Yeah dude, I rock!"
Eminem has a number of tattoos. One of the most noticeable ones is a picture of his daughter Hailie Jade, which sits above the words "Bonnie & Clyde." The rapper has a song called "97 Bonnie & Clyde."
The real girl with the dragon tattoo, Pink, shows off her ink while performing at the 2012 MTV Video Music Awards.
Actress Mena Suvari shows off her back tattoos at the Australian premiere of "American Pie: Reunion" in March 2012.
"Jackass" and "Viva La Bam" star Bam Margera has a tattoo of his uncle, Vincent "Don Vito" Margera, on his leg.
tattoo on his neck
that some people thought resembled a battered woman's face. "His tattoo is a sugar skull (associated with the Mexican celebration of the Day of the Dead) and a MAC cosmetics design he saw," his rep said in a statement. "It is not Rihanna or an abused woman as erroneously reported."
Chris Brown, shown here with Rihanna in December 2012, took heat when he debuted a
Celeb tattoos: You know that's forever, right?
Mike Tyson
David Beckham
Machine Gun Kelly
Gucci Mane
Birdman
Jamie Foxx
Kelly Osbourne
Ryan Cabrera
Lil Wayne
Megan Fox
Angelina Jolie
Hayden Panettiere
Kate Gosselin
Steve-O
Eminem
Pink
Melanie Griffith
Mena Suvari
Bam Margera
Chris Brown