Sinkhole eating family out of house and home
updated 9:58 AM EDT, Thu April 4, 2013
STORY HIGHLIGHTS
A sinkhole slowly grows under Florida home
The couple awaits a resolution from insurance company as the hole grows
It comes as new video is available of another sinkhole that killed a man
(CNN) -- The sinkhole first opened up in August of 2011, a relatively small thing, 2 feet wide and 5 feet deep.
But in the 15 months since then, Florida couple John and Tina Furlow have watched helplessly as the sinkhole expands, threatening to swallow their bedroom.
"Now it's approximately 8, 9 feet long," John Furlow told CNN affiliate WFLA last month at their home in Hernando County on Florida's west coast.
"Every day, in our bedroom, we lay down and look up and there's more and more cracks. We're just, 'hey look, there's another one,'" said his wife.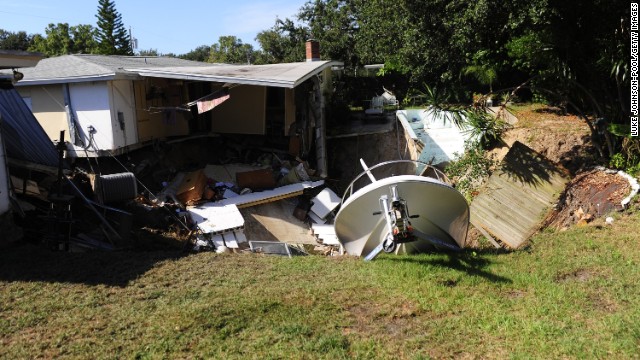 The rear portion of a residential home is consumed by a sinkhole on November 14 in Dunedin, Florida. Click through for a look at other sinkholes throughout the world.
A 60-foot-wide sinkhole formed underneath the Summer Bay Resort in Clermont, Florida, about 10 minutes from Walt Disney World, on Sunday, August 11. One resort building collapsed, and another slowly sank. The estimated 35 people inside the buildings were evacuated.
A backhoe is swallowed by a sinkhole in Montreal, Quebec, on Tuesday, August 6. A business owner says city officials ignored his warnings that there was a problem before the heavy machine tumbled in. The driver of the backhoe was not injured but was taken to a hospital as a precaution.
A sinkhole killed a guard in a construction site in Shenzhen, in China's Guangdong province, on Wednesday, March 27. The sinkhole might have been caused by heavy rains and the collapsing of old water pipes running beneath the surface, the Shenzhen Special Zone Daily reported.
Workers watch the demolition of the house where a sinkhole opened beneath the bedroom of Jeff Bush three days before in Seffner, Florida, on Sunday, March 3. Sinkholes caused by acidic groundwater corroding the limestone or carbonate rock underground are common in Florida, according to the Florida Department of Environmental Protection.
Tropical Storm Agatha caused a sinkhole to open in Guatemala City, Guatemala, in May 2010.
In Orlando, a sinkhole 150 feet wide and 60 feet deep swallowed trees, pipelines and a section of sidewalk near an apartment building in June 2002.
A water main collapsed an entire block-long part of Ocean Park Boulevard in Santa Monica, California, in December 2002.
An aerial photo shows sinkholes created by the drying of the Dead Sea near Israel in 2011.
A 30-foot-deep sinkhole appeared in a busy street in a suburb east of downtown Los Angeles. A motorist drove into the hole but was rescued before a concrete slab fell onto the car.
A utility worker examines the area around a sinkhole caused by a broken water main in Chevy Chase, Maryland, in December 2010.
A fire truck protrudes from a sinkhole as Los Angeles Mayor Antonio Villaraigosa talks to reporters in September 2009.
Construction on a subway line caused a huge sinkhole to form in a road in Beijing in April 2011.
Buildings fell into a sinkhole near a subway construction site January 2013 in Guangzhou, in south China's Guangdong province. The hole measured about 1,000 square feet across and 30 feet deep and was without casualties, according to a state media report.
A man inspects a 40-foot-deep sinkhole that a family found after they heard a booming noise in their kitchen in July 2011 in Guatemala City.
A basketball court in Ortley Beach, New Jersey, fell into a sinkhole caused by Superstorm Sandy in November 2012.
"The Great Blue Hole" is the name of a massive underwater sinkhole off the coast of Belize. The deeper you go, the clearer the water becomes, revealing amazing stalactites and limestone.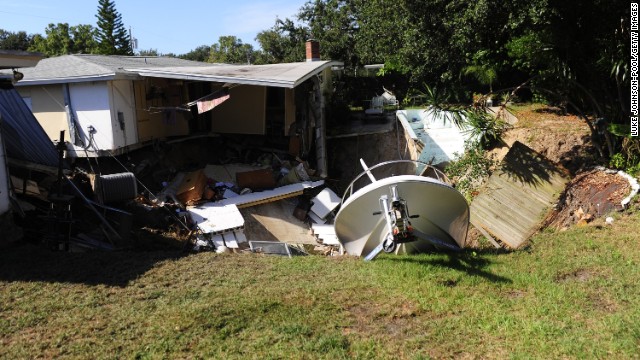 Photos: When the ground gives way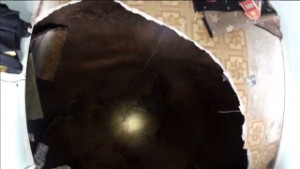 Look inside deadly Florida sinkhole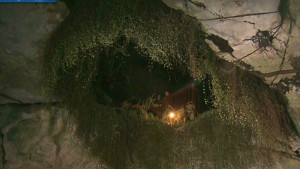 Go inside a sinkhole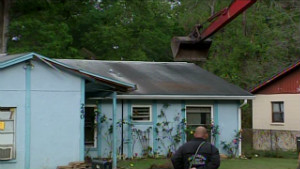 Sinkhole victim's body unreachable
The growing cavern underneath their bedroom is reminiscent of another sinkhole in nearby Hillsborough County that claimed the life of Jeff Bush.
Sinkholes: Common, costly and sometimes deadly
Authorities demolished the house after they couldn't recover Bush's body from the massive hole that opened up under his bedroom. That sinkhole was about 20 feet wide and 50 to 60 feet deep, and the suburban Tampa house was in danger of collapsing.
For the Furlows, the nightmare has developed much more slowly.
Cracks have begun to appear on walls and floors, and the couple now sleeps in a different bedroom. They removed heavy furniture from their bedroom in hopes of buying more time.
The couple told WFLA that they made a claim with their insurance company, but that a year and a half later there has been no resolution.
A sinkhole can be catastrophic, as the incident that took Bush's life showed.
New video obtained by CNN affiliate Bay News 9 shows the inside of the sinkhole that claimed his life. The video was taken by Hillsborough County officials before the house was demolished. It was recorded by attaching a camera to a pole that reached into Bush's bedroom through a window.
The video shows a cavernous hole that left just the edges of the floor around the bedroom.
Bush's brother, Jeremy, had jumped in the hole to try to rescue his brother, but only after he saw the video did he understand how large it was, and why officials pulled him out.
"It is totally different than what I thought it was," he told Bay News 9.
Sinkholes are common in the state, according to the Florida Department of Environmental Protection. Florida lies on bedrock made of limestone or other carbonate rock that can be eaten away by acidic groundwater, forming voids that collapse when the rock can no longer support the weight of what's above it.