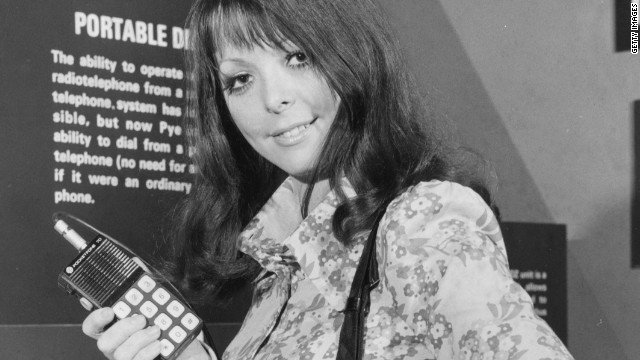 In this image from 1972, a model demonstrates a "portable radio-telephone" by Pye Telecommunications at a London exhibition called "Communications Today, Tomorrow and the Future."
Martin Cooper hoists an early phone, the Motorola DynaTAC 8000X. Cooper made what is widely considered to be the first cellphone call from a New York City sidewalk in 1973.
"Zack Morris phone"
after the phone-toting character on TV's "Saved by the Bell."
Tony James, bassist for British New Wave band Sigue Sigue Sputnik, with his girlfriend Janet Street Porter, in 1986. This brick-like model is also known as a
Franck Piccard of France talks on a mobile phone after the Mens Super G Slalom event at the 1988 Winter Olympic Games in Calgary, Canada. He won the gold medal. The phone, however, was shut out.
One of the most prominent pop-culture appearances of these early brick cellphones was on TV's "The A-Team," which ran from 1983-87. This fool appears to have stolen Hannibal's iconic device. We presume that Mr. T's B.A. Baracus (not pictured) pities him.
It's no iPhone. In this image from 1989, Allan Z. Loren, then-president of Apple Computer USA, talks on a mobile phone as cyclists ride past.
The Motorola MicroTAC Classic was released in 1991 and modeled after 1989's MicroTAC 9800x, which sold for up to $3,495.
NASCAR driver Rusty Wallace talks on a cellphone during practice for the Daytona 500 in February 1996. Perhaps he's complaining to his barber about his hair.
Republican presidential candidate Pat Buchanan does a radio interview via a clunky cellphone from his campaign bus in Roswell, Georgia, in March 1996.
Philips demonstrates its new digital phone, The Synergy, in 1997 at a press conference in Dubai. The then-advanced device offered wireless access to e-mail, Internet and faxes.
It's Y2K ready! A Samsung Electronics employee shows off this spiffy ''Millennium Multimedia Phone IMT-2000'' at a trade show in 1999 in Geneva, Switzerland.
Nigel Rundstrom of Nokia shows off the company's new mobile phone, the catchily named DoCoMo Nokia NM502i, in Tokyo in March of 2000. No explanation was given for his hat.
Even Microsoft chairman Bill Gates was not immune from holding ugly phones. Here he makes a point with a "new generation" cellphone during his annual "state of the industry" speech at the COMDEX convention in Las Vegas in November 2000.
This image from 2000 shows the Ericsson MP3 Handsfree and the Samsung Uproar MP3 Phone. Cute idea, making a telephone that also lets you listen to your music. Too bad it never caught on.
The Palm Treo 600 phone, pictured here in 2004, integrated voice calls with e-mail and Internet-browsing capabilities. And a nubby little antenna. The device was three years ahead of the iPhone but couldn't save Palm, which was dead by 2012.
When cellphones were hideous
When cellphones were hideous
When cellphones were hideous
When cellphones were hideous
When cellphones were hideous
When cellphones were hideous
When cellphones were hideous
When cellphones were hideous
When cellphones were hideous
When cellphones were hideous
When cellphones were hideous
When cellphones were hideous
When cellphones were hideous
When cellphones were hideous
When cellphones were hideous