STORY HIGHLIGHTS
NEW: "I will play basketball again," Ware tells CNN
NEW: "This is all God's plan," Wares says about the setback
NEW: "I just lost it," his mother adds about son's grotesque injury
"I see my bone is 6 inches out of my leg and I go into automatic shock," Ware says
(CNN) -- University of Louisville guard Kevin Ware doesn't want to see any replays of his severely broken leg, suffered during a weekend basketball game on national television, he told CNN Wednesday.
"I don't plan on seeing the video. I honestly never want to see the video. It puts me in a mental state that I don't want to be," he said.
The gruesome injury, in which his right shin bone snapped and protruded though the skin, was part of "God's plan," he added. His teammates were horrified to see it on the court Sunday.
"This is all God. This is all God's plan. He would never let anything happen that He wouldn't want to happen," he told CNN.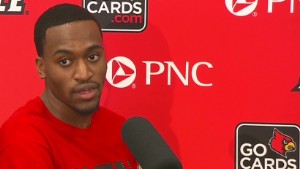 Kevin Ware: We've still got a job to do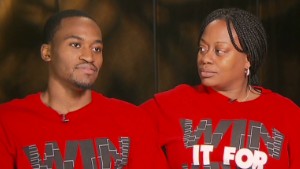 Ware is 'ready to recover' from injury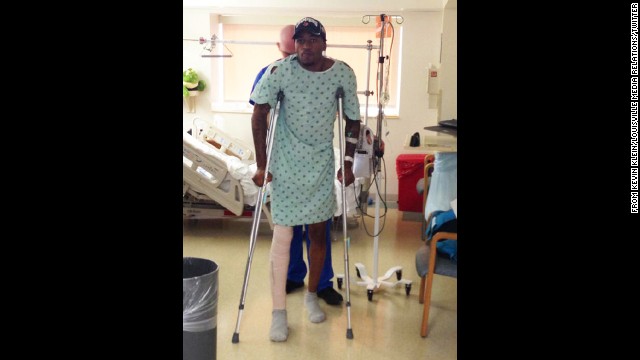 Louisville Cardinals guard Kevin Ware stands up with the aid of crutches on Monday, April 1, in a photo posted on Twitter by Kenny Klein from Louisville media relations. Ware snapped his leg after trying to block a shot against the Duke Blue Devils during their Midwest Regional NCAA men's basketball game on Sunday, March 31, in Indianapolis. Ware was taken to the hospital and had surgery that night. The gruesome injury left his teammates in tears, but they went on to defeat Duke 85-63.
Medical staff tend to Ware after he broke his leg on Sunday, March 31.
Ware tries to block Duke guard Tyler Thornton in the first half before landing awkwardly, snapping the bones in his lower leg.
From left, Russ Smith, Gorgui Dieng, Chane Behanan and assistant coach Kevin Keatts of the Cardinals react after Ware's injury.
Duke head coach Mike Krzyzewski, right, shares a moment with Louisville head coach Rick Pitino as medical technicians take care of Ware.
Teammates Peyton Siva, left, and Russ Smith hold Ware's hands.
Wayne Blackshear of the Louisville Cardinals sits dejected under the basket.
Louisville players react to Ware's injury.
The Cardinals huddle up on the court.
Ware is taken off the court on a stretcher.
Ware's teammates hold his jersey with the Midwest regional champion trophy after they won 85-63 against Duke.
Peyton Siva posted a photo of Ware in the hospital with the trophy.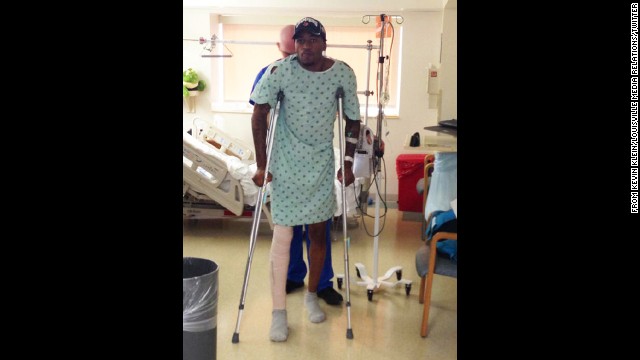 Photos: Kevin Ware's gruesome leg break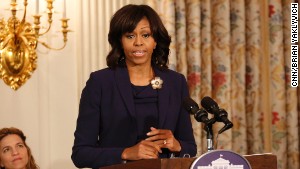 Ware to first lady: Please call me back!
His mother, Lisa, who was sitting beside him during the interview, said the incident upset her badly.
"I just lost it," she said. "It really did look that bad."
Ware intends to return the court some day. The broken leg, held together by two metal plates, will heal in eight to 12 weeks, he said. "I will play basketball again," he asserted. "I know patience is key."
Earlier Wednesday, Ware recounted his shock over the severely broken leg, which occurred Sunday in Indianapolis during the Midwest regional final of the NCAA men's tournament, against Duke.
"I look down and I see my bone is 6 inches out of my leg and I go into automatic shock," he told reporters at a news conference.
Teammate Luke Hancock went to Ware and said a prayer for him.
Ware said to himself that "I'm either going to cry ... or I'm just going to try to say some words (to help the team). We beat Duke by 22, so I guess my word got through good enough."
"Luke is a great guy," Ware said.
The injury occurred after Ware jumped to try to block a shot.
Louisville player, injured badly on Sunday, out of hospital
"I kind of joke a little bit, like I should have blocked the shot because I jumped so high, but I guess I just landed wrong and didn't see where I was landing, so that's kind of what caused the injury," Ware said.
He said he believes there's a reason for everything, but "I don't know what the reason is going to be" for the injury.
"It is just a process. I'm ready for it," he said.
He said he was surprised to see his teammates' tearful and distressed reactions.
"Everybody was in real shock, and just looking around and seeing that, it was devastating," said Ware, who was using crutches Wednesday.
"But they pulled it through, and that's really most important right now. We still have a season, and we don't want our season to end, so got to get the job done," Ware said.
Coach Rick Pitino sat beside Ware as the player recalled the incident.
Ware could be playing again in less than a year
In a two-hour surgery, Ware's broken tibia was straightened and a rod was inserted into it, according to a statement from Kenneth Klein, senior associate athletic director for media relations at the university.
A photo posted on the Internet shows Ware's jubilant teammates holding up his jersey as they celebrated their win over Duke, which sent them to the tournament's Final Four this coming weekend in Atlanta. Another showed Ware in his hospital bed, holding the trophy his teammates brought to him.
Ware has been touched by the public support.
"I'm a very quiet guy, so a lot of this is really new to me, you know," Ware said. "I really just appreciate everybody and the support I have right now.
"I'll be fine, but (we've) still got to win this championship," he added.
His doctors asked Ware whether he had previous shin problems, but he told them he's never had such issues.
Louisville will take on Wichita State at 6:05 p.m. ET on Saturday, with the winner advancing to the national championship game Monday.
School officials told CNN that Ware will be able to travel with his teammates when they fly to Atlanta on Wednesday night.
CNN's Dan Moriarty contributed to this report.