STORY HIGHLIGHTS
NEW: "My intentions were good," Conrad Murray says
NEW: Murray says Michael Jackson had his own stash of propofol
Murray talks to CNN twice as Jackson v. AEG Live trial starts
These are Murray's first interviews since his involuntary manslaughter conviction
For more from Don Lemon's interview with Conrad Murray (left), watch "Michael Jackson: The Final Days," a CNN documentary that will premiere at 10 p.m. Friday.
Los Angeles (CNN) -- The doctor convicted in Michael Jackson's death serenaded CNN's Anderson Cooper with a song that he said "tells my story."
Dr. Conrad Murray's unexpected rendition of Nat King Cole's "The little boy that Santa Claus forgot" came during one of two jailhouse interviews he granted to CNN: one recorded Friday with Don Lemon and the second broadcast live with Anderson Cooper on Tuesday evening.
The interviews, his first with a journalist since he was convicted in November 2011 of involuntary manslaughter, come as the trial begins in the wrongful death lawsuit filed by Jackson's children and mother accusing concert promoter AEG Live of the negligent hiring of Murray.
Along with the song, Murray talked about his role in the death of Michael Jackson, who the coroner ruled died from a lethal combination of sedatives and the surgical anesthetic propofol.
"My entire approach may not have been an orthodox approach, but my intentions were good," Murray told Cooper about his use of propofol to treat Jackson's insomnia as he prepared for comeback concerts.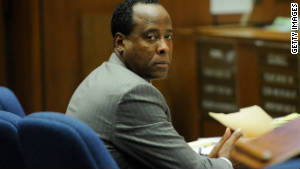 Conrad Murray maintains his innocence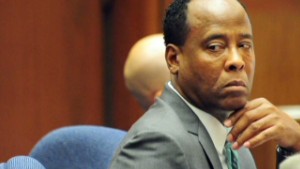 Jackson's doctor: I didn't leave propofol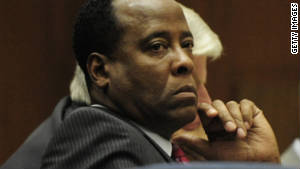 Jackson doctor speaks from jail
Murray told Lemon he is a scapegoat who had the bad luck of being "in the wrong place at the wrong time."
Jackson died on the morning of June 25, 2009, after a long, sleepless night in which Murray used sedatives and propofol to treat his insomnia, according to court testimony in the doctor's criminal trial. It was a practice that Murray had followed most nights in the previous month and other doctors had done for Jackson in past years.
Murray: Michael had his own propofol stash
"Yes, indeed, I did order propofol to his home, but I was not the one that brought propofol into his home," Murray told Cooper. "I met him at his own stash. I did not agree with Michael, but Michael felt that it was not an issue because he had been exposed to it for years and he knew exactly how things worked. And given the situation at the time, it was my approach to try to get him off of it, but Michael Jackson was not the kind of person you can just say 'Put it down' and he's going to do that."
Murray said he succeeded in eliminating propofol from his insomnia treatment three days before Jackson's death.
"I mention that I explained to Michael that this is an artificial way of considering sleep. It was basically sedation, minimal sedation," he said.
Murray: Demerol, not propofol, is to blame
But there were other issues in play the day Jackson died, Murray said. "I didn't know he was an addict. He was going to Dr. Klein's office and being loaded up with humongous levels of Demerol. Basically this was causing his insomnia because that's a huge side effect."
The appeal of his conviction filed last week argued that the judge erred by not allowing the defense to call Dr. Arnold Klein, a dermatologist Jackson visited five times in the month he died.
Murray: There was no drip
The morning Jackson died, he was given an injection, not a drip of propofol, Murray said to Cooper.
"Around 10:40 that day, after he really begged and cried and he looked so -- it was such a painful condition to see this man that was about to lose an entire potential, his fortune and empire, I agreed to give him a 25 milligram slow injection. That was it."
He watched him sleep for a half hour, but then it was safe to leave him alone, he said.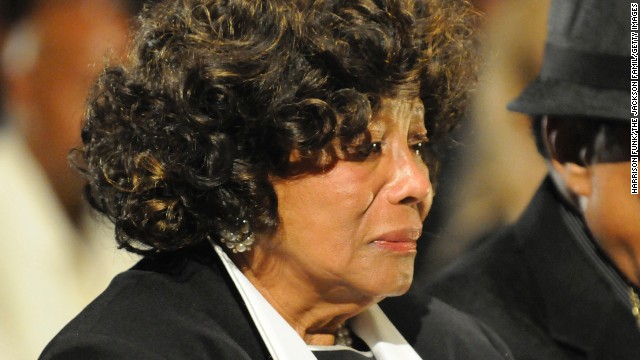 Katherine Jackson: Michael's mother, 82, was deposed for nine hours over three days by AEG Live lawyers. As the guardian of her son's three children, she is a plaintiff in the wrongful death lawsuit against the company that promoted Michael Jackson's comeback concerts.
Kenny Ortega: He was chosen by Michael Jackson and AEG Live to direct and choreograph the "This Is It" shows. Ortega, who choreographed for Jackson's "Dangerous" and "HIStory" tours, testified at Dr. Conrad Murray's criminal trial that "Jackson was frail" at a rehearsal days before his death.
Dr. Conrad Murray: He was Michael Jackson's personal physician in the two months before his death, giving him nightly infusions of the surgical anesthetic that the coroner ruled led to his death. Murray, who is appealing his involuntary manslaughter conviction, has sworn that he would invoke his Fifth Amendment protection from self-incrimination and refused to testify in the civil trial. There is a chance that Murray will be brought into court from jail to testify outside the presence of the jury to allow the judge to determine if he would be ordered to testify.
Joe Jackson: Michael's father, 84, is on the witness list for the trial and may testify. The Jackson family patriarch, who lives in Las Vegas separately from his wife, has suffered several ministrokes in the last year, which some close to him say have affected him.
Prince Jackson: Michael's oldest son is considered a key witness in the Jacksons' case against AEG Live, since he is expected to testify about what his father told him about the concert promoter in the last days of his life. Prince, who turned 16 in February, is becoming more independent -- he now has a driver's license and jobs.
Paris Jackson: Michael's daughter, who turned 15 on April 3, is on the list of witnesses and was questioned by AEG Live lawyers for several hours on March 21 about her father's death. Paris is an outspoken teen who often posts messages to her 1 million-plus Twitter followers.
Blanket Jackson: Although AEG Live asked the judge to order Blanket, 11, to sit for a deposition, and he is one of the four plaintiffs suing them, Michael's youngest son will not be a witness in the trial. His doctor submitted a note to the court saying it would be "medically detrimental" to the child.
Randy Phillips: He's president of AEG Live, the concert promoter that contracted with Michael Jackson for his "This Is It" comeback shows set to start in London in July 2009. The Jackson lawsuit says Phillips supervised Dr. Conrad Murray's treatment of Jackson in the weeks before his death, making the company liable for damages. E-mails between Phillips and other executives showed they were worried about Jackson's missed rehearsals and sought Murray's help getting him ready.
Kevin Boyle: The Los Angeles personal injury lawyer is leading the Jackson team of at least six attorneys in the wrongful death suit against AEG Live. One of his notable cases was a large settlement with Boeing on behalf of two soldiers injured when their helicopter malfunctioned and crashed in Iraq.
Perry Sanders, Jr.: Katherine Jackson's personal lawyer is helping steer the Jackson matriarch through her relations with her son's estate, probate court and the wrongful death suit. He is also known for representing the family of Biggie Smalls in their suit against the city of Los Angeles over the rapper's death investigation.
Marvin Putnam: He's the lead lawyer for AEG Live, defending against the wrongful death suit. The primary focus of his legal practice is "media in defense of their First Amendment rights," according to his official biography.
Philip Anschutz: The billionaire owner of AEG, parent company of AEG Live, is on the Jacksons' witness list. He is the force behind the effort to build a football stadium in downtown Los Angeles to lure a National Football League team to the city. He recently pulled his company off the market after trying to sell it for $8 billion.
Tim Leiweke: He was recently fired as AEG's president as Philip Anschutz announced he was taking a more active role in the company. The Jackson lawyers say Leiweke's e-mail exchanges with executives under him concerning Michael Jackson's health are important evidence in their case.
Paul Gongaware: The AEG Live co-CEO worked closely with Michael Jackson as he prepared for his comeback concerts. He testified at Dr. Conrad Murray's criminal trial that he contacted the physician and negotiated his hiring at the request of Jackson. AEG lawyers say it was Jackson who chose, hired and supervised Murray. Gongaware knew Jackson well, having been tour manager for the singer in previous years.
John Branca: He's one of two executors of Michael Jackson's estate. Branca was Jackson's lawyer until about seven years before his death. He said Jackson rehired him just weeks before he died.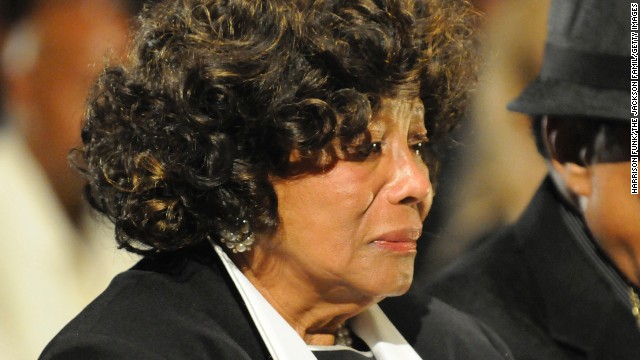 Who's who in Jackson trial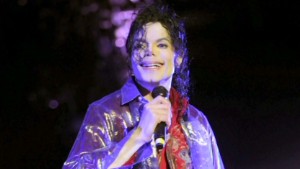 How Michael Jackson's death unfolded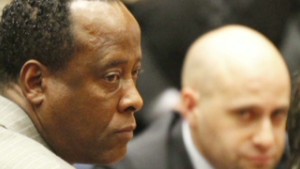 Jackson's doctor sings to Anderson Cooper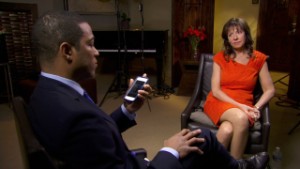 Conrad Murray claims innocence on phone
"He was sedated. He went to sleep and I watched him. I sat there for at least 30 minutes. I was able to speak on the phone, accept calls. He was fine. Everything was great. When I left his bedside, I was absolutely comfortable that propofol was no longer a factor. Done."
Phone records used as evidence in his criminal trial showed Murray busy at that time talking to several people, including girlfriends.
"Once I was comfortable and I moved away from his bedside, yes, I stayed in the adjacent chamber and I used the phone, et cetera, et cetera, but I was not worried about him. Actually, I was already packed and ready to go home."
But at some point around 11 a.m., Murray apparently realized his patient was not breathing.
Murray: Just happened to be there at the end
"I have taken the front of the storm for the entire life of a man 50 years old, who has had a monumentally destructive, painful life that has been so damaged it is of huge proportions," Murray told Lemon.
"It is in terms so humongous that for 50 years of pain that he (Jackson) has lived and I did not do him for all of that," Murray said. "All of the mishaps that he has encountered in life seem to trickle down on me and I think that is the definition of a scapegoat. Nobody has taken any responsibilities for anything that they may have done to this man but, because I was in the wrong place at the wrong time, then here I am."
"You just happened to be there at the end," Lemon said.
"Yes," replied Murray.
"Conrad Murray, as you sit here now in jail, do you believe you are innocent?" Lemon asked.
"Absolutely," Murray said. "No doubt."
"He's never wavered," his lawyer Valerie Wass added.
"Why am I innocent?" Murray continued. "Because I did nothing wrong and all I tried to do was to help a friend who I encountered in a devastated state and I tried to do everything possible to help my friend. I have been called names and who knows what. Nobody else was there at that time and I can say with the effort that I made I could've suffered a cardiac arrest myself. It was not an easy task but I never gave up on my friend -- never did."
Wass then stopped Murray from saying more that might relate to his criminal case, which she is appealing.
Paris Jackson questioned about dad's death in lawsuit
Murray: My trial was not fair
"I believe I was not given due process. I think the judge was not impartial. I think the district attorney did something that was so absurd. He altered evidence in open courtroom. Could you imagine that?" he told Cooper.
The evidence was prosecution exhibit 30, an empty propofol bottle that was allegedly placed in a makeshift IV configuration. Deputy District Attorney David Walgren pulled an unused tab on the bottle that was intended to hold the bottle on a stand. When investigators found it, it was not pulled.
"If I had to do this again, that's the one thing I would never do," Murray said. "I would never sit quietly in the courtroom and have a district attorney tear open and destroy the integrity of evidence when there was no reason to do that. That was not the only time. There were so many issues of irregularity and obstruction of justice on his part."
Murray: Michael was my great friend
Murray talked about his relationship with Michael Jackson in the last months.
"I've lost a friend, a great friend, a man who was imperfect like all of us are," he told Lemon. "He has had his dark sides and he has had his good sides and I've known them both."
His role in the friendship was to bring Jackson peace, Murray said.
"But as he left in a state of total absorption of all of the pains he has encountered and all of the stories that haven't been told that was important to him to either regurgitate, ruminate, whatever he wanted -- to think about an opportunity to release himself and I gave him that opportunity," Murray said. "There was an opportunity where Michael finally found an opportunity to tell someone almost anything and knew he was protected. I gave him that. I gave him that peace."
He expanded on this with Cooper. "To be honest, I became a sounding board for Michael," Murray said. "He offloaded and regurgitated everything that was bad in his past and everything that was dark. And I have been the absorbent capacity for that."
Alleged 'smoking gun' e-mail revealed
Murray: I love Michael's children
Murray asked to speak about Jackson's children, with whom he said he had "a beautiful, blessed relationship—an extremely good one."
"Prince Jr., Paris and Blanket are like my own kids," he said. "They are my children. I love those children. I worry about them."
"There are things I can share about the children, but I don't think I will go into that, not in this forum," he said. "But at the same time I hope the children are doing well, that they are looked after very well."
He then took aim at other members of the Jackson family, without calling names.
"I am pretty sure there are a number of bottom dwellers right now who are sucking up for anything they can, but I do hope the children will not fall victim of that," Murray said.
Michael Jackson's assistant accuses promoter
"The little boy that Santa Claus forgot"
Murray began singing after Cooper brought up the topic of the Jacksons' wrongful death lawsuit against AEG Live. He asked if he would testify on behalf of the Jacksons, who are seeking billions of dollars in damages for the singer's death.
"If I testify, I will testify very honestly," he said. "It is a sad thing when I look at what's going on in television because Michael would be absolutely upset, he would be so unhappy with what is happening. Michael said to me 'I no longer want to be a bank for my family.' All we see is the continuation of that."
He and Michael both "experienced pain," Murray said, as he began singing:
"He is a little boy that Santa Claus forgot and goodness knows he did not want a lot. He wrote a note to Santa for some crayons and a toy, it broke his little heart when he found Santa hadn't come in the streets. He envied all the lucky boys, but goodness knows he didn't want a lot. I'm so sorry for that laddie who hasn't got a daddy. He's a little boy that Santa Claus forgot.
"That song tells my sorry," Murray then said. "That's how I grew up. I had no toy. I had nothing. As I grew up, my heart has been whole and my heart says to help, and all I do is to give. I want to give."
Murray: No anger
Murray said he holds no anger toward anyone, however.
"I can certainly be upset and say, 'How did this happen to me?' but I am not doing that," he said. "I think I take the high road in this. My friendship was good and genuine and for everything it is worth I want to remember it that way."
"What do you want people to know about Conrad Murray?" Lemon asked.
"I want to be known as just a simple human being who came from the most humblest of backgrounds, who has worked his way through life through difficult times and good times," he said. "I have been an ambitious man, but the ambitions have not been in any way directed to self. Self is only one part. I spent my life to make man better, to improve the lives of everyone I encounter."
He said he would always be a free man "because of my spirituality, my beliefs. I have carried the weight of this world on my shoulder and I know that I cannot carry that by myself so I was also carried by my heavenly father."
Murray: Jail's no day at the beach
He spoke from a cell he described "a small space where there is no penetration of sunlight, but I can say there is room for improvement in everything. Certainly not like being in the sand or being in Bora Bora, but I am hoping for enduring the task as best that I can."
His expected release date is in late October, after he serves half his sentence, unless the sheriff decides to free him earlier under jail overcrowding guidelines.
Watch Anderson Cooper 360° weeknights 8pm ET. For the latest from AC360° click here.