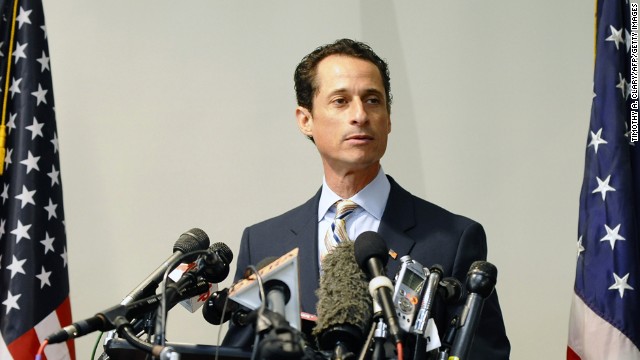 Former Rep. Anthony Weiner, D-New York, resigned from Congress in 2011 after being embroiled for weeks in a sex scandal linked to his lewd online exchanges with women. Weiner announced in May that he was running for mayor of New York City, saying in a video announcing his campaign, "I hope I get a second chance to work for you." Weiner's comeback bid suffered a potential setback Tuesday, July 23, when he acknowledged more sexually tinged exchanges with an unnamed woman. "What I did was wrong," Weiner said in a statement about the newly emerged communications.
Former New York Gov. Eliot Spitzer, who resigned in 2008 after it was revealed that he had spent thousands of dollars on prostitutes, says he plans to run for New York City's comptroller. "I accepted responsibly for what I did," Spitzer said. "I spent five years of working, doing useful things, and I hope the public will offer me an opportunity." Despite taking knocks from the press, the voters and, in some cases, the law, other politicians have pursued redemption in their public image or, in some cases, a return to office.
Former Gov. Mark Sanford endured heavy criticism and being the butt of jokes until his term ended after he admitted in 2009 that his six-day hiking trip on the Appalachian Trail was actually a cover for a trip to Argentina to visit his mistress. In May, Sanford won election against Democrat Elizabeth Colbert Busch for an open seat in the U.S. House, despite being heavily outspent by Democrats and without the backing of national Republicans.
Bill Clinton had a scandalous presidency, most famously having an affair with an intern that prompted his impeachment. Since, he has become an important figure in worldwide humanitarian efforts and informal adviser to President Obama.
Former Speaker of the House Newt Gingrich left his position in disgrace after the Clinton impeachment proceedings in 1998. It was also later revealed that he was having an affair with a Congressional staffer, now his current wife Callista. Gingrich had an unsuccessful bid for the Republican presidential nomination in 2012 and is now seen as an elder party statesman, regularly appearing in the media on conservative issues.
Before becoming an adviser for Homeland Security, retired Sen. Gary Hart was the front-runner of the 1988 Democratic primaries for president until images of him with a model surfaced, ending his campaign.
Former Rep. Dennis Kucinich, D-Ohio, has had many ups and downs in his political career, first becoming mayor of Cleveland, at the age of 31, and then losing a bid for reelection. Kucinich was later elected to the Senate and then the U.S. House but lost when he ran for president in 2004 and again in 2008.
Sen. David Vitter admitted his guilt in the D.C. Madam scandal in 2007. His phone number had been published in 2009 in a list of phone records from a prostitution ring Deborah Jeane Palfrey, also known as the "D.C. Madam." Three years later he was reelected to the Senate.
Marion Barry is sworn in as the mayor of Washington with his wife, Cora Masters Barry, at his side, in 1995. Four years earlier, he was forced from the mayor's office, and later imprisoned, for being caught on videotape smoking crack.
Richard Nixon resigned in disgrace in 1974 after the Washington Post broke the story on his role in the Watergate burglary. But before being elected president, Nixon was Dwight Eisenhower's vice president. He lost his first presidential election to John F. Kennedy in 1960, and then lost the governor's race in California in 1962. However, in 1968, he got the GOP nomination and defeated Hubert Humphrey in the general election to become president.
Anthony Weiner
Eliot Spitzer
Mark Sanford
Bill Clinton
Newt Gingrich
Gary Hart
Dennis Kucinich
David Vitter
Marion Barry
Richard Nixon
STORY HIGHLIGHTS
NEW: Sanford's fiancee appeared with him during his victory speech
Mark Sanford wins a Republican primary runoff for a congressional seat
His political life was thought to have ended in 2009 when he admitted to an affair
Sanford has been pitching himself as a fiscal conservative and pushing for redemption
(CNN) -- The last time Mark Sanford held public office, his political career was thought to be over after he admitted to an extramarital affair.
The South Carolina governor said he was looking for forgiveness when he began his bid for the congressional seat he held from 1995 to 2001.
On Tuesday, it appeared that his push for political redemption was working, as he took a 13 percentage point lead in a Republican primary runoff for the seat, according to early, unofficial reports from the South Carolina State Election Commission. His opponent, Charleston City Councilman Curtis Bostic, conceded to Sanford.
Whether to forgive him, the Republican told CNN in January, would be a personal decision for each voter.
"There's an amazing reservoir of human grace out there, there's a reservoir of God's grace that each of us have to access ourselves as best we can," he said during the interview on CNN's Piers Morgan Tonight.
Sanford wins GOP nomination for House seat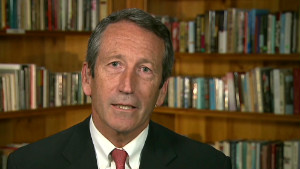 Mark Sanford: How I learned from scandal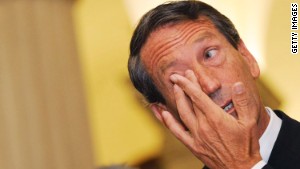 2009: Gov. Sanford: I've been unfaithful
Some voters, Sanford said, told him they will consider his background before deciding their vote.
"Forgiveness really is in the hands of the other, and I think it's incumbent upon each of us to make that decision for ourselves," he said, citing his 52 years in the state and two decades in politics.
Last month it appeared the political scales were once again tipping in Sanford's favor after he came in first in a 16-candidate primary. He finished with 37% of the vote, far short of the 50% needed to avoid a runoff, but he said that his first-place finish was "incredibly humbling."
Sanford, 52, had taken heat from his opponents in the crowded GOP primary field who criticized him for his past and for being a "career politician."
Sanford's re-entry into politics comes after an extramarital affair derailed his marriage and political career. As governor, he infamously told the public in 2009 he was hiking the Appalachian Trail while he was actually traveling to Argentina to carry on the affair.
He and his then-wife, Jenny, divorced in 2010, and Sanford finished his second term in January 2011.
The experience, he told CNN, changed his perspective.
"If you went through the level of destruction that I brought about it my own life, you have this yearning to construct something," he said in 2011. "We get our priorities mixed up in life. Fundamentally life is about relationships -- relationship to God and relationship to those around us."
He and his ex-wife, Jenny, were almost pitted against one another on the GOP primary ballot in March after both indicated their interest. But in January, Jenny Sanford said she would not seek the nomination, leaving Mark Sanford to formally announce his bid.
He is currently engaged to Maria Belen Chapur, the woman with whom he carried on the affair.
Chapur, who rarely appears in public with Sanford, was by his side during his victory speech.
The seat is up for a May 7 special election after Rep. Tim Scott resigned it upon his appointment to fill the U.S. Senate seat left vacant by Jim DeMint's resignation.
Sanford is expected to face a tough bid for the seat against Democrat Elizabeth Colbert Busch, the sister of TV political commentator Stephen Colbert.
And this time around, Sanford pitched himself as a fiscal conservative who spoke out on the issues of debt, deficit, and federal spending years ago, issues that are now very much at the forefront.
"We're having a new fiscal crisis, it seems, every couple months," he said. "So what I want to do is take what I've learned and hopefully apply it to again a great conundrum that now exists in Washington, which is how do we get our financial house in order."
CNN's Chelsea J. Carter, Catherine E. Shoichet, Jim Acosta, Paul Steinhauser, Kevin Liptak, Peter Hamby and Ashley Killough contributed to this report.