STORY HIGHLIGHTS
Through her drill team, Tawanda Jones is teaching discipline to kids in Camden, New Jersey
Camden is one of the poorest and most violent cities in the United States
Jones' program also stresses the importance of education, community service
Camden, New Jersey (CNN) -- Camden, New Jersey, is not an easy place for a kid to grow up in.
Just ask 15-year-old Destinee Williams.
"Camden has this reputation of being dangerous because you can walk outside at 3 in the afternoon and hear gunshots," Destinee said. "Gangs and drugs are a huge deal. Kids get into gangs to feel safe so they won't get killed."
Unfortunately, Destinee has had to deal with too many killings in her young life.
"My father was murdered in Camden last year, and my cousin was murdered (last month)," she said. "In the last month, I know of at least three people getting killed. In Camden, I expect it to happen. I'm not surprised anymore."
For many people, the violence in Camden can make it feel more like a war zone than an American city, but the battle doesn't end there.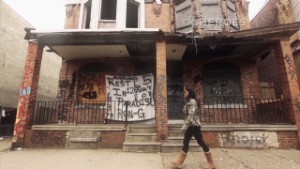 About 42% of Camden's population is living below the poverty line, making it one of the poorest cities in the United States.
According to the U.S. Census Bureau, about 42% of Camden's population is living below the poverty line, making it one of the poorest cities in the United States. The New Jersey Department of Education reports that nearly 90% of Camden's schools are in the bottom 5% performance-wise in the state.
"For too long, the public school system in Camden has failed its children," New Jersey Gov. Chris Christie said Monday, when he announced the state would be taking over the city's schools. "Each day that it gets worse, we're failing the children of Camden, we're denying them a future, we're not allowing them to reach their full potential."
Camden may seem like a city without hope, but one of its native daughters is on a mission to change its downtrodden reputation and empower its youngest residents.
Tawanda Jones started a dance team, the Camden Sophisticated Sisters Drill Team, to entice young girls to stay off the street and do something positive with their lives. Over the years, she has incorporated boys into the team and also started a drum line program.
"People perceive Camden and its kids as garbage," Jones said. "We have so many gifted kids. They want more out of life. There's just nothing in our city to do. Therefore, what happens when a child has idle time and no positive way to channel that energy? They have to find something else. And it just may turn into the dark side."
Through the drill team, Jones aims to teach kids about discipline, dedication and self-respect, things she believes are necessary to survive and thrive in this rough community and beyond.
We have so many gifted kids. They want more out of life. There's just nothing in our city to do.
CNN Hero Tawanda Jones
"Whether you need it for work, you need it for school, you need discipline, period," said Jones, 40. "Drill team is good as far as structure, because you have to be precise. You have to be on point."
Jones also stresses education, as kids in the program have to keep a C average in school.
"If they get too many Cs, we put them on academic probation," Jones said. "We don't want to kick a child out because they're not doing well in school, so on my days off I go to the child's school just to correspond with the teacher. I'll just make sure that the child is doing well or (see) what we can do on our end to help that child get to where she needs to be."
Only 49% of children in Camden graduate from high school, one of the lowest rates in the state, according to the New Jersey Department of Education. But Jones said all the children who've participated in her program -- more than 4,000 kids since 1986 -- have graduated, and more than 80% of them have gone on to college or technical schools.
"I don't think people really understand how important it is to have these children succeed as far as graduating from high school," Jones said. "That's a big deal in our city."
In addition to promoting education, Jones makes it mandatory that children commit to 200 hours of community service a year. They also have to write an essay about how to improve their neighborhoods.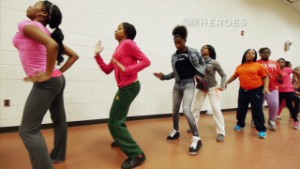 More than 4,000 kids have participated in Tawanda Jones' program since 1986. All have graduated from high school.
"You have to keep that community base," said Jones, who the children call Wawa. "Keeping your neighborhood clean, helping the elderly, you bring that family feel back to that community. That is what Camden needs."
Jones founded her program when she was a teenager and saw many of her peers getting pregnant.
"I was a teen mother myself, but I had a great foundation. My family was there for me," she said. "They taught me how to love and respect myself, and more importantly, how to work hard. I saw that a lot of girls didn't have any of that, and I wanted to help."
Destinee joined the drill team after her father was killed.
"When my dad passed, I really didn't know what to do," she said. "The outcome of that was me to not act like myself. ...
"CSS changed me a whole lot. It stopped me from going out in the streets, finding bad people to hang with. My grades now are not straight F's anymore. I have a GPA of 3.0. I want to go to college and be a sports manager when I get older. ... Miss Wawa is my second mom, she's the best thing that happened to me in the past year."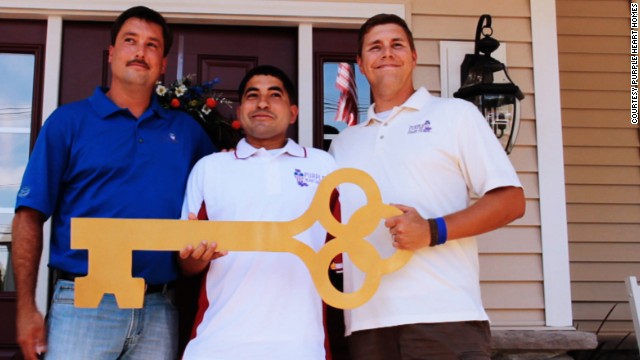 After Dale Beatty, right, lost his legs in the Iraq war, his community thanked him for his service by helping him build a home. To pay it forward, Beatty co-founded Purple Heart Homes, which has helped build or modify homes for dozens of disabled U.S. veterans. "We wouldn't leave someone behind on the battlefield," Beatty said. "Why would we do it at home?"
For decades, Georges Bwelle watched his father suffer, unable to get the medical attention he needed. Now a doctor, Bwelle travels into the jungles of his native Cameroon nearly every weekend, providing free medical care for those who don't have access to good health care. "To make people laugh, to reduce the pain, that's why I'm doing this," he said.
More than 72,000 people in Charlotte, North Carolina, lack access to fresh produce. When Robin Emmons discovered this problem, she took action. "I decided to rip up my whole backyard and make it all a garden for people in need," she said. Since 2008, Emmons has grown more than 26,000 pounds of fruits and vegetables for area residents.
Foster children don't often get the things other children do, but Danielle Gletow is trying to help change that. She posts their wishes online so the public can help grant them. "I'm here to be the mom to all these kids who might not feel like they have one," she said. Since 2008, her group has helped grant more than 6,500 wishes in 42 states.
Tawanda Jones is using dance to empower the youth of Camden, New Jersey, one of the poorest cities in the country. Through Jones' drill team program, at least 4,000 children have learned discipline, respect and community service -- and all of them have graduated high school. "We need to take back our city and, most importantly, take back our youth," Jones said.
For many children fighting cancer, it can be extremely tough to make it to their chemotherapy appointments. But Richard Nares started a group that gives them transportation and support. "No child should miss their cancer treatment due to lack of transportation," said Nares, who lost his son to leukemia in 2000.
Kakenya Ntaiya is inspiring change in her native Kenyan village. After becoming the first woman in the village to attend college in the United States, she returned to open the village's first primary school for girls. "Our work is about empowering the girls," Ntaiya said. "They are dreaming of becoming lawyers, teachers, doctors."
Chad Pregracke has made it his life's work to clean up the Mississippi River and other American waterways. Since 1998, about 70,000 volunteers have helped Pregracke remove more than 7 million pounds of garbage from 22 rivers across the country. "Picking up garbage, it's tough, miserable and hot," Pregracke said. "We try to make it fun."
Estella Pyfrom used her life savings to create "Estella's Brilliant Bus," a mobile computer lab that provides tutoring for thousands of low-income students in Palm Beach County, Florida. "It's not just a bus, it's a movement," Pyfrom said. "And we're going to keep making a difference."
Laura Stachel created a special "solar suitcase" to help health-care workers deliver babies in more than 20 developing countries. "I really want a world where women can deliver babies safely and with dignity," Stachel said.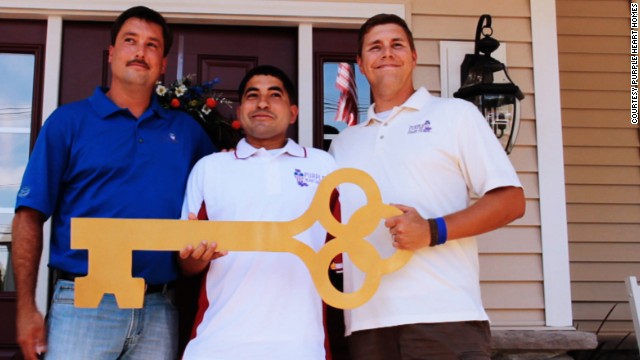 The top 10 CNN Heroes of 2013
Taron Green was on the verge of joining a gang before he became a member of the drum line. He now mentors younger members.
"We're in such a state of poverty and violence that it scares people from us when, honestly, we need the most help," Green said. "The best way for me to describe Wawa is like, if this was Gotham City, she would be Batman."
Jones, who often uses her own money to fund her organization, is still looking for a permanent place for her drill team to practice. She said she knows it's an uphill battle to turn her city around, but she's determined to do it one kid at a time.
"It's bad. But it can get better. I believe that with all my heart," she said. "These kids didn't ask to be here. They didn't ask to be put in this situation. But being that we're here, we have to make the best of this situation, and it's going to take everybody in this community to do it."
Want to get involved? Check out the Camden Sophisticated Sisters Drill Team website at camdensophisticatedsisters.org and see how to help.