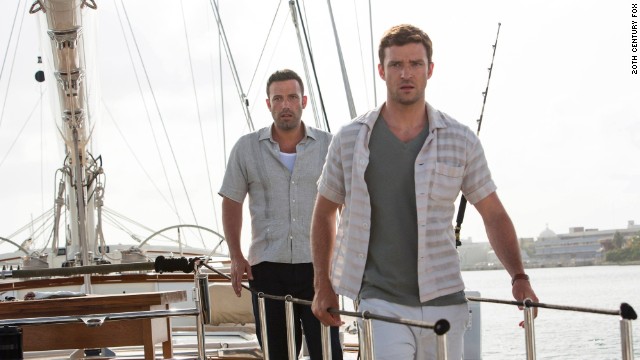 Justin Timberlake has a new movie out, "Runner Runner" which co-stars Ben Affleck. The former boy bander is on quite a roll with his career ...
His album "The 20/20 Experience" has been the biggest seller so far this year and in September he released the second volume, "The 20/20 Experience - 2 of 2."
'N Sync, with Timberlake at far left, arrives at the 1998 Billboard Music Awards party in Las Vegas.
Timberlake attends the Wango Tango Concert in May 2000 in Los Angeles.
Timberlake stars alongside Maggie Lawson and Kathie Lee Gifford in Disney's 2000 TV movie "Model Behavior."
'N Sync performs at the 2000 MTV Movie Awards.
Timberlake and Britney Spears dated from 1999 to 2002. Here, in 2001, the pair attend the American Music Awards in matching denim.
Timberlake joins Steven Tyler, Spears and Nelly on stage during the 2001 Super Bowl halftime show in Tampa.
Seann William Scott and Timberlake host the 2003 MTV Movie Awards in Los Angeles.
At the 2004 Grammy Awards, Timberlake wins best male pop vocal performance and best pop vocal album for his solo debut, "Justified."
Timberlake performs with Janet Jackson during the 2004 Super Bowl halftime show in Houston. A surprise involving Jackson's costume at the end of the performance raised quite a ruckus.
Timberlake plays Frankie Ballenbacher in the 2006 movie "Alpha Dog."
JT lent his voice to 2007's "Shrek the Third." The film also features the vocal talents of Cameron Diaz, who reportedly dated Timberlake on and off from 2003 to 2007.
In 2008, Timberlake and Beyonce perform at Conde Nast Media Group's Fashion Rocks in New York.
Jessica Biel and Timberlake, who were first linked in 2007, attend the Costume Institute Gala at the Metropolitan Museum of Art in 2009.
The pair cuddle watch the Lakers take on the Jazz at the Staples Center in 2009.
Timberlake plays Sean Parker to Jesse Eisenberg's Mark Zuckerberg in 2010's "The Social Network."
Timberlake gave a voice to Boo Boo in 2010's live-action comedy "Yogi Bear." Dan Aykroyd voiced Yogi.
Timberlake presents an award with his "Friends with Benefits" co-star Mila Kunis during the 2011 MTV Movie Awards.
Kunis and Timberlake play friends-turned-lovers in 2011's "Friends with Benefits."
Timberlake and Diaz put their breakup behind them to co-star in 2011's "Bad Teacher."
engaged
in December 2011.
Timberlake and Biel smooch for the cameras at the Staples Center in 2012. Despite remaining mum on the topic, the pair reportedly got
Amy Adams, Timberlake and Clint Eastwood star in 2012's "Trouble with the Curve."
In October 2012, JT and Jessica Biel were married in an intimate ceremony in Italy. The pair join Beyonce and Jay-Z in the audience at the 2013 Grammy Awards in Los Angeles. Timberlake and Jay-Z performed "Suit & Tie" that evening.
Ryan Seacrest poses with Timberlake at the iHeartRadio "20/20" album release party on March 18 in Los Angeles.
Justin Timberlake through the years
Justin Timberlake through the years
Justin Timberlake through the years
Justin Timberlake through the years
Justin Timberlake through the years
Justin Timberlake through the years
Justin Timberlake through the years
Justin Timberlake through the years
Justin Timberlake through the years
Justin Timberlake through the years
Justin Timberlake through the years
Justin Timberlake through the years
Justin Timberlake through the years
Justin Timberlake through the years
Justin Timberlake through the years
Justin Timberlake through the years
Justin Timberlake through the years
Justin Timberlake through the years
Justin Timberlake through the years
Justin Timberlake through the years
Justin Timberlake through the years
Justin Timberlake through the years
Justin Timberlake through the years
Justin Timberlake through the years
Justin Timberlake through the years