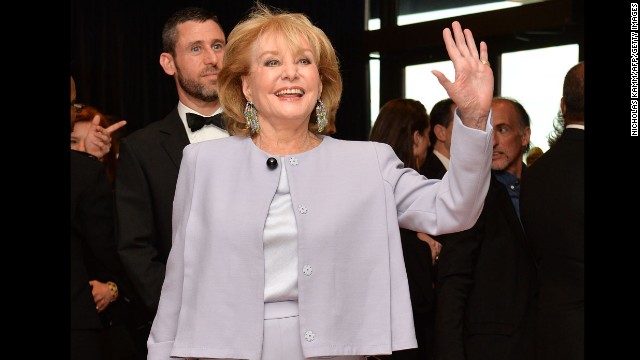 After a journalism career spanning a half-century, Barbara Walters retired from TV journalism on May 16. We look back on the career of Walters, shown here at the White House Correspondents' Association annual dinner in Washington on May 3.
Guest co-host Sunny Hostin, from left, Walters, guest Bette Midler, Sherri Shepherd and Whoopi Goldberg laugh it up during an episode of "The View" on May 9. The show is known for the spirited conversations of its hosts and guests.
Walters' annual specials on the year's "most fascinating people" focused on big names in entertainment, sports, politics and popular culture. In December 2012, she interviewed then-Secretary of State Hillary Clinton.
Walters sits for a photo with President Barack Obama, first lady Michelle Obama and Joy Behar on the set of "The View" in September 2012 in New York.
Walters knows celebs like no one else. She and George Clooney attended the Bloomberg & Vanity Fair cocktail reception after the 2012 White House Correspondents' Association Dinner at the residence of the French ambassador in Washington.
Walters has also done many serious interviews, such as when she sat down with Syrian President Bashar al-Assad on December 4, 2011, for his first exclusive on-camera interview with an American journalist since the start of the uprising in Syria.
Walters and fellow TV journalist Katie Couric attended the 30th annual News & Documentary Emmy Awards at Frederick P. Rose Hall in 2009 in New York.
Walters signs copies of her book "Audition: A Memoir" for customers at Borders Books in Vienna, Virginia, on May 8, 2008. The book reflects on her lonely childhood and illustrious career as well as an affair with married, black Republican Sen. Edward W. Brooke of Massachusetts that finally ended when they decided that disclosure could ruin their respective careers.
2013 interview with CNN's Piers Morgan,
Walters noted that despite Chavez's immense power and influence, the President tried to portray himself as a martyr: "He could be very warm. He was very vulnerable, complained that he'd been married twice, Piers, but had no time for a relationship because he was married to his country."
In an exclusive interview on "20/20," Walters sat down with controversial Venezuelan President Hugo Chavez on March 14, 2007. In an
Walters and Elmo at the Third Annual Sesame Workshop Benefit Gala at Cipriani 42nd Street in New York in 2005.
In 2005, Walters met with President George W. Bush and first lady Laura Bush for their first joint interview after the November 2004 election.
In 2003, only the possibility of war in Iraq could cause the postponement of her annual pre-Oscars interview special.
Russian President Vladimir Putin, left, speaks with Walters at the Kremlin in Moscow on November 5, 2001.
The women of "The View" became stars in their own right. Lisa Ling, Star Jones, Joy Behar and Walters appeared with Jay Leno on "The Tonight Show."
After months of legal negotiations, former White House intern Monica Lewinsky, whose affair with President Bill Clinton resulted in Clinton's impeachment, broke her longtime silence to talk with Walters on ABC News' "20/20" in 1999. A record 70 million viewers tuned in.
Michael Jackson spoke to Walters in an exclusive interview about the controversial paparazzi, his experiences with the tabloid press and what it means to be under such intense scrutiny on "20/20" on September 12, 1997. Jackson told her the paparazzi have relentlessly pursued him the way they did Princess Diana.
In the first interview since a horseback riding accident left him paralyzed from the neck down, Christopher Reeve talked with Walters on September 28, 1995, for a special one-hour segment of ABC News' "20/20." In the interview, which took place at the Kessler Institute for Rehabilitation in New Jersey, Reeve talks about what he remembers of his accident and how his life functioned afterward.
Her reporting has made Walters an international star. She and actor Richard Gere greeted the Dalai Lama when he visited St. John the Divine in New York in 1992.
Donald Trump, Don King and Walters on December 12, 1987.
During an interview with legendary actress Katharine Hepburn in 1981, Walters asked what might be the most infamous question of her career: "What kind of a tree are you? If you think you're a tree?"
Walters held in a groundbreaking interview with Israeli Prime Minister Menachem Begin, center, and Egyptian President Anwar Sadat in Jerusalem during Sadat's first peace visit to Israel on November 20, 1977.
Walters interviewed Cuban President Fidel Castro as they crossed the Bay of Pigs for an ABC News Special that aired on June 9, 1977.
Jim Hartz and Walters reported for NBC News during the 1976 New Hampshire Democratic Primary.
Walters was called "a former hostess of a morning TV show, an interviewer of the famous and all-around glamour girl personality in her own right" when "ABC Evening News with Harry Reasoner and Barbara Walters" debuted in 1976, making her television's first network anchorwoman.
Jack Lescoulie, Hugh Downs, Walters and Frank Blair conduct a discussion on NBC's "Today Show" in New York. She worked for the show from 1961 to 1976.
President Gerald Ford gives Walters a helping hand as she slips while stepping onto the stage in Washington during an awards presentation on March 10, 1975, for participants in the Special Olympics.
From left, Gene Shalit, Walters and Frank McGee sit behind the news desk in a promotional portrait for the "Today Show" in 1973.
Walters interviewed American novelist, short story writer and playwright Truman Capote for "Today" inside his New York apartment in 1967.
Walters takes a phone call at her desk in New York in 1962.
Barbara Walters' amazing career
Barbara Walters' amazing career
Barbara Walters' amazing career
Barbara Walters' amazing career
Barbara Walters' amazing career
Barbara Walters' amazing career
Barbara Walters' amazing career
Barbara Walters' amazing career
Barbara Walters' amazing career
Barbara Walters' amazing career
Barbara Walters' amazing career
Barbara Walters' amazing career
Barbara Walters' amazing career
Barbara Walters' amazing career
Barbara Walters' amazing career
Barbara Walters' amazing career
Barbara Walters' amazing career
Barbara Walters' amazing career
Barbara Walters' amazing career
Barbara Walters' amazing career
Barbara Walters' amazing career
Barbara Walters' amazing career
Barbara Walters' amazing career
Barbara Walters' amazing career
Barbara Walters' amazing career
Barbara Walters' amazing career
Barbara Walters' amazing career
Barbara Walters' amazing career
Barbara Walters' amazing career