STORY HIGHLIGHTS
"I'm a human being ... I made a mistake," says Robert Zimmerman Jr.
He tweets side-by-side images of Trayvon Martin and De'Marquise Elkins
Elkins is accused of killing a baby in his stroller in Georgia
Zimmerman says he was trying to make a larger point about the media
(CNN) -- Robert Zimmerman Jr., the brother of the man who shot and killed 17-year-old Trayvon Martin, apologized for his controversial and offensive tweets.
In one, Zimmerman juxtaposed a photograph of Martin with one of 17-year-old De'Marquise Elkins, one of two teenagers charged with killing a baby in Georgia.
Both Elkins and Martin appear to be flipping off the camera.
"A picture speaks a thousand words. Any questions?" the tweet reads.
In another tweet, Zimmerman writes: "Lib media shld ask if what these2 black teens did 2 a woman&baby is the reason ppl think blacks mightB risky."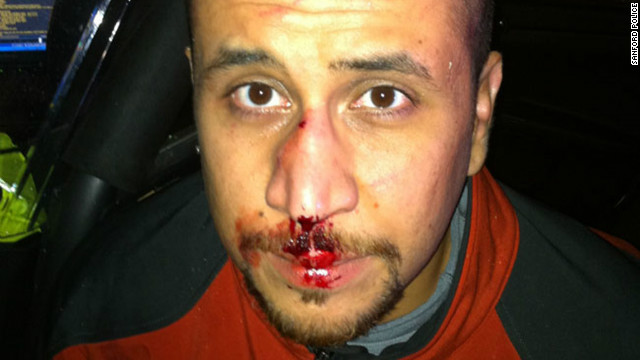 A photo posted online Monday, December 3, shows George Zimmerman with blood on his nose and lips. His attorneys say it was taken the night unarmed teen Trayvon Martin was killed in Sanford, Florida. Zimmerman, 28, faces second-degree murder charges in the death of Martin in Sanford, Florida, on February 26, 2012. Other evidence photos were released earlier this year:
Zimmerman says he shot Martin in self-defense. Martin's attorneys say he was shot and killed "in cold blood."
Zimmerman said that before he shot the teenager, he was "assaulted (by Martin) and his head was struck on the pavement," according to a police report.
According to a fire department report, Zimmerman had "abrasions to his forehead," "bleeding/tenderness to his nose" and a "small laceration to the back of his head" when he was treated at the scene.
In a photo released by the Sanford Police Department, Zimmerman's hands appear to be unmarked.
Prosecutors allege Zimmerman unjustly killed Martin, an unarmed teenager, after profiling him. Zimmerman has pleaded not guilty and claims self-defense.
Zimmerman's gun is displayed. The shooting raised questions about gun laws, as well as the merit of the "stand your ground" law in Florida and similar laws in other states.
Crime scene photos released by the Sanford Police Department show Trayvon Martin's cell phone at the scene of the shooting.
Evidence marker 2 shows a plastic sack found at the crime scene.
A can of Arizona iced tea was found on the ground at the Martin crime scene.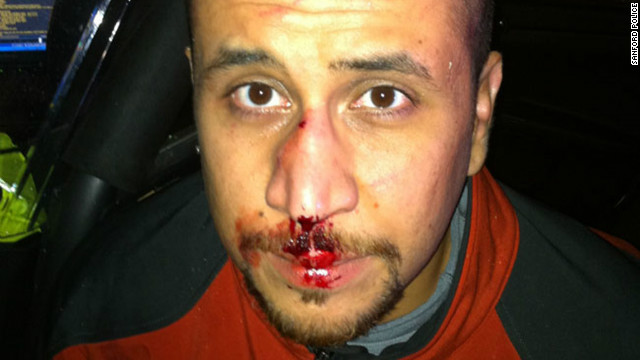 Photos: Trayvon Martin evidence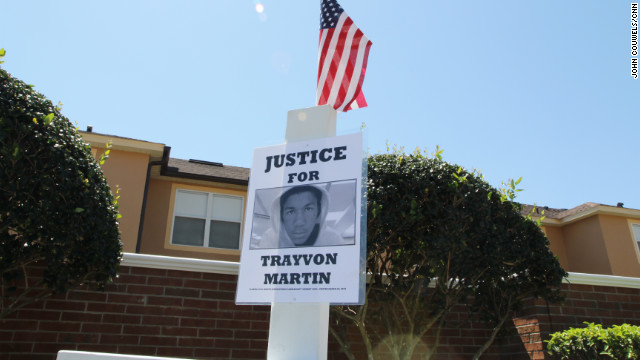 Memorials to Trayvon Martin grow daily outside The Retreat at Twin Lakes, the gated Sanford, Florida, community where neighborhood watchman George Zimmerman shot and killed the unarmed teen February 26. The death has sparked protests across the country and brought unwanted attention to Sanford, a town north of Orlando.
Sanford's main roads are dotted with mini strip malls in between patches of what remains of central Florida's agricultural history. Views about the Martin case depend on which streets you stand on in Sanford.
"I don't see Sanford as being a prejudiced town by any means," said Michelle Simoneaux, left, manager of downtown's Colonial Room Restaurant and Fountain. "This could happen anywhere, but it doesn't happen every day. "
A neighborhood watch sign marks the gated community where Martin died. Zimmerman has said he killed the teen in self-defense, police said.
Members of the Goldsboro community play a game under an oak tree. Goldsboro was one of Florida's earliest towns incorporated by African-Americans before Sanford absorbed it and took over in 1911. Residents speak of frequent police patrols in the area and other cases similar to Martin's.
A protest sign painted on the window of a car at a housing project calls for Zimmerman's arrest. For some, the Martin case has become a rallying cry, a chance to air what they believe are years of grievances.
The Martin killing has been the subject of intense coverage in local newspapers as well as the national media.
Longtime resident Myranette Boynton, 58, says she thinks the attention to Sanford will make a difference. "This occasion has happened too many times, and enough is enough," Boynton says from the banks of Lake Monroe. "Trayvon is not the only one, but Trayvon should be the last one."
A handwritten card lies among the memorial gifts outside the neighborhood where the high schooler died.
A woman strolls through the downtown area. Many residents say they wonder whether Sanford will forever be known as the place where an unarmed black teen was killed while heading home from the store.
Signs about the shooting have been posted throughout the Florida city, and the message is clear: People want answers.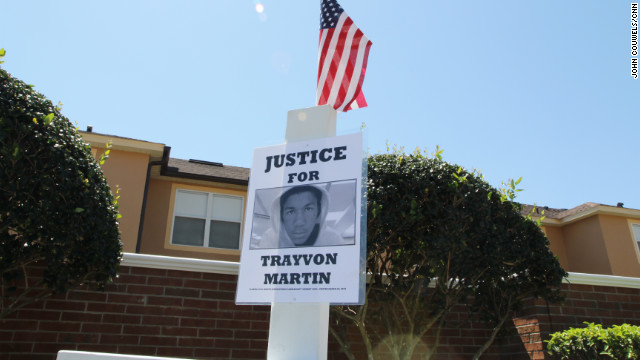 Stigma for town in Trayvon Martin killing
Speaking on CNN's Piers Morgan Live on Wednesday night, he apologized for the messages, saying they weren't the "right thing to do."
"I realize those were controversial and offensive and I did publicly apologize for them," he said. "I'm a human being. I'm being upfront about what I did. I made a mistake ... Unfortunately (it) may not have helped George."
5 things to know about the case
His brother, George Zimmerman, has been charged with second-degree murder. Zimmerman acknowledged shooting Martin but said it was in self-defense. Attorneys for Martin's family have accused Zimmerman of racially profiling Martin and shooting him "in cold blood."
Robert Zimmerman Jr. said he was trying to make a larger point in his tweets about the "media and their honesty in portraying the person who encountered my brother February 26, 2012.
Letters to Zimmerman show split opinions
"We've been led to believe that it's a junior-high-school-aged person because of the pictures," he said, referring to Martin.
"The analogy is these are two people who chose to represent themselves in this way. One was accused of killing a baby, and whatever's in his social media makes the rounds immediately ... However, the other person who almost killed my brother had he disarmed him -- my brother had every indication to believe he would have killed him -- his social media is off limits."
Chief witness in Martin case lied under oath
Zimmerman's tweets prompted a response from his brother's defense team.
Attorney Mark O'Mara told CNN's "Starting Point" Thursday morning that Robert Zimmerman doesn't represent his brother or his defense.
"Having said that, I'm not sure where (Robert's) heart was, but I've always said for the past year that we have to have a conversation about race, and the Zimmerman case has brought it to the forefront, particularly the way young black males are treated in the system," O'Mara said. "These type of tweets ... were insensitive to that, and quite honestly are the opposite of what I hope the conversation would be to try and figure out what's wrong with the system and maybe a good way to fix it."
O'Mara said he worries about how Robert Zimmerman's tweets will affect George's case.
"Everything that happens in this case is, if not overblown, hyper-focused upon, so that everything that George says or does is important," O'Mara said "... And certainly when a family member of my client says something that comes across as totally insensitive -- if not much, much worse -- (it) has an effect, and now we have to deal with it."
Opinion: Trayvon Martin did not die in vain