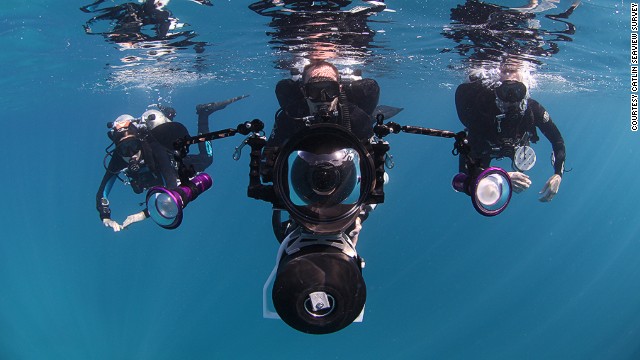 The Catlin Seaview Survey is the first comprehensive mapping of the Great Barrier Reef. Before now, less than 20% had been properly studied.
Heron Island is a coral cay in the Great Barrier Reef, home to one of the world's most important coral research stations and temporary home to the Catlin Seaview Survey team.
The team developed special equipment for the survey, a camera called the SVII. By taking a high definition picture every three seconds, it captures panoramic images of the reefs while recording their exact location with GPS technology.
Half of the coral of the Great Barrier Reef has disappeared over the last 27 years. Researchers want to capture the "magical paradise" before it's too late.
Coral is colonies of tiny animals sharing a common skeleton -- they are at huge risk from both natural and man-made changes to the ecosystem.
"This is the sort of science we need to do right now to get a real picture of the vulnerability of coral reefs," says the survey's lead scientist Ove Hoegh-Guldberg.
Reefs are home to a quarter of all marine species on the planet. They are also the "heart and lungs of our planet," says Hoegh-Gulberg, "yet we're abusing them."
The crown-of-thorns starfish is the greatest natural threat to coral populations. Outbreaks of this coral-feeding fish can devastate entire reefs. Reasons for outbreaks remain unclear, but researchers hope that the survey will shed some light.
A researcher comes face to face with a giant Maori Wrasse. Fishes are vital to the upkeep of their habitats: "When you take the fishes out the ocean, you take out the gardeners and the pest control officers," says Hoegh-Guldberg.
The hawksbill sea turtle is a critically endangered species of turtle. Here one swims through the Great Barrier's Agincourt Reef.
A sibling to the seahorse, there are around 200 species of pipefish, which tend to inhabit the more sheltered areas of the reefs.
A researcher studies a large potato cod in Cod Hole, a small area of the Great Barrier Reef famous for its rich population of the fish.
It may be called a cuttlefish but in fact it's a mollusk. This eight-armed creature forms part of a complex web of life in the Great Barrier Reef.
When spawning, sea cucumbers release their gametes into the surrounding currents for reproduction by nearby larvae.
The Catlin Seaview Survey team are hoping that their expansive research will bridge a gap between scientific awareness and public understanding of our vast underwater ecosystems.
Diving with the SVII camera
A coral outcrop off the coast of Heron Island
Researcher and camera stalked by a shark
An anemone on Saunders Reef
Sea squirts on the Great Detached Reef
Coral covered in algae in the Crispin Reef
A whip goby on the Ribbon Reef
Crown-of-thorns starfish
Maori Wrasse on the Agincourt Reef
A hawksbill sea turtle
Bright yellow pipefish off Heron Island
Potato cod at Cod Hole
Cuttlefish on Crispin Reef
Spawning sea cucumber on Saunders Reef
A hermit crab on the Myrmidon Reef