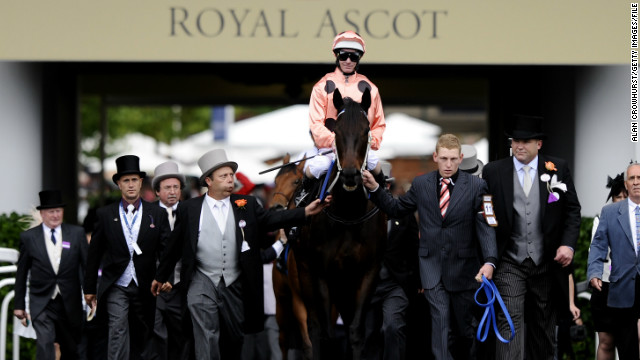 So how did wonder mare Black Caviar travel 17,000 kilometers from Australia to Britain's Royal Ascot?
By plane, of course. Champion Australian race horse Black Caviar wore a special compression suit during her 30-hour journey from Melbourne to London. No expense was spared for the celebrity mare traveling in a $50,000 first-class airborne stable.
Each year thousands of race horses are flown across the world to compete in international competitions. It's a major operation, with horses first loaded into stables on the ground before being put onto the plane via a scissor lift.
German Olympic gold medal winning equestrian rider Ludger Beerbraum's horse, Goldfever, is cared for by staff at Frankfurt's international airport. The airport boasts one of Europe's largest animal lounges; around the size of a football pitch.
Much like humans, race horses require passports to travel, though instead of a photo they include a silhouette with details of markings, the names of owners, and vaccine records.
Each International Racehorse Transport (IRT) flight includes an on board vet. The stables range from $17,000 for three-horse economy, £30,000 for two-horse buisiness class and $50,000 for a single horse to fly first class.
IRT flew many of the equestrian horses to London during the 2012 Olympic and Paralympic Games. "Do they get jetlag? To be honest, we've got no idea because they can't tell us," said Chris Burke, IRT co-owner.
Long before air travel was the norm, horses were transported by ship. However this came to a halt in 1972 when diseases such as African Horse Sickness and the Venezuelan Equine Encephalitis caused both the Suez and Panama Canals to ban horse traffic.
Before Black Caviar stormed Britain's Royal Ascot, that other great Australian champion race horse, Phar Lap, traveled to the U.S. by ship to compete. It would also be the place of his death, after he was found poisoned.
Fresh off the plane
If the suit fits
Catch a lift
Horses first
Pony passport
Class of their own
Olympic effort
Ship-shape travel
Adventurous Australians
STORY HIGHLIGHTS
Ever felt like cattle on an economy flight? You might want a 'horse-class' upgrade
Prized ponies are flown around world in first class stables
Costing up to $50,000, the stables offer round-the-clock handlers
Horse owners increasingly attracted to big international prize money
Editor's note: Winning Post is CNN's monthly horse racing show. Click here for program times and latest features.
(CNN) -- Once you've battled through the queues, check-in, extortionate on board snacks and cramped seating, it's no wonder so many economy airline passengers complain about flying "cattle-class."
In fact, if the four-legged racing celebrities being flown around the world in luxury are any indication, next time you might want to ask for an upgrade to "horse-class."
Each year thousands of race horses, breeding stallions and beloved pet ponies are flown across the world in plush airborne stables costing up to $50,000.
Read: Qatar's six-star hotel...for horses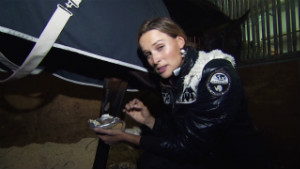 Staying safe when competing on ice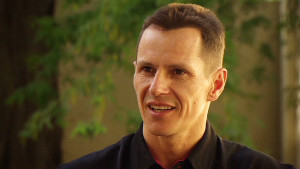 Life as an expat jockey in Doha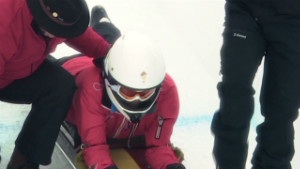 Swiss town with need for speed
"It is a major undertaking," Chris Burke, co-owner and operating manager at International Racehorse Transport, which flies 5,000 horses a year, told CNN.
"Each air stable can hold three horses. So if you were traveling from Australia to England, three to a stall is the equivalent of economy ($17,500), two to a stall is business class ($30,000), and one horse on its own is first class ($50,000).
Read: Meat scandal shines light on murky horse trade
There might not be champagne and in-flight films, but pampered ponies flying first class can expect round-the-clock specialists, 40 liters of water, two hay bales and none of the hassle of airplane transfers.
No expense spared
One thoroughbred who stretched out in style was Australian champion Black Caviar, who flew from Melbourne to London's Heathrow airport in June.
No expense was spared when the celebrity horse, who remains unbeaten in a staggering 23 consecutive races, jetted across the world to compete at Britain's prestigious Royal Ascot in front of Queen Elizabeth.
Read: Aussies make Black Caviar pilgrimage to Ascot
The super mare, who has won more than $7 million in prize money, wore a full-body compression suit -- to help blood flow and water retention --throughout the 30-hour journey.
She was accompanied by two stablehands and one vet in her first-class stable, measuring 3.5 meters by 2.5 meters.
"She had a lot of attention," owner Colin Madden said. "Even before the plane took off, there were about 30 people taking photos while she was boarding.
We thought we had a world class horse who deserved to perform on a world class stage
Colin Madden, Black Caviar co-owner
"In the air, handlers were checking her pulse and making sure she was eating and drinking properly every hour."
Once loaded into her stable on the ground, Black Caviar was lifted into the cargo plane by a scissor lift.
"She'd never been in a plane before, so you can imagine how terrified she was hearing the engine," added Madden. "She was agitated for the first half hour but then she calmed down.
"The flight took a lot out of her. It was at the end of a long racing campaign and she never quite bounced back -- when she arrived in the UK she was tired and lethargic."
Despite the toll of the journey, Black Caviar didn't disappoint at Ascot, retaining her unbeaten record in the Diamond Jubilee Stakes -- just.
Read: Upping the stakes -- Royal Ascot offers record $7.5m prize money
Just like humans, airplane passengers of the four-legged variety must also contend with the risk of respiratory infections, dehydration and sleep deprivation.
Then there's the bureaucracy involved -- race horses also need passports and must pass quarantine before entering a new country.
International horse racing circuit
So why are an increasing number of owners and breeders flying their prized pets across the planet at such a massive cost -- and potential risk to their performance?
"It's very tempting from an international prize money point of view," Burke said.
"Hong Kong and Dubai in particular have been pioneers in trying to push an international horse racing circuit. To say 'we're attracting the best race horses from across the world' gets major publicity for their event."
The prestige associated with an internationally recognized race horse can also boost their breeding value after they leave the track.
To say 'we're attracting the best race horses from across the world' gets major publicity for an event.
Chris Burke, IRT co-owner
"We thought we had a world class horse who deserved to perform on a world class stage -- it wasn't about prize money for us," Madden said of the decision to fly Black Caviar to Ascot.
"I think a lot of owners compete their horses internationally out of a mixture of pride, excitement and business acumen."
Read: Buying a race horse -- A safe bet?
Sometimes though, no matter how much you prepare for a plane journey, there are some hiccups you can't avoid.
"One time in Sydney we were loading breeding studs aboard a Boeing 747 bound for Europe," Burke explained.
"It was going down the runway when all the rumbling must have set off the alarms on some of the Volkswagens which were also being transported."
Unsurprisingly, "the horses didn't like the idea of that," and the plane was promptly turned around and the car batteries cut off.
After all, as Burke explained: "The horses were worth a lot more than the cars on board."