Rockets from Gaza hit Israeli city during Obama visit
updated 8:14 AM EDT, Thu March 21, 2013
STORY HIGHLIGHTS
One rocket lands in the courtyard of a house
No casualties are reported
Militants in Gaza have regularly launched rocket attacks
Read a version of this story in Arabic.
Jerusalem (CNN) -- Two rockets from Gaza slammed into southern Israel on Thursday morning, as U.S. President Barack Obama prepared to leave Jerusalem for Ramallah for meetings with top Palestinian Authority officials.
One of the rockets landed in the courtyard of a house in the city of Sderot, but no casualties were reported, Israeli police spokesman Micky Rosenfeld said.
A police disposal expert was still searching for the other rocket, Rosenfeld said.
Obama is on a four-day trip to Israel and the West Bank, his first since assuming office.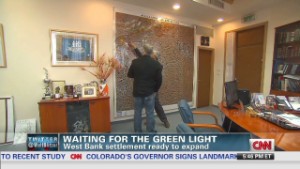 West Bank settlement ready to expand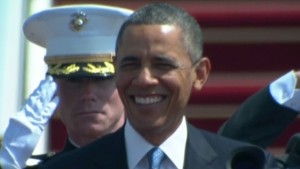 Obama's open mic slip in Israel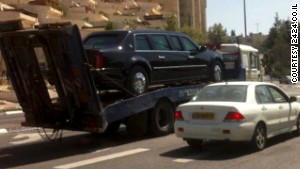 See what happened to Obama's broken limo
On Thursday, he is expected to meet with Palestinian Authority President Mahmoud Abbas.
Israel seized Gaza during the 1967 war, and withdrew settlers from there in 2005. In the ensuing years, militants in Gaza have regularly launched rocket attacks into southern Israel.
In November, Israel launched what it called the Pillar of Defense operation, a series of military strikes on Gaza designed to stop the constant rocket fire.
Eight days of round-the-clock warfare followed between Israel and Hamas, the Palestinian movement that controls Gaza.
As Israel targeted Hamas military commanders and weaponry, Palestinian militants continued to fire rockets into Israel, battering the southern region and reaching Israel's two major cities -- Jerusalem and Tel Aviv.
Israel called up reservists and massed its forces on the Gaza border, threatening a ground invasion. Many feared a repeat of Israel's Operation Cast Lead offensive against Palestinian militants in late 2008, an operation that led to a bloody three-week war.
The fighting in November took its toll: More than 160 Palestinians, many of whom were civilians, were killed. Six Israelis died, including civilians and soldiers. Hundreds were wounded.
The fighting ended after Egypt and the United States helped broker the cease-fire that lasted until February 26.
On that day, a rocket damaged a road outside the town of Ashkelon, about 15 kilometers (9 miles) from Gaza.
The Al Aqsa Martyrs Brigades, a Gaza militant group, claimed responsibility
CNN's Michael Schwartz reported from Jerusalem and Karen Smith from Atlanta.

Part of complete coverage on
updated 2:48 AM EDT, Fri May 24, 2013

"It's always the one we feared, the lone wolf that can come from nowhere and not be on our radar," said ex-London police chief John Yates.

Learn about one woman's tireless battle against sex slavery in the Philippines, with Manny Pacquiao in her corner. Watch the full version here.
updated 6:43 AM EDT, Thu May 23, 2013

Ai Weiwei, the controversial Chinese artist-activist, has released a music single and video inspired by his harrowing detention by the government.
updated 2:13 AM EDT, Fri May 24, 2013

CNN's Christiane Amanpour and Nic Robertson give their insight on the brutal murder of a man in broad daylight.
updated 10:15 AM EDT, Thu May 23, 2013

Imagine if you could paint a working light switch directly onto your wall, without any need for sockets, cables or wiring. Well, now you can.
updated 10:45 AM EDT, Thu May 23, 2013

A rare Apple 1 computer, with only 50 in existence today, could sell at auction for $400,000.
updated 1:14 PM EDT, Tue May 21, 2013

Did you know that hurricanes can also produce tornadoes? Read facts you didn't know about destructive twisters.
updated 7:19 AM EDT, Thu May 23, 2013

The World Economic Forum has declared Egypt one of the most dangerous places for tourists, above Yemen and Pakistan in terms of risks for visitors.
updated 5:07 PM EDT, Thu May 23, 2013

Doctors used an experimental technique never tried before on humans to save the life of a six-week-old baby from a rare lung condition.

Five years after the 2008 Olympics construction boom, new Beijing hotels have steadily cropped up.