Rockets from Gaza hit Israeli city during Obama visit
updated 8:14 AM EDT, Thu March 21, 2013
STORY HIGHLIGHTS
One rocket lands in the courtyard of a house
No casualties are reported
Militants in Gaza have regularly launched rocket attacks
Read a version of this story in Arabic.
Jerusalem (CNN) -- Two rockets from Gaza slammed into southern Israel on Thursday morning, as U.S. President Barack Obama prepared to leave Jerusalem for Ramallah for meetings with top Palestinian Authority officials.
One of the rockets landed in the courtyard of a house in the city of Sderot, but no casualties were reported, Israeli police spokesman Micky Rosenfeld said.
A police disposal expert was still searching for the other rocket, Rosenfeld said.
Obama is on a four-day trip to Israel and the West Bank, his first since assuming office.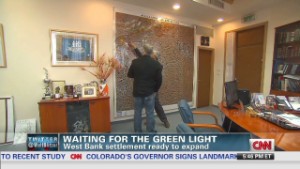 West Bank settlement ready to expand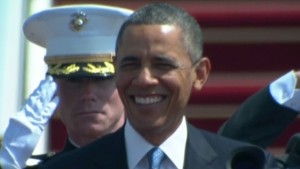 Obama's open mic slip in Israel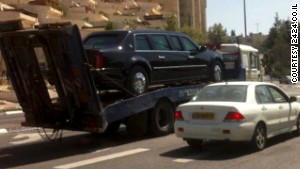 See what happened to Obama's broken limo
On Thursday, he is expected to meet with Palestinian Authority President Mahmoud Abbas.
Israel seized Gaza during the 1967 war, and withdrew settlers from there in 2005. In the ensuing years, militants in Gaza have regularly launched rocket attacks into southern Israel.
In November, Israel launched what it called the Pillar of Defense operation, a series of military strikes on Gaza designed to stop the constant rocket fire.
Eight days of round-the-clock warfare followed between Israel and Hamas, the Palestinian movement that controls Gaza.
As Israel targeted Hamas military commanders and weaponry, Palestinian militants continued to fire rockets into Israel, battering the southern region and reaching Israel's two major cities -- Jerusalem and Tel Aviv.
Israel called up reservists and massed its forces on the Gaza border, threatening a ground invasion. Many feared a repeat of Israel's Operation Cast Lead offensive against Palestinian militants in late 2008, an operation that led to a bloody three-week war.
The fighting in November took its toll: More than 160 Palestinians, many of whom were civilians, were killed. Six Israelis died, including civilians and soldiers. Hundreds were wounded.
The fighting ended after Egypt and the United States helped broker the cease-fire that lasted until February 26.
On that day, a rocket damaged a road outside the town of Ashkelon, about 15 kilometers (9 miles) from Gaza.
The Al Aqsa Martyrs Brigades, a Gaza militant group, claimed responsibility
CNN's Michael Schwartz reported from Jerusalem and Karen Smith from Atlanta.

Part of complete coverage on
updated 3:14 PM EDT, Thu May 16, 2013

Boxing legend Manny Pacquiao is using his hero status to fight human trafficking in the Philippines, pushing for an anti-trafficking law.
updated 6:25 PM EDT, Thu May 16, 2013

The U.N. says 70% of rapes committed in Somalia are carried out by men in military uniform. CNN's Nima Elbagir reports.
updated 8:38 AM EDT, Fri May 17, 2013

Christiane Amanpour writes an open letter to girls of the world, saying it is time to end the discrimination against girls in education.
updated 3:12 PM EDT, Fri May 17, 2013

Fans gasped when David Beckham wore a sarong. Then there was the nail polish and tattoos. But his masculinity was never in doubt.
updated 10:54 AM EDT, Fri May 17, 2013

Albinos in Tanzania have been attacked and killed because some people believe their body parts bring good luck. But one albino is fighting back.
updated 8:50 AM EDT, Fri May 17, 2013

Terrible results for Dell mean the future seems anything but bright for the PC industry despite a flurry of attempted innovations.
updated 12:00 PM EDT, Fri May 17, 2013

Mario Balotelli has delivered his verdict on his time in the English Premier League -- the AC Milan striker couldn't be happier to have left England.
updated 7:04 AM EDT, Fri May 17, 2013

If you thought Preakness was the poor sister to Kentucky Derby, think again. CNN brings you top five facts from the prestigious horse race.
updated 7:45 PM EDT, Wed May 15, 2013

Natasha Kampusch was held for eight years in an Austrian man's basement. She talks about her road to recovery, exclusively to CNN.
updated 5:36 PM EDT, Wed May 15, 2013

From her hospital bed, Reshma tells CNN about the 17 days she spent trapped under nine stories of rubble in Bangladesh.
updated 6:12 PM EDT, Thu May 16, 2013

A room full of partygoers in San Francisco were given power over a cocktail-making robot controlled by their smartphones.
updated 11:57 AM EDT, Thu May 16, 2013

The cast of "Star Trek Into Darkness" take a break from fighting space villains to answer questions from CNN iReporters.
updated 7:48 AM EDT, Thu May 16, 2013

CNN brings you images capturing moments to remember. Look ahead to the future and chronicle our changing world.