Police chase ends in crash that kills 7, hurts 8 at Navy base in Texas
updated 8:49 PM EDT, Thu March 21, 2013
STORY HIGHLIGHTS
The victims, who may be undocumented immigrants, are from Guatemala and Honduras
The driver is among those injured, a spokesman says
Truck slams into a security barrier at the Kingsville, Texas, naval air station
It was being chased by police at the time, another spokesman says
(CNN) -- Seven suspected undocumented immigrants were killed and eight others injured when a truck being chased by police crashed into a security barrier at a Navy facility in Texas, authorities said Thursday.
Fifteen people were in the truck, with 10 crammed inside the cab and five under a tarp in the truck's bed, said John Gagne, spokesman for Naval Air Station Kingsville.
The crash occurred late Wednesday when the extended-cab pickup sped past an officer at the main gate at the base, south of Corpus Christi, Gagne told CNN.
The GMC Sierra was being chased by Kingsville police about 11:15 p.m. when it ran the checkpoint. Earlier, Gagne said that U.S. Border Patrol personnel were involved in the chase, but that was incorrect.
It was not immediately clear why the truck was being pursued.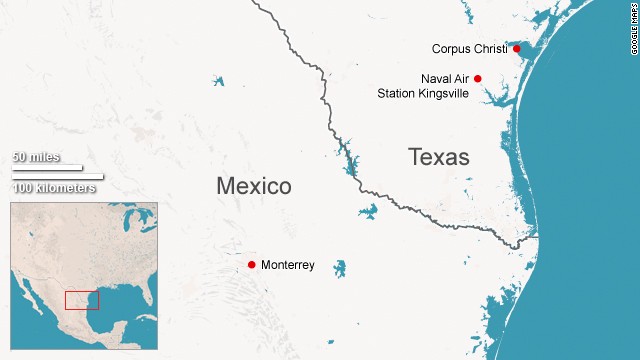 Click on map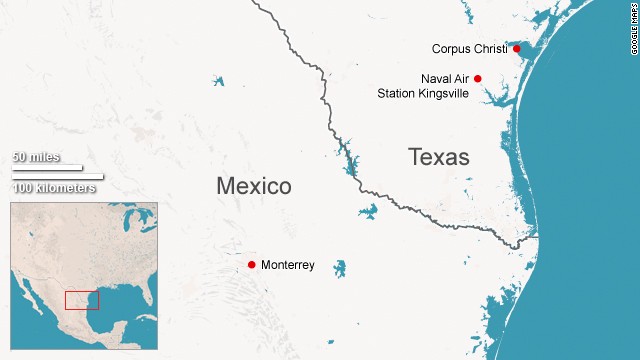 Click on map
Guards deployed a pop-up barrier outside a second security post, and the truck slammed into that obstacle without slowing down.
"That's exactly what the barrier is designed to prevent," Gagne said, referring to the driver's behavior. "It's quite possible this guy didn't even know where he was."
Video from CNN affiliate KIII-TV showed flashing lights and emergency vehicles outside the air station overnight.
No one from the military or the law enforcement agencies was among those hurt; names of the victims had not been released as of late Thursday afternoon.
The injured were taken via ambulance or flown to hospitals in south Texas. Their conditions were not known, although Gagne said at least some were life-threatening.
Greg Palmore, a spokesman for U.S. Immigration and Customs Enforcement, said the crash victims are from Guatemala and Honduras and that their respective consulates have been notified. The driver was among those injured, he said.
Kingsville Police Chief Ricardo Torres referred all questions to the state Department of Public Safety, which is investigating the incident, along with ICE's Homeland Security Investigations and the Naval Criminal Investigative Service.

Part of complete coverage on
updated 4:33 PM EDT, Wed May 22, 2013

Details are still emerging of the London attack, but in recent years previous Islamist plots have targeted British soldiers on home soil.
updated 6:17 PM EDT, Tue May 21, 2013

The image of the Gaza boy and his father under a hail of Israeli bullets became a powerful symbol. Now Israel insists its military is not to blame.
updated 2:31 PM EDT, Wed May 22, 2013

The tornado that ripped through Oklahoma saw teachers rise to be surrogate parents, protectors and heroes, according to LZ Granderson.
updated 1:14 PM EDT, Tue May 21, 2013

Did you know that hurricanes can also produce tornadoes? Read facts you didn't know about destructive twisters.
updated 9:01 AM EDT, Wed May 22, 2013

The petite frame of 19-year-old Zoe Smith should fool nobody -- she's a weightlifting warrior who has fought stereotypes and broken a British record.
updated 12:41 AM EDT, Wed May 22, 2013

Prime Minister Shinzo Abe calls women "Japan's most underutilized resource," yet traditions have been hard to overcome.
updated 10:55 AM EDT, Wed May 22, 2013

According to the United Nations' mission in Iraq, 712 Iraqis were violently killed in April 2013. This is both normal and extraordinary.
updated 7:21 AM EDT, Wed May 22, 2013

Myanmar's Muslims have generally coexisted with the Buddhist majority. But ethnic fault lines are exposed as it emerges from military rule.
updated 8:09 AM EDT, Wed May 22, 2013

Actresses Carey Mulligan, Isla Fisher and Elizabeth Debicki tell CNN who gave them inspiration for their characters.
updated 1:21 AM EDT, Wed May 22, 2013

A quarter century after his death, American pop artist Andy Warhol has popped up in China again after his first and only trip to the country in 1982.
updated 10:39 AM EDT, Wed May 22, 2013

Revolutionary "bionic exoskeletons," like the metal suit worn by comic book hero Tony Stark, may be closer than you think.
updated 3:51 PM EDT, Tue May 21, 2013

Photos: From Sharon Stone to Matt Damon, browse through the best from the Cannes red carpet this year.

Damnit we have work to do ... but not before we have another go at this annoyingly difficult web-based game.