STORY HIGHLIGHTS
Reports about Jimmy Fallon taking over "Tonight" prompted late night jokes
On Wednesday, Jay Leno fired off more cracks about NBC
Fallon, meanwhile, quipped that "Tonight" will become a diving show
(CNN) -- NBC might be aiming to replace Jay Leno with Jimmy Fallon, but it looks like the "Tonight Show" host isn't going down without a fight.
Leno aimed one of his opening monologue jokes toward his employer Wednesday, the same day that reports proclaimed NBC is hoping to move Fallon to "Tonight" by the fall of 2014. In doing so, "The Tonight Show" would also move back to New York from California.
In light of all that chatter, Leno took the stage as the still-current host of "Tonight" and cracked wise about NBC's sagging ratings.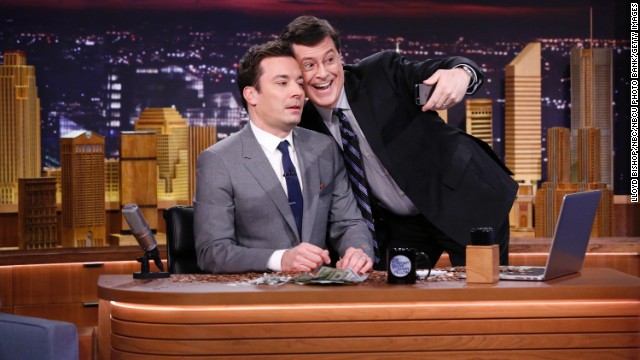 Jimmy Fallon's takeover of "The Tonight Show" has been inevitable, show producer Lorne Michaels told GQ. "He's the closest to (Johnny) Carson that I've seen of this generation," Michaels said. Stephen Colbert joins him to take a selfie on his debut Monday night. Fallon is the latest in a six-decade line of "Tonight" hosts.
Johnny Carson's 30 years as a host of "The Tonight Show" made him a talk show icon. Carson, who hosted from 1962 to 1992, set the standard for late night show formats and style. Here, Carson speaks to a guest in 1964.
Comedian and songwriter Steve Allen was the show's first host, from 1954 to 1957. His prolific career earned him two stars on the Hollywood Walk of Fame. Here, Allen poses for a promotional portrait in 1955.
Jack Paar's unpredictable and dramatic presence drew more than 7 million viewers every night between 1957 and 1962. The show was renamed "The Jack Paar Show" while he was host.
Jay Leno starred in "The Tonight Show with Jay Leno" from 1992 to 2009 and then moved to his own prime-time show, "The Jay Leno Show," on NBC. After a public controversy over scheduling changes while Conan O'Brien hosted the show in 2009, Leno returned to host "The Tonight Show" in 2010. Here, Leno jokes with Jerry Seinfeld in 1998.
Conan O'Brien hosted the show for seven months and left after NBC announced that it would be moving his show to after midnight and Leno's prime-time show to "The Tonight Show's" time slot. Here, O'Brien on his final show on January 22, 2010.
Leno returned in March 2010. Here, Leno chats with President Barack Obama in October 2012.
Leno hosted "The Tonight Show" for 22 years -- minus seven months in 2009-10 when Conan O'Brien had the chair. He had his final episode on February 6.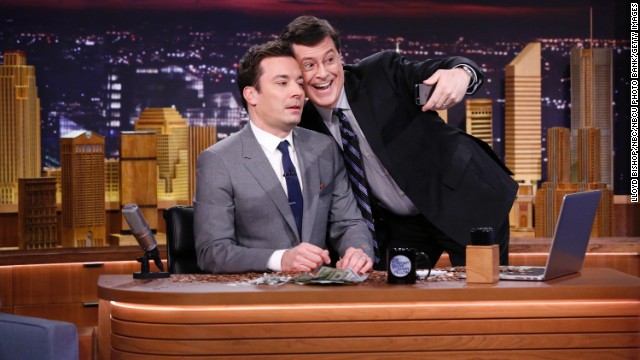 Photos: 'Tonight Show' hosts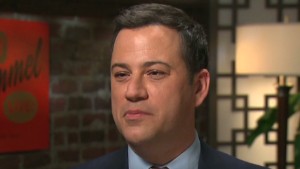 Kimmel: Leno dumbs down his material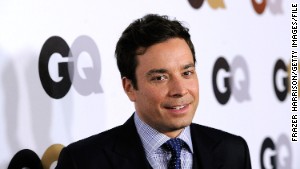 Report: Fallon to replace Jay Leno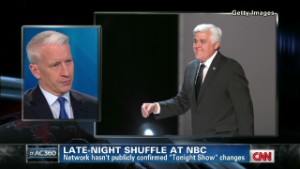 Bill Carter: Fallon is replacing Leno
"Scientists say they're getting closer and closer to being able to do 'Jurassic Park'-style cloning on extinct species -- things once thought to be extinct could now be brought back from the dead," Leno said. "So, there's hope for NBC. It could turn around."
But if you've been tuning in -- and it's fair to assume that you might have, since "Tonight" is still one of the shows that is performing well for NBC, noted New York magazine's Vulture -- you know that Leno's been taking fire at the "peacock" network all week.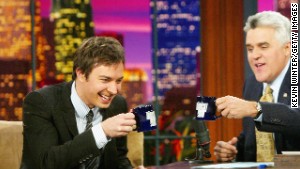 Late night war rages with Fallon, Leno
On Monday, he compared NBC execs to snakes in a holiday-themed St. Patrick's Day joke.
"You know the whole legend of St. Patrick, right?" Leno said. "St. Patrick drove all the snakes out of Ireland, and then they came into the United States and became NBC executives."
And then on Tuesday, it was another light dig at NBC's poor performance.
"Did you hear about this? A 28-year-old woman from Serbia has a rare brain condition where she sees everything upside down," Leno said. "Isn't that unbelievable? She sees everything upside down. In fact, she thinks NBC is at the top of the ratings."
Fallon also couldn't escape the reports Wednesday, and acknowledged them right off the top of his "Late Night" monologue.
"Before we get started, I have to talk about the rumors that came out today which say that I'll be moving up to 11:30 -- or as my parents call it, 'eh, it's still too late,'" he joked. "The rumors are true -- NBC is turning 'The Tonight Show' into a diving competition." (ABC's "Splash," you might've heard, premiered to nearly 9 million viewers on Tuesday.)
Yet according to The New York Times' Bill Carter, Fallon's future as the new host of "Tonight" isn't a done deal as much as it's an understanding.
"There's no deal yet for the timetable of this, they have an understanding," Carter told CNN's Jake Tapper Wednesday. "I'm sure Jay knows about the understanding. But Jay has a contract that goes until the fall of next year. I think from Jay's point of view, he will work until they tell him to stop. That's the way he is; that's the kind of guy he is."
Still, the idea of Fallon getting the show isn't a surprise -- at least, not as much as the report that the show will move back to New York from California.
"There's a lot of reasons for it -- I think they all feel that the energy of New York helps Fallon," Carter said. "But also you have Lorne Michaels, who's the producer of the show, and has always been close to Jimmy and he's of course New York-based. And then you have the band, The Roots, and The Roots are a Philadelphia-based band, and some of the guys I think still commute to New York, and they're very important to that show and I don't think they wanted to lose them."