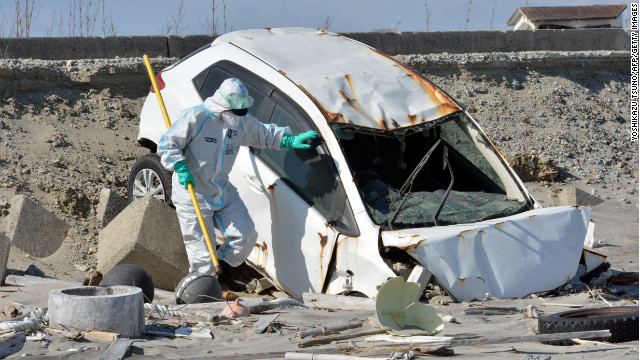 A police officer searches for remains in a wrecked vehicle at a beach in Namie, Japan, near the stricken Fukushima Dai-ichi nuclear plant, on Monday, March 11, the second anniversary of the tsunami. Two years ago, a magnitude-9.0 earthquake unleashed a wall of water that killed nearly 16,000 people in northeast Japan and sparked the world's worst nuclear crisis in 25 years.
Police officers offer chrysanthemum flowers for tsunami victims in Namie on Monday after their search for remains of those still missing, two years after the disaster.
Police officers search for remains on the coast in Namie on Monday.
A Buddhist monk prays for tsunami victims at Arahama district in Sendai, Japan, on Monday.
People visit a memorial altar at the Okawa elementary school where at least 70 students died in the 2011 tsunami, in Ishinomaki, Japan, on Monday.
Vehicles that were abandoned two years ago sit in a field of reeds in Namie on Monday.
Children pray during a memorial ceremony to mark the second anniversary of the disaster in Kamaishi, Japan, on Monday.
Collapsed houses still line on a street in Namie on Monday.
Buddhist monks pray at the tsunami-devastated Disaster Prevention Center in Minamisanriku, Japan, on Monday.
A man mourns on Monday in front of a ship brought ashore by the 2011 tsunami in Kesennuma, Japan.
Volunteers clean pictures found in debris from the earthquake and tsunami disasters at the Tsukidate elementary school in Kesennuma, Japan, on Sunday, March 10.
Children in Minamisoma, Japan, float balloons while paying respects on Sunday, March 10, a day before the second anniversary of the disaster.
Japanese police officers dig through rubble in Miyagi Prefecture on Sunday.
Sun shines through the window of an area on Sunday that was devastated two years ago in Rikuzentakata, Iwate Prefecture.
A laundry shop remains deserted about 20 kilometers (12 miles) from the Fukushima Daiichi nuclear facility on Sunday. The earthquake knocked the power plant offline, resulting in a meltdown of three reactors.
Japanese Buddhist monks chant and pay their respects to the victims on Sunday in Minamisoma.
A devastated area stands still Sunday in Odaka, a hard-hit city within the former exclusion zone set up after the Fukushima Daiichi facility had released radiation.
An abandoned house is filled with rubbish in Odaka on Sunday.
Students and volunteers light candles at Yuriage Junior High School during a commemoration ceremony on Sunday in Natori, Japan.
A boy takes part in an anti-nuclear march in Tokyo on Sunday. The radiation crisis that stemmed from the earthquake and tsunami shattered public trust in nuclear power.
Visitors walk in front of a replica of the "miracle" pine tree on Sunday in Rikuzentakata. It was the last surviving pine in what was once a sprawling grove of more than 70,000, standing as a symbol of hope amid the devastation.
A cemetery in Odaka has low visibility in heavy wind on Sunday. The city became a nuclear ghost town after the 2011 disaster.
Men sit on a bench in front of a temporary housing shelter on Thursday, March 7, in Motomiya, Fukushima Prefecture. Thousands were displaced in the aftermath of the earthquake.
Two years after Japan earthquake, tsunami
Two years after Japan earthquake, tsunami
Two years after Japan earthquake, tsunami
Two years after Japan earthquake, tsunami
Two years after Japan earthquake, tsunami
Two years after Japan earthquake, tsunami
Two years after Japan earthquake, tsunami
Two years after Japan earthquake, tsunami
Two years after Japan earthquake, tsunami
Two years after Japan earthquake, tsunami
Two years after Japan earthquake, tsunami
Two years after Japan earthquake, tsunami
Two years after Japan earthquake, tsunami
Two years after Japan earthquake, tsunami
Two years after Japan earthquake, tsunami
Two years after Japan earthquake, tsunami
Two years after Japan earthquake, tsunami
Two years after Japan earthquake, tsunami
Two years after Japan earthquake, tsunami
Two years after Japan earthquake, tsunami
Two years after Japan earthquake, tsunami
Two years after Japan earthquake, tsunami
Two years after Japan earthquake, tsunami