Suspect in fatal New York cab crash charged with vehicular manslaughter
updated 4:38 PM EDT, Tue March 19, 2013
STORY HIGHLIGHTS
Suspect in fatal crash charged with vehicular manslaughter
Julio Acevedo is accused in a wreck that killed Nathan and Raizy Glauber and their son
Raizy Glauber was pregnant, and the baby was delivered by cesarean but died
Acevedo was driving at nearly 70 mph, twice the speed limit, authorities say
New York (CNN) -- The suspect in a hit-and-run crash that killed a Brooklyn couple and their baby has now been charged with second-degree vehicular manslaughter, the Kings County District Attorney's office announced Tuesday.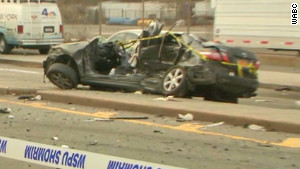 Baby delivered after fatal crash dies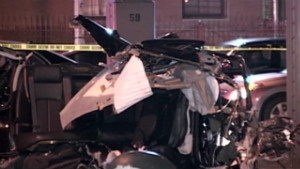 Crash kills parents on way to hospital
"While we knew it was a snowy evening and the defendant was speeding, our investigation has developed additional information concerning the nature of Mr. Acevedo's conduct leading up to the fatal crash," said District Attorney Charles J. Hynes.
Julio Acevedo, 44, was indicted last week, accused of hitting a livery cab carrying Nathan and Raizy Glauber, both 21, on March 3.
According to police, Raizy Glauber was pregnant, and the couple's son was delivered prematurely by cesarean but died the next day.
An investigation found that Acevedo was traveling at almost 70 mph, more than twice the legal speed limit for where the accident happened, and fled after the collision, the district attorney's office said.
Acevedo was arrested after a friend helped facilitate his surrender in the parking lot of a convenience store in Bethlehem, Pennsylvania, according to New York Deputy Police Commissioner Paul Browne. Acevedo has already been charged with leaving the scene of an incident, the district attorney's office said, and he pleaded not guilty.
Acevedo could face up to life in prison if convicted.

Part of complete coverage on
updated 3:14 PM EDT, Thu May 16, 2013

Boxing legend Manny Pacquiao is using his hero status to fight human trafficking in the Philippines, pushing for an anti-trafficking law.
updated 6:25 PM EDT, Thu May 16, 2013

The U.N. says 70% of rapes committed in Somalia are carried out by men in military uniform. CNN's Nima Elbagir reports.
updated 8:38 AM EDT, Fri May 17, 2013

Christiane Amanpour writes an open letter to girls of the world, saying it is time to end the discrimination against girls in education.
updated 3:12 PM EDT, Fri May 17, 2013

Fans gasped when David Beckham wore a sarong. Then there was the nail polish and tattoos. But his masculinity was never in doubt.
updated 10:54 AM EDT, Fri May 17, 2013

Albinos in Tanzania have been attacked and killed because some people believe their body parts bring good luck. But one albino is fighting back.
updated 8:50 AM EDT, Fri May 17, 2013

Terrible results for Dell mean the future seems anything but bright for the PC industry despite a flurry of attempted innovations.
updated 12:00 PM EDT, Fri May 17, 2013

Mario Balotelli has delivered his verdict on his time in the English Premier League -- the AC Milan striker couldn't be happier to have left England.
updated 7:04 AM EDT, Fri May 17, 2013

If you thought Preakness was the poor sister to Kentucky Derby, think again. CNN brings you top five facts from the prestigious horse race.
updated 7:45 PM EDT, Wed May 15, 2013

Natasha Kampusch was held for eight years in an Austrian man's basement. She talks about her road to recovery, exclusively to CNN.
updated 5:36 PM EDT, Wed May 15, 2013

From her hospital bed, Reshma tells CNN about the 17 days she spent trapped under nine stories of rubble in Bangladesh.
updated 6:12 PM EDT, Thu May 16, 2013

A room full of partygoers in San Francisco were given power over a cocktail-making robot controlled by their smartphones.
updated 11:57 AM EDT, Thu May 16, 2013

The cast of "Star Trek Into Darkness" take a break from fighting space villains to answer questions from CNN iReporters.
updated 7:48 AM EDT, Thu May 16, 2013

CNN brings you images capturing moments to remember. Look ahead to the future and chronicle our changing world.