Statue of Liberty to reopen by July Fourth
updated 6:52 PM EDT, Tue March 19, 2013
STORY HIGHLIGHTS
The Statue of Liberty was closed because of Superstorm Sandy damage to the complex
Docks at Liberty Island sustained significant damage from the storm
Interior Secretary says the iconic national monument is expected to reopen by July Fourth
New York (CNN) -- The Statue of Liberty is expected to reopen by July Fourth, Secretary of the Interior Ken Salazar announced Tuesday.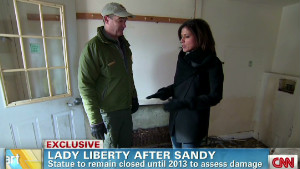 Statue of Liberty after Superstorm Sandy
The iconic landmark has been closed since October 29 due to infrastructure damage caused by Superstorm Sandy.
Funding for repairs is part of $28 million allocated by the Department of Transportation to repair federal parks and recreation areas damaged by the storm in New York and New Jersey, according to a joint press release from Salazar and Sen. Charles Schumer, D-New York.
Both the visitor and National Park Services docks at Liberty Island sustained significant damage during the storm, according to the National Parks Service.
Salazar also set a July Fourth deadline in 2009 for the reopening of Lady Liberty's crown after it was closed following the September 11, 2001, terrorist attacks.

Part of complete coverage on
updated 10:27 PM EDT, Wed May 22, 2013

The nature of the London attack is not unprecedented, says one terror analyst. There's a track record of Islamist extremists targeting soldiers in the West.
updated 6:17 PM EDT, Tue May 21, 2013

The image of the Gaza boy and his father under a hail of Israeli bullets became a powerful symbol. Now Israel insists its military is not to blame.
updated 2:31 PM EDT, Wed May 22, 2013

The tornado that ripped through Oklahoma saw teachers rise to be surrogate parents, protectors and heroes, according to LZ Granderson.
updated 1:14 PM EDT, Tue May 21, 2013

Did you know that hurricanes can also produce tornadoes? Read facts you didn't know about destructive twisters.
updated 9:01 AM EDT, Wed May 22, 2013

The petite frame of 19-year-old Zoe Smith should fool nobody -- she's a weightlifting warrior who has fought stereotypes and broken a British record.
updated 12:41 AM EDT, Wed May 22, 2013

Prime Minister Shinzo Abe calls women "Japan's most underutilized resource," yet traditions have been hard to overcome.
updated 10:55 AM EDT, Wed May 22, 2013

According to the United Nations' mission in Iraq, 712 Iraqis were violently killed in April 2013. This is both normal and extraordinary.
updated 7:21 AM EDT, Wed May 22, 2013

Myanmar's Muslims have generally coexisted with the Buddhist majority. But ethnic fault lines are exposed as it emerges from military rule.
updated 10:21 PM EDT, Wed May 22, 2013

A quarter century after his death, American pop artist Andy Warhol has popped up in China again after his first and only trip to the country in 1982.
updated 10:39 AM EDT, Wed May 22, 2013

Revolutionary bionic exoskeletons like the metal suit worn by comic book hero Tony Stark may be closer than you think.