Lil Wayne leaves hospital
updated 9:26 AM EDT, Tue March 19, 2013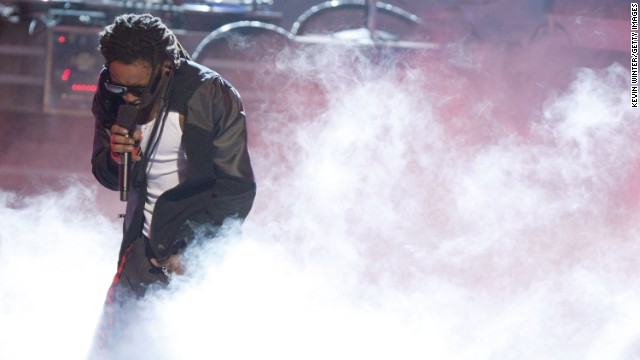 Rapper Lil Wayne performs onstage during the 2008 BET Awards.
Rappers Lil Wayne, left, and Lil Jon perform during the seventh annual BMI Urban Awards held at the New York-New York Hotel and Casino on September 7, 2007, in Las Vegas.
Rapper Lil Wayne, left, congratulates Kanye West on his Best Male Hip Hop Artist win onstage during the 2008 BET Awards at the Shrine Auditorium on June 24, 2008, in Los Angeles.
Rapper Lil Wayne performs onstage during his "I Am Music" Tour at the Gibson Amphitheater on March 29, 2009, in Universal City, California.
Lil Wayne and Nicki Minaj perform during Minaj's Pink Friday Tour at Roseland in New York on August 14, 2012,
Lil Wayne and Baby AKA Birdman watch the New Jersey Nets play the Miami Heat during the NBA playoffs in 2006.
Lil Wayne sings "Take Me Out to the Ball Game" during the seventh-inning stretch as the San Francisco Giants took on the St. Louis Cardinals during the National League Championship Series in 2012.
Singer Chris Brown, left, and Lil Wayne embrace onstage during the 2011 BET Awards.
Lil Wayne and hip-hop artist Drake, left, sit courtside during the 2012 NBA All-Star Game.
Lil Wayne performs onstage during the Hot 97 Summer Jam in 2007.
Lil Wayne
Lil Wayne
Lil Wayne
Lil Wayne
Lil Wayne
Lil Wayne
Lil Wayne
Lil Wayne
Lil Wayne
Lil Wayne
STORY HIGHLIGHTS
Lil Wayne fans panicked Friday amid reports the rapper was near death
"God is great," Young Money President tweets as Lil Wayne leaves hospital
The 30-year-old hip hop artist suffered a seizure, his publicist says
Los Angeles (CNN) -- Rapper Lil Wayne has been released from a Los Angeles hospital where he was taken after suffering a seizure last week, his publicist said late Monday night.
The 30-year-old rapper's hospitalization at Cedars-Sinai Medical Center triggered media reports that he was near death -- rumors his associates were quick to squash. Few details about his medical condition were made public.
On Monday night, Mack Maine, the president of Wayne's label, Young Money, thanked the hospital.
"@LilTunechi has been officially been released and is headed home...God is great," he tweeted.
Lil Tunechi is Lil Wayne's nickname, as well as his Twitter handle.
An online report that Lil Wayne was near death and on life support Friday cause panic among his fans and caused Twitter to light up with messages of concern.
"I'm good everybody," the rapper tweeted Friday evening, helping defuse the concerns. "Thnx for the prayers and love."
Young Money publicist Sarah Cunningham acknowledged Friday that Lil Wayne had had a seizure, but members of the New Orleans artist's camp have shot down reports that he was near death.
"Dont believe the nonsense about comas and tubes to breathe ... that's false!!" Maine tweeted Friday night.
Instead of ighting for his life, Lil Wayne was watching the Syracuse University Orange play the Georgetown Hoyas in the Big East men's basketball tournament, he said.
Born Dwayne Carter, Lil Wayne is one of the rap world's most successful artists.
He won best rap album for "Tha Carter III" at the 2008 Grammy awards and took home three more Grammys the next year.
Beyond winning over critics, he's also been a commercial success.
In September, Billboard reported the rapper had tallied 109 hits on its Hot 100, surpassing the record previously held by Elvis Presley.
But he's also run into trouble outside the studio and off stage.
Lil Wayne was arrested in 2007 outside New York City's Beacon Theater after police said they found a .40-caliber pistol on his tour bus. He pleaded guilty to felony gun charges and spent eight months at New York's Rikers Island jail.
CNN's Denise Quan contributed to this report.