In Cirque du Soleil, home is where the show is
updated 11:47 PM EDT, Sun March 17, 2013
STORY HIGHLIGHTS
Cirque du Soleil's Kooza show is on the road for 300 days a year
A large part of the planning is making sure everyone's documents are in order
Each person is allowed three suitcases and must pack for all seasons
Young performers receive schooling on the road
(CNN) -- On the road for 300 days a year, a Cirque du Soleil touring troupe of 175 relies on the same precise planning for its travel arrangements as it does for its acrobatic moves and dare devil routines.
"Right now, we're in London, in the U.K., and we're working on making sure we have documents ready for Spain, for Russia, for France, because we're visiting those countries by the end of the year," said Geneviève Deslandes, the manager of the Canadian performing group's traveling show Kooza.
To plan for its visit to each city, one of the first orders of business is finding a place to stay. During their time in London earlier this year, the cast and crew stayed in the London Bridge area in 85 apartments.
"For London, it's really nice that we have everyone in the same place, but in Madrid, we're in 24 different places," said Jerome Vezina, the travel and lodging coordinator. He says they work on housing for about three cities at the same time.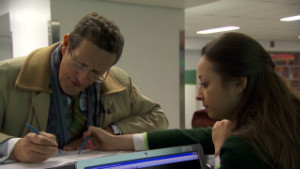 Car rental and cost-cutting secrets
Everyone must pack for all seasons, taking everything they will need all year round. Each of these ultimate road warriors is allowed three suitcases -- two to send ahead and one to travel with.
"We don't live in the present -- sometimes it's sad to say like that -- we really live in the future," Deslandes said.
More than just a circus, Kooza is a community that includes two physiotherapists and four chefs. Teachers provide schooling for the younger performers.
For 15-year-old Mongolian contortionists, it's straight from math class to warm-ups for the next show.
But learning on the road has its benefits, according to Thierry DeGagne, one of the teachers. "My student is reading about Rosetta Stone, and we're going to visit it," she said.

updated 10:16 PM EDT, Wed May 15, 2013

Does the best transport technology come from outside the U.S? That was the question at the FutureCast debate.
updated 10:45 PM EDT, Tue May 14, 2013

Does the future of transportation and self-driving cars really mean the end of driving?
updated 11:00 PM EDT, Mon May 13, 2013

Transportation is on the cusp of being radically transformed by the digital revolution, from self-driving cars to intelligent public transit systems.
updated 4:31 AM EDT, Tue May 14, 2013

Airbus has showed off its new A350 XWB, rolling out its first flyable plane on Monday fresh from the paintshop in company livery.
updated 6:53 AM EDT, Mon May 13, 2013

The pictures might be NSFW -- at least if you're looking at them over lunch -- but Virgin Group founder Sir Richard Branson was certainly working it.
updated 11:23 PM EDT, Sun May 12, 2013

On the court and on the road all year round, tennis champion Rafael Nadal knows how to enjoy the traveling life.
updated 11:09 PM EDT, Thu May 9, 2013

The country's booming economy has been served by airlines that go bust, so is less ego and more business acumen needed?
updated 10:49 PM EDT, Thu May 9, 2013

The man behind India's tourism campaign is looking to bring the country up to speed with a new multi-billion dollar project.
updated 12:19 AM EDT, Mon May 6, 2013

Finding a good red wine at 35,000 feet isn't easy. We meet the men who put their palates to the test to pick the best.
updated 11:34 PM EDT, Thu May 2, 2013

London City Airport wants to eradicate the many nuisances associated with flying by embracing the 'Internet of Things'.
updated 10:35 PM EDT, Thu May 2, 2013

How can the Internet of Things transform your life? Our interactive show your how.
updated 11:54 PM EDT, Thu April 25, 2013

Running an airline creates a lot of waste. Food, fuel, and the millions of tons of waste from worn carpets, uniforms and seat cushions adds up.
updated 5:20 AM EDT, Wed April 24, 2013

Where are the world's most expensive airport to city center fares?