After 5 years away, ex-President Musharraf announces return to Pakistan
updated 7:22 PM EDT, Sat March 16, 2013
STORY HIGHLIGHTS
Pervez Musharraf says he'll fly to Karachi on March 24 to lead his party in elections
He's been in self-imposed exile since resigning as president in 2008
Pakistani authorities confiscated his property; he's accused of not protecting Benazir Bhutto
(CNN) -- Five years after he resigned as Pakistan's president and left the South Asian nation, Pervez Musharraf will return to the country intent on leading his party in upcoming elections, he announced Saturday.
Musharraf plans to fly on a commercial airline into Karachi on March 24, then attend a rally attended by 50,000 people including more than 200 Pakistani expatriates from the United States, Canada, the United Kingdom and the United Arab Emirates, he said in a statement.
He plans to lead his political party into Pakistan's general elections, which are slated for May.
Whether the rest of Pakistan welcomes him back, including the authorities now heading the country, remains to be seen.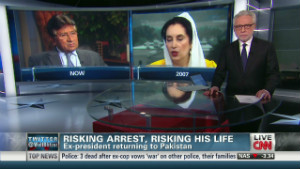 Ex-president returning to Pakistan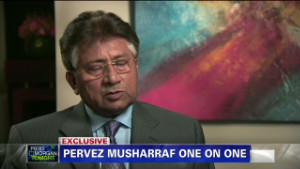 Pervez Musharraf on Osama bin Laden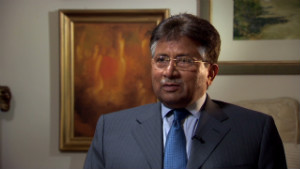 Musharraf: 'I will go back'
In 1999, the then chief of Pakistan's army became its president in a bloodless military coup. He remained in power until resigning in 2008 -- a period that included the U.S.-led invasion of neighborhood Afghanistan, starting a sweeping international war on terror -- then went into self-imposed exile in London and Dubai.
A few months before he left office, Benazir Bhutto -- who served two stints, in the late 1980s and 1990s, as Pakistan's first elected female prime minister -- was killed in a gun-suicide bomb attack as she was wrapping up a campaign rally in Rawalpindi.
This attack, coming two months after she survived an assassination attempt in Karachi, fueled criticism that Musharraf had not done enough to protect Bhutto's life despite numerous threats. The former military ruler has denied having anything to do with Bhutto's killing.
He's been targeted by Pakistan authorities, who in August 2012 confiscated his property and froze his bank account. A politician and prosecutor, according to media reports, have said Musharraf will be arrested as soon as he steps foot in Pakistan.

Part of complete coverage on
updated 3:14 PM EDT, Thu May 16, 2013

Boxing legend Manny Pacquiao is using his hero status to fight human trafficking in the Philippines, pushing for an anti-trafficking law.
updated 6:25 PM EDT, Thu May 16, 2013

The U.N. says 70% of rapes committed in Somalia are carried out by men in military uniform. CNN's Nima Elbagir reports.
updated 8:38 AM EDT, Fri May 17, 2013

Christiane Amanpour writes an open letter to girls of the world, saying it is time to end the discrimination against girls in education.
updated 3:12 PM EDT, Fri May 17, 2013

Fans gasped when David Beckham wore a sarong. Then there was the nail polish and tattoos. But his masculinity was never in doubt.
updated 10:54 AM EDT, Fri May 17, 2013

Albinos in Tanzania have been attacked and killed because some people believe their body parts bring good luck. But one albino is fighting back.
updated 8:50 AM EDT, Fri May 17, 2013

Terrible results for Dell mean the future seems anything but bright for the PC industry despite a flurry of attempted innovations.
updated 12:00 PM EDT, Fri May 17, 2013

Mario Balotelli has delivered his verdict on his time in the English Premier League -- the AC Milan striker couldn't be happier to have left England.
updated 7:04 AM EDT, Fri May 17, 2013

If you thought Preakness was the poor sister to Kentucky Derby, think again. CNN brings you top five facts from the prestigious horse race.
updated 7:45 PM EDT, Wed May 15, 2013

Natasha Kampusch was held for eight years in an Austrian man's basement. She talks about her road to recovery, exclusively to CNN.
updated 5:36 PM EDT, Wed May 15, 2013

From her hospital bed, Reshma tells CNN about the 17 days she spent trapped under nine stories of rubble in Bangladesh.
updated 6:12 PM EDT, Thu May 16, 2013

A room full of partygoers in San Francisco were given power over a cocktail-making robot controlled by their smartphones.
updated 11:57 AM EDT, Thu May 16, 2013

The cast of "Star Trek Into Darkness" take a break from fighting space villains to answer questions from CNN iReporters.
updated 7:48 AM EDT, Thu May 16, 2013

CNN brings you images capturing moments to remember. Look ahead to the future and chronicle our changing world.