Chavez embalming 'quite difficult,' acting Venezuelan president says
updated 7:46 AM EDT, Thu March 14, 2013
STORY HIGHLIGHTS
Chavez died this month after a battle with cancer
The original plan was to embalm Chavez
Scientists say embalming Chavez may be difficult
(CNN) -- The plan to embalm the body of Venezuelan President Hugo Chavez may have hit a snag.
Scientists in a preliminary assessment have determined that the process might be "quite difficult," acting president Nicolas Maduro said Wednesday.
Maduro said at the opening of the Book Fair of Venezuela that scientists argued that "the decision should have been taken much earlier."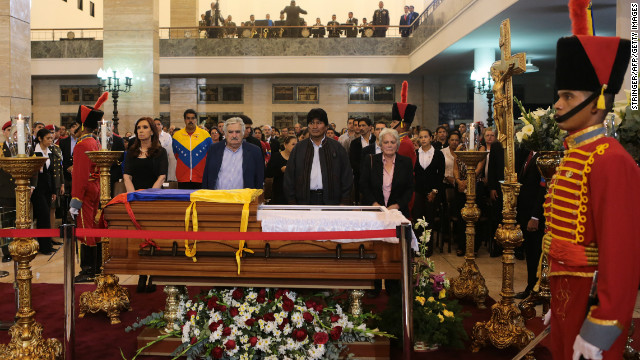 The body of Venezuelan President Hugo Chavez will be displayed publicly "just like Lenin (and) Mao Zedong," the country's vice president said Thursday on state-run TV. Other world leaders have been on display in their countries, as well.
Photographed for the first time in 30 years, the embalmed body of Russian leader and Soviet Union founder Vladimir Ilyich Lenin is seen in 1991 in the Mausoleum.
While she never held a government office, Argentinian politician Eva Peron was largely responsible for the women's suffrage law and formed the Peronista Feminist Party in 1949. Her embalmed body remained on display for two years until it was stolen and secretly buried in Italy for 16 years. Her remains are now in the Duarte family crypt in Recoleta cemetery.
The coffin of Soviet political leader Joseph Stalin, who died in 1953, is carried from the House of Trade Unions in Moscow.
Vietnamese students line up to view the embalmed body of former president Ho Chi Minh at a mausoleum dedicated to him in Hanoi, Vietnam, in 1983.
Chinese pass by Mao Zedong's body exhibited to the public on a catafalque.
A glass enclosure holds the body of the late Philippines President Ferdinand Marcos in 2005 in Batac, Ilocos norte, Philippines. The late president's widow Imelda Marcos ordered the body of her husband preserved and put on exhibit in a mausoleum.
Kumsusan Mausoleum is where the embalmed body of Kim Il Sung is kept and shown to the visitors.
The body of late North Korean leader Kim Jong-Il lies in state at the Kumsusan Memorial Palace.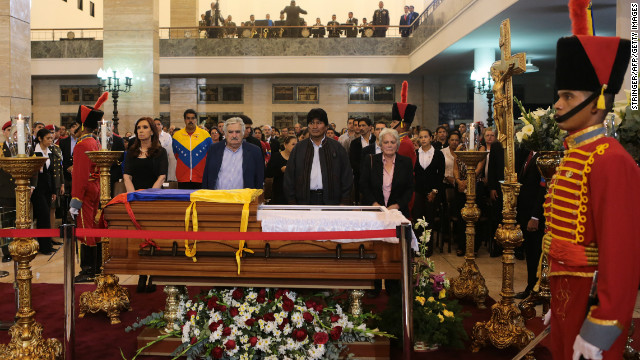 The displayed bodies of world leaders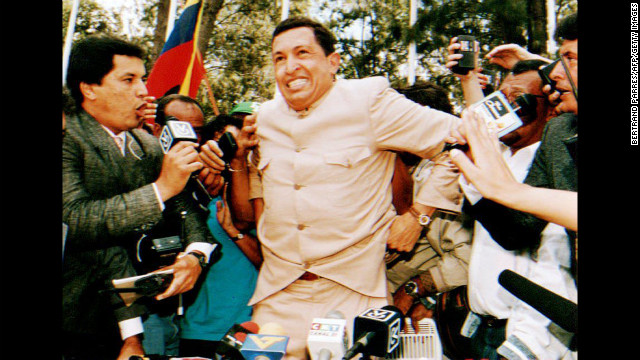 Army Lt. Col. Hugo Chavez, who led a 1992 attempted coup, speaks to reporters on March 26, 1994, after he was freed from jail. Chavez was freed after charges were dropped against him for leading the first of two attempted coups against the government of former President Carlos Andres Perez, who was later removed from office.
Venezuelan president-elect Chavez visits Bogota, Colombia, on December 18, 1998. On December 6, Chavez had been elected the youngest president in Venezuela history.
President Chavez greets supporters with his then-wife, Marisabel Rodriguez de Chavez, beside him as he arrives to preside over a parade in his honor on February 4, 1999, in Caracas. Chavez was sworn in as president on February 2.
Chavez inspects military maneuvers of the national Air Force on March 17, 2001, in Catilletes near the border with Colombia. In June 2000, Chavez was re-elected to the presidency for a six-year term, under the new constitution created by his government in 1999.
People try to take shelter from gunshots fired near Altamira Square in Caracas on August 16, 2004. At least three people were wounded by gunshots after Chavez supporters fired on opposition demonstrators, police said. A vote to recall Chavez as president failed on August 15.
Chavez, left, stands in front of supporters with Fidel Castro of Cuba, center, and Evo Morales of Bolivia, right, during a rally at the Plaza de la Revolucion in Havana, Cuba, on April 29, 2006.
Chavez meets with Pope Benedict XVI at his private library on May 11, 2006, in Vatican City.
Chavez embraces Iranian President Mahmoud Ahmadinejad, right, in Tehran, Iran, on July 1, 2007. The two presidents have enjoyed a close relationship and Chavez has referred to Ahmadinejad as his "ideological brother."
Chavez speaks during a rally in Caracas on November 18, 2008. Chavez pushed to change term limits in Venezuela through a referendum that passed on February 15, 2009, clearing the way for him to run for a third six-year term.
Chavez, right, gives a copy of the book, "The Open Veins of Latin America" by Eduardo Galeano to President Barack Obama during a multilateral meeting at the Summit of the Americas in Port of Spain, Trinidad, on April 18, 2009.
Chavez, right, greets Russian Prime Minister Vladimir Putin during his visit to the presidential palace in Caracas on April 2, 2010.
Chavez salutes to the audience after passing a law in Caracas on November 12, 2011. Chavez has undergone several rounds of cancer treatment in Cuba, beginning in 2011.
Chavez participates in a ceremony at the Miraflores presidential palace in Caracas on January 27, 2012.
Chavez, left, jokes with American actor Sean Penn, right, during his visit to Miraflores presidential palace in Caracas on February 16, 2012. Penn thanked Chavez for the support given by the Venezuelan government to his nongovernmental organization, which benefits victims of the 2010 Haiti earthquake.
Chavez acknowledges supporters on the streets of Caracas while on his way to the airport to travel to Cuba for ongoing cancer treatment on February 24, 2012.
Chavez gestures to the crowd during his closing campaign rally in Caracas on October 4, 2012. The leftist leader won a fourth term on October 7, extending his presidency to 2019.
A handout picture released by the Venezuelan presidential press office on Friday, February 15, 2013, shows Chavez surrounded by his daughters and holding the February 14 edition of the official Cuban newspaper Granma at a hospital in Havana, Cuba.
Chavez supporters gather in Caracas' Bolivar Square to mourn Chavez's death on March 5, 2013.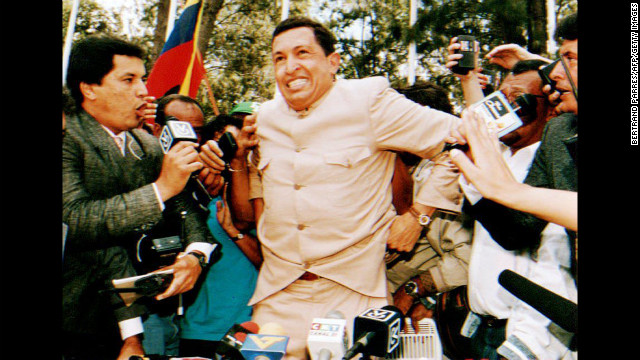 Photos: Political career of Hugo Chavez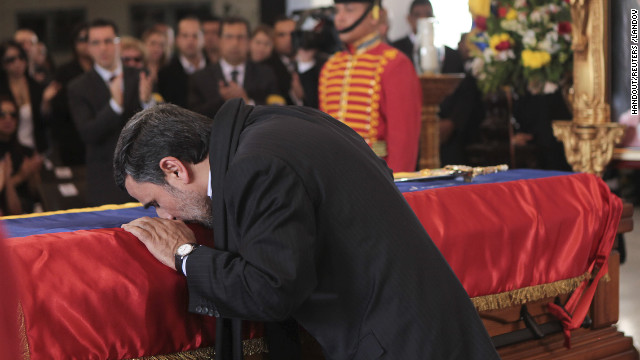 Iran's President Mahmoud Ahmadinejad pays tribute to late Venezuelan President Hugo Chavez during the funeral in Caracas, Venezuela, on Friday, March 8.
Belarus President Alexander Lukashenko and his son Nikolay stand next to the coffin of Chavez during the funeral on March 8.
Mexican President Enrique Pena Nieto, right, talks to Elena Frias, Chavez's mother, on March 8.
Iranian President Mahmoud Ahmadinejad, center, waves alongside Venezuelan Minister of Foreign Affairs Elias Jaua outside of the funeral of the President Hugo Chavez in Caracas, on March 8.
Supporters of Chavez gather as they wait for a chance to view his body on March 8.
A Chavez supporter weeps outside of his funeral in Caracas on March 8.
Bolivian President Evo Morales, center, waves next to former Paraguayan President Fernando Lugo outside of the funeral on March 8.
Supporters of Chavez hold a portrait of him as they wait for a chance to view his body at the military academy in Caracas on March 8.
Spanish Crown Prince Felipe, center, arrives at Maiquetia Airport in Caracas on March 8.
A man adjusts a banner before the start of Chavez's funeral outside the Military Academy.
A woman wraps up in Venezuela's flag to stay warm as she and others wait in line before the start of Chavez's funeral.
Cuban President Raul Castro salutes Chavez's body as he visits the wake with Chavez's daughter, Rosa Virginia, right, and Venezuela's Vice President Nicolas Maduro on Thursday, March 7.
Ecuadorian President Rafael Correa views Chavez's body with his wife Anne Malherbe, right, on March 7.
Peruvian President Ollanta Humala, center, views Chavez's body with his wife, Nadine Heredia, second left, on March 7.
Nicaraguan President Daniel Ortega, center, views Chavez's body with his wife, Rosario Murillo, second left, on March 7.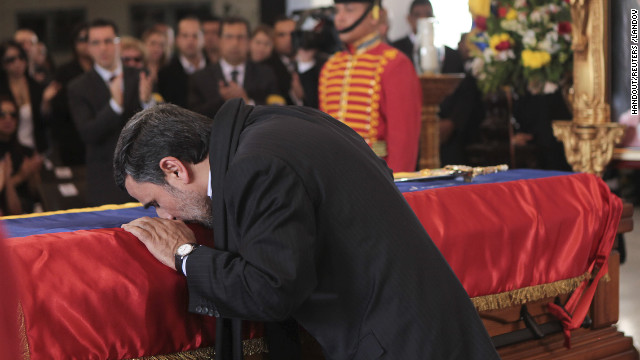 Photos: Hugo Chavez's funeral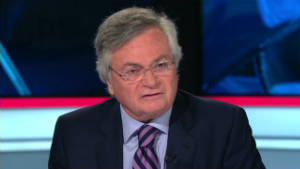 GPS: Venezuela after Chavez
Read: What's behind the display of embalmed world leaders?
He didn't say why -- but added that Chavez will always remain in Venezuela's collective memory
"More than your physical body, we have the commander in eternal memory, especially this generation who heard it, touched it, saw him," Maduro told the audience. "We have to keep alive his image, his voice, his thinking."
Chavez died this month, at 58, after a battle with cancer.
Maduro had initially said his body would be embalmed.
The plan was to have Chavez's body displayed much like the remains of former revolutionary leaders Vladimir Lenin of Russia and China's Mao.
Venezuelan elections are scheduled for April 14 , about six weeks after Chavez died earlier this month.
Maduro filed papers Monday to officially register to run for president.
Photos: The displayed bodies of world leaders
During the televised event, Maduro and his supporters from United Socialist Party of Venezuela sang along with a recording of Chavez belting out Venezuela's national anthem.
"I am not Chavez, but I am his son," Maduro said. "And all together, the people, we are Chavez."
Despite Maduro being from Chavez's political party, there will be a strong challenger for Venezuela's top spot.
Opposition candidate Henrique Capriles Radonski said he was ready for a fight.
Capriles, 40, ran against Chavez last year and lost. But he mounted one of the fiercest challenges during the late president's 14 years in power.
"My fight is not to be president. My fight is for Venezuela to move forward," Capriles said Sunday night.
On Monday, he also filed paperwork to run for the presidency.