Iran to add lawsuit over 'Argo' to cinematic response
updated 1:40 AM EDT, Thu March 14, 2013
STORY HIGHLIGHTS
Iranian state media: Argo gives a distorted image of the Iranian people
A French lawyer says she will defend Iran against films that harm the country
The film does not purport to be an exact account of events
Iran is also to fund a cinematic response to "Argo"
(CNN) -- First, Iran said it would produce its own cinematic response to "Argo." Now, Tehran plans to sue Hollywood filmmakers who contribute to the production of such "anti-Iran" propaganda films.
State-run Press TV reports that Iranian officials have talked to an "internationally-renowned" French lawyer about filing such a suit.
"I will defend Iran against the films like 'Argo,' which are produced in Hollywood to distort the country's image," said Isabelle Coutant-Peyre.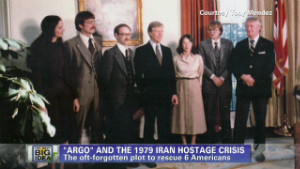 The true story behind 'Argo'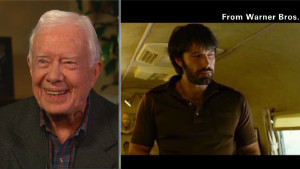 Jimmy Carter: 'Argo' a great drama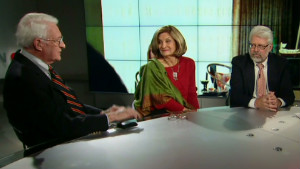 Embassy workers discuss the real 'Argo'
Ex-Iran hostages hope 'Argo' win boosts quest for reparations
"Argo," directed by Ben Affleck, who also played the lead role, is about the rescue of U.S. diplomats during the Iran hostage crisis. The film, released in 2012, won the Oscar for best picture garnered Affleck a Golden Globe as director and also took the Golden Globe for best drama movie.
The film claims to be based on a true story rather than to constitute a scrupulous retelling of what took place, and its deviations from reality have been documented.
Iran plans to fund a movie titled "The General Staff," about 20 American hostages who were handed over to the United States by Iranian revolutionaries, according to a report by Mehr News, an official Iranian agency.
Press TV has detailed its objections to "Argo."
"The Iranophobic American movie attempts to describe Iranians as overemotional, irrational, insane and diabolical while at the same, the CIA agents are represented as heroically patriotic," it complained.

Part of complete coverage on
updated 4:33 PM EDT, Wed May 22, 2013

Details are still emerging of the London attack, but in recent years previous Islamist plots have targeted British soldiers on home soil.
updated 6:17 PM EDT, Tue May 21, 2013

The image of the Gaza boy and his father under a hail of Israeli bullets became a powerful symbol. Now Israel insists its military is not to blame.
updated 2:31 PM EDT, Wed May 22, 2013

The tornado that ripped through Oklahoma saw teachers rise to be surrogate parents, protectors and heroes, according to LZ Granderson.
updated 1:14 PM EDT, Tue May 21, 2013

Did you know that hurricanes can also produce tornadoes? Read facts you didn't know about destructive twisters.
updated 9:01 AM EDT, Wed May 22, 2013

The petite frame of 19-year-old Zoe Smith should fool nobody -- she's a weightlifting warrior who has fought stereotypes and broken a British record.
updated 12:41 AM EDT, Wed May 22, 2013

Prime Minister Shinzo Abe calls women "Japan's most underutilized resource," yet traditions have been hard to overcome.
updated 10:55 AM EDT, Wed May 22, 2013

According to the United Nations' mission in Iraq, 712 Iraqis were violently killed in April 2013. This is both normal and extraordinary.
updated 7:21 AM EDT, Wed May 22, 2013

Myanmar's Muslims have generally coexisted with the Buddhist majority. But ethnic fault lines are exposed as it emerges from military rule.
updated 8:09 AM EDT, Wed May 22, 2013

Actresses Carey Mulligan, Isla Fisher and Elizabeth Debicki tell CNN who gave them inspiration for their characters.
updated 1:21 AM EDT, Wed May 22, 2013

A quarter century after his death, American pop artist Andy Warhol has popped up in China again after his first and only trip to the country in 1982.
updated 10:39 AM EDT, Wed May 22, 2013

Revolutionary "bionic exoskeletons," like the metal suit worn by comic book hero Tony Stark, may be closer than you think.
updated 3:51 PM EDT, Tue May 21, 2013

Photos: From Sharon Stone to Matt Damon, browse through the best from the Cannes red carpet this year.

Damnit we have work to do ... but not before we have another go at this annoyingly difficult web-based game.