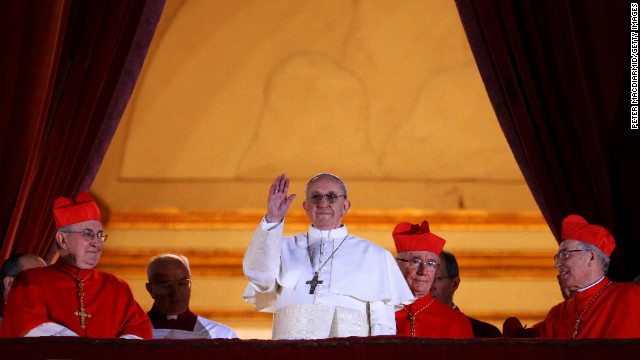 Before becoming Pope Francis, he was Argentinian Cardinal Jorge Mario Bergoglio, the former archbishop of Buenos Aires. The announcement for the selection of a new pope came on Wednesday, March 13, the first full day of the cardinals' conclave in the Sistine Chapel.
Bergoglio arrives for the congregation meeting at Synod Hall in the Vatican on March 7.
Bergoglio, right, draws the cross on the forehead of a parishioner during a Mass for Ash Wednesday, which begins the 40-day period of abstinence for Christians before the Holy Week and Easter, on February 13 at the Metropolitan Cathedral in Buenos Aires.
Bergoglio says a Mass in honor of the late ex-President Nestor Carlos Kirchner on October 27, 2010, in Buenos Aires.
During a Mass against trafficking in July 12, 2010, in Buenos Aires, Bergoglio speaks.
Bergoglio delivers his homily at the church of St. Cajetan in Buenos Aires on August 7, 2009.
Then-Archbishop of Buenos Aires Bergoglio is seen in Vatican City in this undated photo. He's the first non-European pope in the modern era and the first South American pope.
Pope Benedict XVI meets Bergoglio at the Vatican in January 2007.
Bergoglio, right, and Peru's Cardinal Juan Luis Cipriani Thorne attend the special "pro eligendo summo pontifice" (to elect supreme pontiff) Mass in Vatican City in April 2005.
Cardinal Bergoglio, center, officiates a Holy Mass for the eternal rest of Pope John Paul II on April 5, 2005, at Buenos Aires' Metropolitan Cathedral.
Bergoglio is shown washing the feet of a woman on Holy Thursday at the Sarda maternity hospital in Buenos Aires in 2005.
Bergoglio smiles during a news conference at the Vatican in October 2003. during celebrations marking the 25th anniversary of Pope John Paul II's election.
Pope John Paul II receives Cardinal Bergoglio, archbishop of Buenos Aires, Argentina, at the Vatican on February 21, 2001.
This undated photo shows Bergoglio, who was appointed a cardinal by Pope John Paul II.
Pope Francis
Pope Francis
Pope Francis
Pope Francis
Pope Francis
Pope Francis
Pope Francis
Pope Francis
Pope Francis
Pope Francis
Pope Francis
Pope Francis
Pope Francis
Pope Francis
STORY HIGHLIGHTS
Millions on Twitter, Facebook greet Pope Francis
"HABEMUS PAPAM FRANCISCUM" was pope account's first tweet
Twitter says 130,000 tweets per minute were posted about the new pope
On Facebook, use of pope's name, "Bergoglio," increased 3.7 million%
(CNN) -- As 150,000 people gathered in St. Peter's Square in the Vatican to cheer the election of the new pope, millions joined in Wednesday on Twitter and Facebook. Some chimed in with praise, others with social media's trademark humor and snark.
Early Wednesday, @SistineSeagull captured the spotlight by landing on the Sistine Chapel smokestack where cameras were trained in anticipation of the afternoon vote.
The creation of an account for any animal that ends up in the spotlight has become a Twitter staple. But before the account could reach 8,000 followers, the world was greeting Pope Francis, the first pontiff from South America.
"St. Francis was a guardian of birds, mystic, perhaps the most beloved Catholic saint of all!" tweeted @1zenwoman. "It's an OMEN, I say!! A sign!!"
In the crowd several held a banner that read "We'll follow you @pontifex." The @pontifex account had been used by Pope Benedict XVI but was wiped clean when he retired at the end of February. A full archive of Benedict's tweets is posted to the Vatican website.
"HABEMUS PAPAM FRANCISCUM" was the first tweet under Pope Francis. Habemus Papam translates to "We have a pope." It received more than 54,000 retweets, about 10% of the all-time record of 500,000 for @BarackObama's re-election photo.
Twitter says that about 130,000 tweets per minute were posted about the new pope, a rate it described as "very high" given that it was not a prime-time event. By early Wednesday afternoon, about 2 million tweets had been sent.
For a short time, every worldwide trending topic was pope-related, including hashtags like #habemuspapam, #Bergoglio and, in true Twitter spirit, #ReplaceMovieTitlesWithPope.
"Twitter loves a new pope more than Pinterest loves a Funfetti cake," wrote @christinagausas.
But not all was fun and games on Twitter with the discovery, too late for some, that the account @JMBergoglio, believed to be previous tweets from the new pontiff, was fake.
The account seems to have been created in April 2012 but was deleted by late Wednesday afternoon. The fake Twitter account included a link to what is likely a fake Facebook page.
Facebook and Twitter both have rules against impersonation but did not immediately respond to requests for information about these specific accounts.
Facebook users were also aboard the pope wagon, as discussion terms including Pope, Jorge Bergoglio and Vatican trended on the platform. As of 3:30 p.m. PT, mentions of Bergoglio (the new pope's last name) were up by 3.7 million%.
On Reddit, some community members of the discussion group /r/Christianity echoed the hopes of many social users that the new pope would be a reformer for the Vatican.
"I will definitely be praying for him," plyochama wrote.
Machinax responded, "He seems pretty by-the-book, so I doubt he'll kick too many doors down."
On YouTube, there were more than 700 videos tagged "Pope Francis" uploaded on Wednesday. Those with the highest views on Wednesday were still serious news pieces. But a clip from the comedy "Stripes" that quotes Bill Murray's Sgt. Hulka saying "Lighten up Francis" was getting healthy circulation.
@buzzfeedandrew tweeted, "Hoping the Catholic Cardinals made a Harlem Shake video right after they picked the new pope."