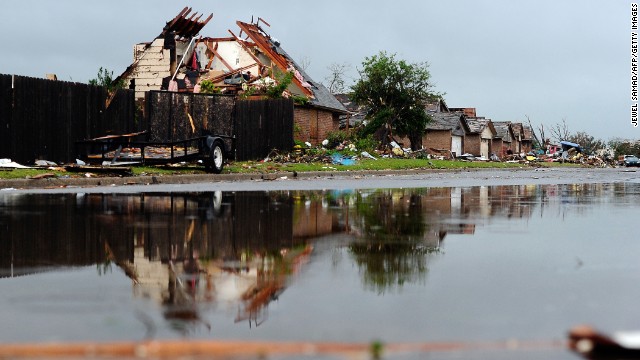 Rubble lines a wet street in a tornado-devastated neighborhood in Moore, Oklahoma, on Thursday, May 23. Severe thunderstorms barreled through this Oklahoma City suburb at dawn Thursday, complicating cleanup efforts three days after a powerful tornado ripped through the area. Click through to see other images of weather around the world.
A funnel cloud stretches toward the ground near South Haven, Kansas, on May 19. As many as
An boy cools off in a watering hole in Allahabad, India, on Saturday, May 18, where temperatures have reportedly reached 117.1 degrees Fahrenheit.
A dandelion seed reflects in a rain-covered path in Sieversdorf, Germany, on May 18.
Rescuers carry residents across a badly damaged road after heavy storms hit Hejiaqiao township in central China's Hunan province.
A woman passes along the seafront as the rain falls in Weston-Super-Mare, England, on Tuesday, May 14.
A sandstorm sweeps through Cairo, Egypt, on Monday, May 13.
People take shelter under umbrellas during a boat ride in heavy rain on the Spreewald Canals near Luebbenau, Germany, on Sunday, May 12.
Rain doesn't deter an outing in Jersey City, New Jersey, and even a view of Lower Manhattan despite the fog on Thursday, May 9.
A woman exits a cab during a rainstorm on Wednesday, May 8, in New York.
People soak up the spring sunshine on the River Cam on Monday, May 6, in Cambridge, England.
Two men drive cattle across the crocodile infested Tana River in Keny'as Tana delton on May 3. Flooding from heavy seasonal rains has killed more than 60 people and forced tens of thousands of people from their homes.
People in the Morazan neighborhood of Tegucigalpa, Honduras, sort through the remains of their possessions after heavy rains left two people missing and destroyed streets and homes.
A lone fan watches snow fall during a delay in play between the Tampa Bay Rays and the Kansas City Royals at Kauffman Stadium in Kansas City, Missouri, on Thursday, May 2. The game was postponed because of the weather.
Snow covers an outdoor bar in downtown Golden, Colorado, after a spring storm dumped more than a foot of snow on Wednesday, May 1. In nearby Denver, the average date for the last snow of the season is April 26, but the record for the latest snowfall was set June 12, 1947, according to the National Weather Service.
A bee harvests nectar on a sunflower as temperatures soar into the 90s on Saturday, April 27, in Quezon City, Philippines.
A man pours water over children swimming in an inflatable swimming pool to beat the heat in Manila, Philippines, on Friday, April 26.
Fields and meadows are flooded by the waters from the Oder River near Lebus, Germany, close to the border with Poland, on April 26. The meadows along the Oder are regularly flooded during spring.
A Pakistani motorcyclist crosses a flooded street after heavy rain in Peshawar on April 26. Pakistan has suffered devastating monsoon floods for the last three years, including the worst in its history in 2010, when catastrophic inundations killed almost 1,800 people and affected 21 million.
Horses and jockeys return to stables in damp weather at the Sha Tin Racecourse in Hong Kong on Friday, April 26. Preparations are under way for the upcoming Audemars Piguet Queen Elizabeth II Cup.
Arnold Gropper, left, and Werner Simm fish at Lake Forggensee on Thursday, April 25, near Füssen, Germany.
Chef Paul Prudhomme heads to the Zurich Classic Pro-Am clubhouse at TPC Louisiana as officials order the evacuation of all temporary structures after a tornado warning in New Orleans on Wednesday, April 24.
The grounds crew covers the field at Fenway Park in the eighth inning because of rain during a game between the Oakland Athletics and the Boston Red Sox on Tuesday, April 23, in Boston.
People take in the spring sunshine at Parade Gardens in Bath, England, on April 23.
A commuter wipes his face while riding his scooter during heavy rain in Hyderabad, India, on Monday, April 22.
A camel herder guides his animals during a sandstorm on the edge of Khartoum, Sudan, on Saturday, April 20.
Hector Duran uses his bike to get through floodwater on Friday, April 19, in Des Plaines, Illinois. The suburban Chicago town is battling rising floodwater from the Des Plaines River.
Workers inspect flood damage inside a vacant commercial building on April 19 in Des Plaines, Illinois.
Children still feel the bite of winter weather in Taiyuan, the capital of north China's Shanxi Province, on April 19.
Sunshine bathes the banks of Inner Alster Lake in Hamburg, Germany, on Thursday, April 18.
A motorist drives through a flooded underpass In Chicago on April 18. The National Weather Service issued a flash flood warning Thursday for much of the Chicago area, which got 3 to 5 inches of rain in 24 hours with more expected.
Dark clouds hang over the Indonesian capital of Jakarta on April 18.
Debris litters a river after a tornado and hailstorm hit Zhenyuan County in China's southwest Guizhou Province on April 18.
People make their way along Champa Street in downtown Denver during a spring storm on Wednesday, April 17.
A man rides a bike during a heavy sandstorm in Yecheng county, northwest China's Xinjiang Uygur Autonomous Region, on Tuesday, April 16.
A woman feeds a pig in her yard during a flood in the Belarus village of Snyadin near the Pripyat river on April 16.
A woman and dog cross a flooded road in Zalubice Stare, Poland, on April 16.
A sandstorm strikes Baghdad on April 16, during a rally where the head Shiite Muslim leader Ammar al-Hakim was speaking.
Blooming crocuses stand in a park in Hamburg, Germany, on Monday, April 15. Temperatures in the city are forcasted to reach up to 70 degrees Fahrenheit (21 degrees Celsius).
Families paddle boats on a pond near India Gate in New Delhi on Sunday, April 14.
People enjoy the sun in a public garden on Saturday, April 13, in Toulouse, France.
A storm brews over Shuqualak, Mississippi, on Thursday, April 11. Severe storms killed two people in Mississippi and injured others.
Storm damage in Shuqualak, Mississippi, on April 11.
A youth jumps into a water well to cool off in Hyderabad, India, on Wednesday, April 10.
Warm spring weather finds New Yorkers relaxing along the East River in Lower Manhattan on Tuesday, April 9.
Police officer Adolph Chavez waits for tow trucks after cars became stuck on a ramp to Interstate 70 during a snowstorm in Denver on April 9.
Cherry blossoms bloom in Washington on Monday, April 8. A colder-than-normal March and chilly April delayed the beginning of the cherry blossom season. Peak bloom was originally predicted between March 26 and March 30.
People enjoy sunny spring weather, a break from an unusually cold spring, near the Louvre Pyramid at the Cour Carree of the Louvre Museum on Sunday, April 7, in Paris.
Children cool off in a tub on a scorchingly hot day in a slum in Manila, Philippines, on Saturday, April 6.
A passenger ship makes its way through a channel to the Swedish island of Husaro on Friday, April 5.
Tourists travel on a ferry near blooming cherry blossoms on the Okazaki Canal in Kyoto, Japan, on April 5.
Heavy rains bring out umbrellas in force on the streets of Srinagar, India, on Wednesday, April 3.
Villager Fu Xianxing, 70, walks on a dried-up field Tuesday, April 2, in Suining, China. A severe drought has caused a shortage of drinking water in the area in southwest China's Sichuan province.
Children play on the beach in Gaza City during a dust storm on Monday, April 1.
Snowboarders and skiers wait to take a ski lift at Feldberg Mountain in Schwarzwald, Germany, on Friday, March 29.
A supermarket semi-truck passes icicles and ice-covered shrubs near Hazeley Bottom, England, south of Reading, on Wednesday, March 27.
Young women watch a policeman clear snow and ice from a road in Kiev, Ukraine, on Tuesday, March 26.
A road sign peeks above a flooded street in Badolatosa, Spain, on Monday, March 25.
Snow covers the shrubbery around the White House on Monday, March 25.
Snow collects on a man sleeping on a bench early Monday, March 25, in Washington, D.C.
Frozen branches line the water at the Afsluitdijk in Den Oever, Netherlands, on Saturday, March 23.
U.S. soccer player Clint Dempsey, No. 8, is surrounded by snow during a FIFA 2014 World Cup Qualifier match between Costa Rica and the United States in Commerce City, Colorado, on Friday, March 22.
Cherry blossom trees are bloom in Tokyo on Friday, March 22, in a sure sign spring has arrived in Japan.
Cold weather keeps Britons bundled up as they cross the London Bridge on March 22.
A bicyclist pulls a child on a sled through the snow on Thursday, March 21, in Berlin.
A tornado leaves scaffolding in tatters on Wednesday, March 20, in Daoxian, China.
Paramilitary guards walk along a street following an overnight snowfall in Beijing on March 20.
World War II veteran Sam Melnik, 90, shovels snow from his driveway on Tuesday, March 19, in Deerfield, Massachusetts.
A jogger runs across a snow-covered street in Berlin on March 19.
A woman takes a picture of the blooming almond orchards as spring arrives in Srinagar, Kashmir, on Monday, March 18.
People walk past blooming trees on a street in the center of Lebanon's capital, Beirut, on March 18.
The aurora borealis lights up the sky at twilight on Sunday, March 17, between the towns of Are and Ostersund, Sweden.
Trees are covered with ice on Saturday, March 16, near the town of Klina, Kosovo.
People push a stuck car as heavy snow falls in Lviv, Ukraine, on Friday, March 15.
Spectators watch the action during a rain-lashed last day of the Cheltenham horse racing festival in Gloucestershire, England, on March 15.
An early flower is seen through a blanket of melting snow at the Palmengarten botanical gardens in Frankfurt, Germany, on Thursday, March 14.
People walk by cars covered in snow around Beaumont-Hague, northern France, following a heavy snowstorm, on Wednesday, March 13.
Workers chop cassava along a highway in a drought-hit area in Vietnam's central highlands province of Gia Lai.
A couple walk on a snowy sidewalk at Place de la Concorde in Paris on Tuesday, March 12, during a heavy snowstorm. Twenty-six regions in northwest and northern France were put on orange alert because of heavy snowfall.
Cows search for edible grass in drought-stricken paddocks on March 12 in Waiuku, New Zealand. Drought was declared in several North Island areas last week, including South Auckland, Northland, Bay of Plenty and Waikato.
Brief but heavy snowstorms move across the Yorkshire moors on Monday, March 11, in the United Kingdom.
A nun walks through the rain under an umbrella in St. Peter's Square at the Vatican on Sunday, March 10.
A cyclist makes his way along a snowy track near Ladmanlow, United Kingdom, on March 10 as a return of freezing temperatures and snow delay springtime weather for Great Britain.
A Chinese woman covers her head with a scarf as she walks near Tiananmen Square in Beijing on Saturday, March 9, as strong winds and dust storms swept the Chinese capital.
Drivers contend with a snow-covered street in Harbin, the capital of northeast China's Heilongjiang Province, on March 9.
Fog shrouds a dog and its owner as they walk beside Bourne Brook, in Toft Cambridgeshire, United Kingdom, on Friday, March 8.
A pedestrian walks past a mural at the beginning of a winter storm in Somerville, Massachusetts, on Thursday, March 7.
People walk as snow falls at the U.S. Capitol in Washington on Wednesday, March 6.
People stand under the snow-covered "Cloud Gate" sculpture, commonly known as "the bean," on Tuesday, March 5, in Chicago, Illinois.
Left to right: Anthony Jordan and his 6-year-old twin sons Griffin and Landin shovel their driveway in Sycamore, Illinois, on March 5.
A traffic police officer patrols during heavy wind and snowfall in Kiev, Ukraine, on March 4.
Lightning strikes over Jakarta's skyline late on March 3 during monsoon rains.
Tourists enjoy donkey rides on Filey Beach on March 2 in Filey, England.
Gardener Ruth Calder clears weeds and dead leaves at Kew Gardens on March 1 in Kew, England.
A man covers his face as he walks around Tiananmen Square during a sand storm in heavily polluted weather in Beijing on February 28.
A man and a dog cross the flooded graveyard in the village of Monospitovo, Macedonia, on February 27. Torrential rains poured down on the Strumica Valley, destroying or damaging crops and households.
Ducks fly over the frozen Titisee Lake in Titisee-Neustadt, Germany, on February 27.
Frost-covered plants are seen on banks of the Usiazha River near the Belarus village of Usiazha, on February 26.
A person walks through the snow at Marienplatz in Munich, Germany, on February 26.
Weather around the world
Weather around the world
Weather around the world
Weather around the world
Weather around the world
Weather around the world
Weather around the world
Weather around the world
Weather around the world
Photos: Weather around the world
Weather around the world
Weather around the world
Weather around the world
Weather around the world
Weather around the world
Weather around the world
Weather around the world
Weather around the world
Weather around the world
Weather around the world
Weather around the world
Weather around the world
Weather around the world
Weather around the world
Weather around the world
Weather around the world
Weather around the world
Weather around the world
Weather around the world
Weather around the world
Weather around the world
Weather around the world
Weather around the world
Weather around the world
Weather around the world
Weather around the world
Weather around the world
Weather around the world
Weather around the world
Weather around the world
Weather around the world
Weather around the world
Weather around the world
Weather around the world
Weather around the world
Weather around the world
Weather around the world
Weather around the world
Weather around the world
Weather around the world
Weather around the world
Weather around the world
Weather around the world
Weather around the world
Weather around the world
Weather around the world
Weather around the world
Weather around the world
Weather around the world
Weather around the world
Weather around the world
Weather around the world
Weather around the world
Weather around the world
Weather around the world
Weather around the world
Weather around the world
Weather around the world
Weather around the world
Weather around the world
Weather around the world
Weather around the world
Weather around the world
Weather around the world
Weather around the world
Weather around the world
Weather around the world
Photos: Weather around the world
Weather around the world
Weather around the world
Weather around the world
Weather around the world
Weather around the world
Weather around the world
Weather around the world
Weather around the world
Weather around the world
Weather around the world
Weather around the world
Weather around the world
Weather around the world
Weather around the world
Weather around the world
Weather around the world
Weather around the world
Weather around the world
Weather around the world
Weather around the world
Weather around the world