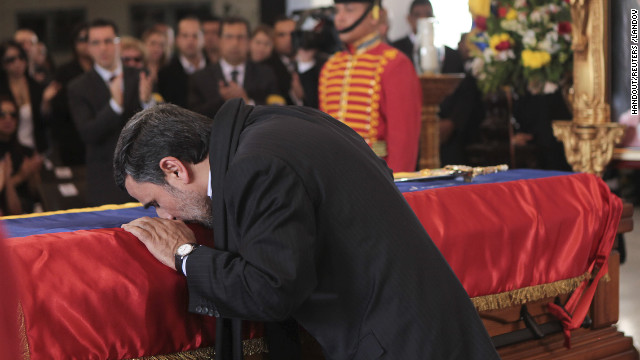 Iran's President Mahmoud Ahmadinejad pays tribute to late Venezuelan President Hugo Chavez during the funeral in Caracas, Venezuela, on Friday, March 8.
Belarus President Alexander Lukashenko and his son Nikolay stand next to the coffin of Chavez during the funeral on March 8.
Mexican President Enrique Pena Nieto, right, talks to Elena Frias, Chavez's mother, on March 8.
Iranian President Mahmoud Ahmadinejad, center, waves alongside Venezuelan Minister of Foreign Affairs Elias Jaua outside of the funeral of the President Hugo Chavez in Caracas, on March 8.
Supporters of Chavez gather as they wait for a chance to view his body on March 8.
A Chavez supporter weeps outside of his funeral in Caracas on March 8.
Bolivian President Evo Morales, center, waves next to former Paraguayan President Fernando Lugo outside of the funeral on March 8.
Supporters of Chavez hold a portrait of him as they wait for a chance to view his body at the military academy in Caracas on March 8.
Spanish Crown Prince Felipe, center, arrives at Maiquetia Airport in Caracas on March 8.
A man adjusts a banner before the start of Chavez's funeral outside the Military Academy.
A woman wraps up in Venezuela's flag to stay warm as she and others wait in line before the start of Chavez's funeral.
Cuban President Raul Castro salutes Chavez's body as he visits the wake with Chavez's daughter, Rosa Virginia, right, and Venezuela's Vice President Nicolas Maduro on Thursday, March 7.
Ecuadorian President Rafael Correa views Chavez's body with his wife Anne Malherbe, right, on March 7.
Peruvian President Ollanta Humala, center, views Chavez's body with his wife, Nadine Heredia, second left, on March 7.
Nicaraguan President Daniel Ortega, center, views Chavez's body with his wife, Rosario Murillo, second left, on March 7.
Hugo Chavez's funeral
Hugo Chavez's funeral
Hugo Chavez's funeral
Hugo Chavez's funeral
Hugo Chavez's funeral
Hugo Chavez's funeral
Hugo Chavez's funeral
Hugo Chavez's funeral
Hugo Chavez's funeral
Hugo Chavez's funeral
Hugo Chavez's funeral
Hugo Chavez's funeral
Hugo Chavez's funeral
Hugo Chavez's funeral
Hugo Chavez's funeral
STORY HIGHLIGHTS
NEW: Doctor: There is "no scientific substance" to claims that Chavez was deliberately infected
President Maduro says he will invite "the world's best scientists" to study Chavez's illness
The interim leader says he suspects Chavez "was poisoned by dark forces"
The State Department denies accusations of U.S. involvement, calling them "absurd"
(CNN) -- The dark claim on the day Hugo Chavez died took many by surprise.
Someone, Venezuelan government officials said, may have deliberately infected him with cancer.
Critics dismissed the accusation -- first floated by then-Vice President Nicolas Maduro on March 5 -- as an eleventh-hour attempt to distract Venezuelans and drum up popular support as leaders prepared to announce Chavez's death.
But Maduro revived the issue this week, announcing that planning was in the works for a commission of "the world's best scientists" to investigate whether Chavez had been poisoned.
Chavez gone, but far from forgotten as Venezuelan presidential campaigns start
In an interview with the Telesur network hours after he registered to run for president Monday, Maduro implied that the United States could have been behind such an attack on Chavez -- an accusation that the State Department has denied.
"We have this intuition that our commander Chavez was poisoned by dark forces that wanted to be rid of him," said Maduro, who was sworn in as Venezuela's interim president on Friday.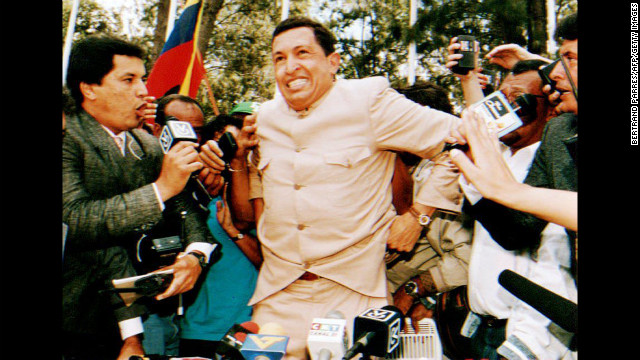 Army Lt. Col. Hugo Chavez, who led a 1992 attempted coup, speaks to reporters on March 26, 1994, after he was freed from jail. Chavez was freed after charges were dropped against him for leading the first of two attempted coups against the government of former President Carlos Andres Perez, who was later removed from office.
Venezuelan president-elect Chavez visits Bogota, Colombia, on December 18, 1998. On December 6, Chavez had been elected the youngest president in Venezuela history.
President Chavez greets supporters with his then-wife, Marisabel Rodriguez de Chavez, beside him as he arrives to preside over a parade in his honor on February 4, 1999, in Caracas. Chavez was sworn in as president on February 2.
Chavez inspects military maneuvers of the national Air Force on March 17, 2001, in Catilletes near the border with Colombia. In June 2000, Chavez was re-elected to the presidency for a six-year term, under the new constitution created by his government in 1999.
People try to take shelter from gunshots fired near Altamira Square in Caracas on August 16, 2004. At least three people were wounded by gunshots after Chavez supporters fired on opposition demonstrators, police said. A vote to recall Chavez as president failed on August 15.
Chavez, left, stands in front of supporters with Fidel Castro of Cuba, center, and Evo Morales of Bolivia, right, during a rally at the Plaza de la Revolucion in Havana, Cuba, on April 29, 2006.
Chavez meets with Pope Benedict XVI at his private library on May 11, 2006, in Vatican City.
Chavez embraces Iranian President Mahmoud Ahmadinejad, right, in Tehran, Iran, on July 1, 2007. The two presidents have enjoyed a close relationship and Chavez has referred to Ahmadinejad as his "ideological brother."
Chavez speaks during a rally in Caracas on November 18, 2008. Chavez pushed to change term limits in Venezuela through a referendum that passed on February 15, 2009, clearing the way for him to run for a third six-year term.
Chavez, right, gives a copy of the book, "The Open Veins of Latin America" by Eduardo Galeano to President Barack Obama during a multilateral meeting at the Summit of the Americas in Port of Spain, Trinidad, on April 18, 2009.
Chavez, right, greets Russian Prime Minister Vladimir Putin during his visit to the presidential palace in Caracas on April 2, 2010.
Chavez salutes to the audience after passing a law in Caracas on November 12, 2011. Chavez has undergone several rounds of cancer treatment in Cuba, beginning in 2011.
Chavez participates in a ceremony at the Miraflores presidential palace in Caracas on January 27, 2012.
Chavez, left, jokes with American actor Sean Penn, right, during his visit to Miraflores presidential palace in Caracas on February 16, 2012. Penn thanked Chavez for the support given by the Venezuelan government to his nongovernmental organization, which benefits victims of the 2010 Haiti earthquake.
Chavez acknowledges supporters on the streets of Caracas while on his way to the airport to travel to Cuba for ongoing cancer treatment on February 24, 2012.
Chavez gestures to the crowd during his closing campaign rally in Caracas on October 4, 2012. The leftist leader won a fourth term on October 7, extending his presidency to 2019.
A handout picture released by the Venezuelan presidential press office on Friday, February 15, 2013, shows Chavez surrounded by his daughters and holding the February 14 edition of the official Cuban newspaper Granma at a hospital in Havana, Cuba.
Chavez supporters gather in Caracas' Bolivar Square to mourn Chavez's death on March 5, 2013.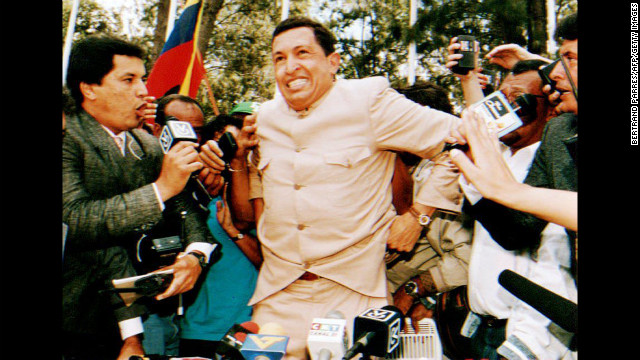 Photos: Political career of Hugo Chavez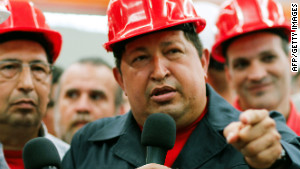 What is Hugo Chavez's economic legacy?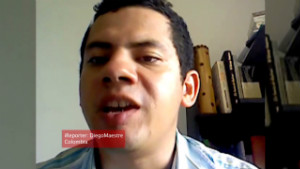 iReporters remember Hugo Chavez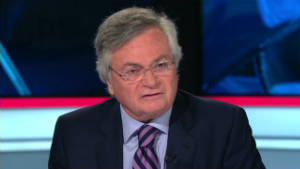 GPS: Venezuela after Chavez
In the 1940s and 1950s, the United States and other countries had "scientific laboratories testing how to cause cancer," Maduro said. "Seventy years have passed. These kinds of laboratories of evil and death have not advanced?"
Maduro stressed that he was not accusing the United States.
"I am just saying something that is a truth, that is known," he said.
But his recent comments have drawn sharp responses from the U.S. government.
Venezuela: Will 'Chavismo' survive?
"An assertion that the United States was somehow involved in causing President Chavez's illness is absurd, and we definitively reject it," State Department spokesman Patrick Ventrell said last week.
It isn't the first time that a Venezuelan government official has implied that a plot could be behind Chavez's cancer.
Chavez made the assertion himself in 2011, saying at a military event in Caracas that he wondered whether the United States could be infecting Latin American leaders with the illness.
Chavez cited the revelation that between 1946 and 1948, the United States had carried out human experiments in Guatemala where subjects were exposed to sexually transmitted diseases. The U.S. government apologized for those experiments in 2010.
"Would it be strange if (the United States) had developed a technology to induce cancer," he asked, "and for no one to know it?"
Maduro announced on March 5 that Chavez had died. The news came nearly two years after Chavez had revealed his cancer diagnosis in June 2011.
While government announcements of Chavez's trips to Cuba for treatment were common, officials never revealed details about his prognosis or specified what kind of cancer he had.
Maduro has remained tight-lipped, even while telling Telesur that details about Chavez's illness make officials "almost certain" that there was foul play.
"We are almost certain based on the data we have," Maduro said. "He had an illness, a cancer that will be known in time, that broke with all the typical characteristics of this illness."
Dr. Elmer Huerta, an oncologist and past president of the American Cancer Society, told CNN en Español Tuesday that assertions that injections or poisons could have caused Chavez's cancer have "absolutely no scientific substance."
"Science cannot sustain this hypothesis," Huerta said.
Any scientific investigation into Chavez's death, Huerta said, could be complicated by the fact that Chavez's body has already been embalmed so that it can be placed on display in a Caracas museum.
"If they want to investigate ... they should have already taken all the tissue samples," he said.
It's unlikely the scientific commission Maduro spoke of this week will ever be formed, according to Fernando Gerbasi, a Venezuelan analyst and former diplomat.
"This is political speculation," he told CNN en Español. "They have wanted to use to the maximum Chavez's death for political purposes."
Making the poor count -- a Hugo Chavez legacy
CNN's Gabriela Frias and Mariano Castillo and CNNMexico contributed to this report.