Exploring Vatican City
Join the conversation
CNN iReport
updated 9:31 AM EDT, Tue March 12, 2013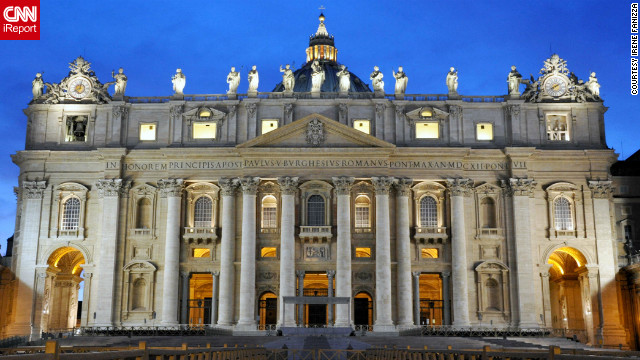 St. Peter's Basilica is built upon Vatican Hill across the Tiber River from central Rome.
iReporter Irene Fanizza
snapped this photo in September 2011.
Tin Tin Su
and her daughter were at the Vatican for Christmas Eve 2011 to see Pope Benedict XVI as he waved from his room. Su was impressed by the number of worshippers and the beautiful buildings in Vatican City.
Kyle Zeigler
and his wife were struck by the intricacies and the design of the massive cathedral. "All I could think about was the painstaking attention to detail that had to be paid by hundreds -- if not thousands -- of builders over the years," he says.
Like many tourists who visit,
Sunlight shines through the dome of St. Peter's Basilica in Vatican City. When Michelangelo was chief architect of the church, he conceptualized the dome. It was only completed to the base when he died, but it was later finished.
St. Peter's Basilica draws tourists from across the world each day. "What a history and ... importance to the world,"
From the top of the majestic St. Peter's Basilica dome, visitors can enjoy the view of Saint Peter's Square. It towers 452 feet above the street.
Exploring Vatican City
Exploring Vatican City
Exploring Vatican City
Exploring Vatican City
Exploring Vatican City
Exploring Vatican City
Exploring Vatican City