ICC drops charges against former Kenya official
updated 9:00 PM EDT, Mon March 11, 2013
STORY HIGHLIGHTS
NEW: Politics isn't behind dropping the charge against the official, the prosecutor says
NEW: The prosecutor says some witnesses are dead, scared or tainted
Charges remain for Kenya's newly elected president, Uhuru Kenyatta
Kenyatta, who says he's innocent, wants the court to reconsider the charges
(CNN) -- The International Criminal Court prosecutor handling accusations of crimes against humanity against four prominent Kenyans -- including the country's newly elected president -- dropped charges Monday against one of the men, citing dead, fearful or tainted witnesses and government stonewalling.
Prosecutor Fatou Bensouda said the decision to drop charges against former Cabinet Secretary Francis Kirimi Muthaura in connection with post-election violence in 2007 had nothing to do with last week's election of Uhuru Kenyatta as Kenya's next president.
"My decision today is based only on the specific facts of the case against Mr. Muthaura, and not on any other consideration," Bensouda said in a statement posted to the court's website. "While we are all aware of political developments in Kenya, these have no influence, at all, on the decisions that I make as prosecutor of the International Criminal Court."
Instead, Bensouda said investigators had run up against myriad problems pursuing the case, including witnesses who had died and others who were too afraid to testify.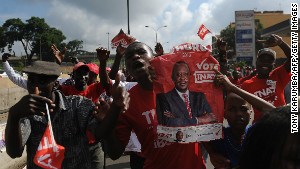 Kenyatta wins Kenyan presidential vote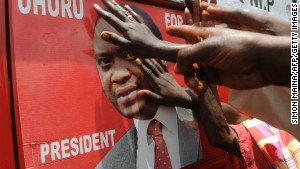 Kenya's election outcome challenged
The Kenyan government failed to help and prosecutors also had to drop a key witness who recanted some evidence and acknowledged taking bribes, Bensouda said.
Last year, ICC judges found probable cause to pursue charges against Muthaura, Kenyatta and two others of being "indirect co-perpetrators" in the 2007 violence following a disputed presidential election.
According to the ICC, Kenyatta, Muthaura and the others directed a wave of mostly ethnic violence in January 2008. The violence followed the 2007 elections in which the incumbent president was declared the winner despite widespread allegations of vote fraud.
As many as 1,220 people died and more than 350,000 people were displaced by the violence, according to the ICC.
Prosecutors accused Muthaura of making connections, providing funding and using intermediaries to mobilize attackers. Kenyatta, prosecutors say, provided "institutional support" for the violence.
It's unclear what impact the decision to drop charges against Muthaura could have on the case against the remaining three defendants. But a source close to the situation at The Hague, Netherlands, said the decision could have a "snowball effect" that could lead to the dismissal of all the charges.
"There's more evidence, but not much more," the source said. "This case is not a done deal."
ICC officials did not immediately respond Monday to CNN requests to comment on the source's allegations.
Kenyatta, who like the others charged has said he is innocent, has asked the court to reconsider whether the charges are valid, citing a lack of eyewitness evidence, according to court filings.
Zain Verjee reported from London, Michael Pearson reported and wrote from Atlanta. CNN's Nima Elbagir also contributed to this report.

Part of complete coverage on
Kenyan Election
updated 1:07 PM EDT, Sat March 30, 2013

The election of Uhuru Kenyatta is a storybook ending for the son of Kenya's first president.
updated 9:26 AM EST, Fri March 1, 2013

Kenya's most critical and complex election since independence starts Monday. It will impact the country and the way the world views Africa.
updated 6:33 AM EST, Thu March 7, 2013

Award-winning photographer Boniface Mwangi compares past images of violence to today's images of peace.
updated 9:32 AM EST, Fri March 1, 2013

Last 20 years have seen gains and reversals in transition to democracy in Africa, says John Mukum Mbaku. Explore our interactive to learn more.
updated 7:41 PM EST, Sun March 3, 2013

CNN's Nima Elbagir reports on "digital humanitarians" who are using social media to monitor Kenya's election.

These trains, and their peace-promoting artwork, pass through Kenya's Kibera daily, promoting the arts and foster peaceful relationships.
updated 2:15 PM EST, Fri March 1, 2013

Long-time activist Gina Din talks to Zain Verjee about how they are promoting a peaceful election in Kenya.
updated 10:05 AM EST, Fri March 1, 2013

The 2007 post-election violence left more than 1,000 dead. Now Kenyans are coming up with innovative ways to promote peace.
updated 6:37 AM EST, Fri March 1, 2013

CNN's Zain Verjee speaks to the hosts of the popular Kenyan youth show "Teen Republik" about their hopes for the big vote.
updated 7:03 AM EST, Mon March 4, 2013

A young Kenyan animator has created a 3D cartoon depicting his country's politicians as Transformer-style robots.
updated 6:54 AM EST, Tue February 5, 2013

Kenya's economy faces challenge ahead of elections. CNN's Nima Elbagir reports from Kenya.