Suu Kyi wins re-election as Myanmar opposition leader
updated 5:57 AM EDT, Mon March 11, 2013
STORY HIGHLIGHTS
The pro-democracy activist spent years under house arrest
She is re-elected at the first conference of opposition members in 25 years
Yangon, Myanmar (CNN) -- Pro-democracy icon Aung San Suu Kyi won re-election as Myanmar's opposition leader at a gathering of opposition members Sunday.
It was the first conference of opposition members in 25 years -- another indication of the military junta loosening its reins and allowing such a gathering.
At the summit in Yangon, 120 members of the National League for Democracy voted for Suu Kyi on the third day of the party's meeting.
Myanmar is gradually emerging from decades of authoritarian military rule that resulted in internal oppression and international isolation.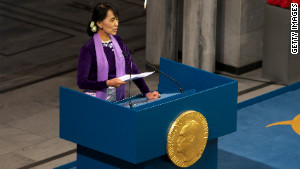 Suu Kyi: Try to create a peaceful world
Suu Kyi spent years under house arrest before authorities released her in 2011. Many members of her National League for Democracy party were imprisoned under the military junta.
President Thein Sein, a former military official, has overseen the introduction of greater political freedoms, peace talks with ethnic rebels and the successful participation of Suu Kyi and her party in legislative elections.

Part of complete coverage on
updated 12:39 PM EDT, Mon May 20, 2013

No solutions to the violence and total confusion is no longer just news, but a terrifying daily reality. Has Nigeria descended into civil war?
updated 4:17 AM EDT, Mon May 20, 2013

On the eve of the French Open, attention turns to the illness that has struck down several players. Why is it hitting tennis so hard?
updated 10:09 AM EDT, Mon May 20, 2013

Daycare, hour-long lunch breaks, free medicine? Not all of Bangladesh's factories are sweatshops, but many fear the crisis will hit them hard.
updated 9:14 AM EDT, Mon May 20, 2013

A group of bright minds at California Institute of Technology invented the 'toilet of the future,' a solar-powered wc that could save lives.
updated 9:15 AM EDT, Mon May 20, 2013

Chinese Premier is meeting India's leaders just weeks after raising the stakes in one of Asia's least understood and longest running disputes.
updated 7:15 AM EDT, Mon May 20, 2013

Despite unemployment being close to 12%, Italians are snubbing traditional jobs no longer viewed as attractive -- like pizza-making.
updated 11:07 AM EDT, Mon May 20, 2013

The woman behind the Chelsea Flower Show talks with CNN about the preparations and the 100th anniversary of the iconic horticultural gathering.
updated 7:38 PM EDT, Sun May 19, 2013

CNN's Dan Rivers reports on the influx of companies into Myanmar after the country opened up to foreign business.
updated 3:14 PM EDT, Thu May 16, 2013

Boxing legend Manny Pacquiao is using his hero status to fight human trafficking in the Philippines, pushing for an anti-trafficking law.
updated 11:22 AM EDT, Mon May 20, 2013

On Wednesday, NASA officials announced a serious problem with the Kepler satellite, the world's most successful planet-finding machine.
updated 9:54 AM EDT, Fri May 17, 2013

Anthony Bourdain discovers a American style, fast-food chicken restaurant that opened in Libya after the revolution -- and became a hit instantly.
updated 2:22 PM EDT, Mon May 20, 2013

As we mark 140 years since blue jeans were invented, we want to see the best and worst ways you've worn denim through the years.