STORY HIGHLIGHTS
NEW: Henrique Capriles will face acting President Nicolas Maduro
NEW: The two traded angry barbs Sunday night
Capriles lost to Chavez last year; Maduro is the late president's hand-picked successor
Candidates have until Monday to register for the April 14 election
(CNN) -- Venezuelan opposition leader Henrique Capriles has announced that he will run in next month's presidential election to replace the late Hugo Chavez.
He faces an uphill battle against acting President Nicolas Maduro, who was sworn in last week and was Chavez's hand-picked successor.
According to state news, the candidates have until Monday to register for the April 14 election.
"Nicolas, I will not give you a free path," Capriles told reporters Sunday. "You will have to defeat me with votes."
Capriles, 40, ran against Chavez last year and lost. But he mounted one of the fiercest challenges during the late president's 14 years in power.
He accused the government of manipulating Chavez's death for political gain
"My fight is not to be president. My fight is for Venezuela to move forward," Capriles said Sunday night.
Maduro quickly fired back, appearing on state-run VTV to counter Capriles, calling him irresponsible.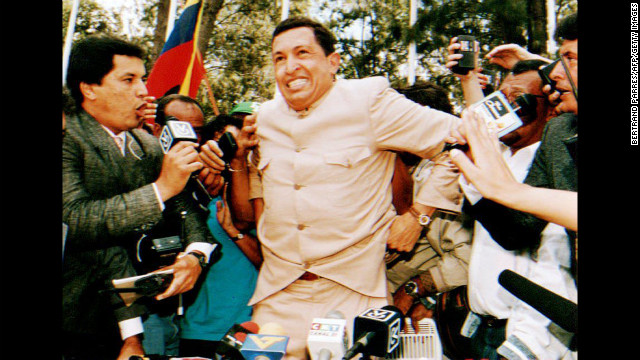 Army Lt. Col. Hugo Chavez, who led a 1992 attempted coup, speaks to reporters on March 26, 1994, after he was freed from jail. Chavez was freed after charges were dropped against him for leading the first of two attempted coups against the government of former President Carlos Andres Perez, who was later removed from office.
Venezuelan president-elect Chavez visits Bogota, Colombia, on December 18, 1998. On December 6, Chavez had been elected the youngest president in Venezuela history.
President Chavez greets supporters with his then-wife, Marisabel Rodriguez de Chavez, beside him as he arrives to preside over a parade in his honor on February 4, 1999, in Caracas. Chavez was sworn in as president on February 2.
Chavez inspects military maneuvers of the national Air Force on March 17, 2001, in Catilletes near the border with Colombia. In June 2000, Chavez was re-elected to the presidency for a six-year term, under the new constitution created by his government in 1999.
People try to take shelter from gunshots fired near Altamira Square in Caracas on August 16, 2004. At least three people were wounded by gunshots after Chavez supporters fired on opposition demonstrators, police said. A vote to recall Chavez as president failed on August 15.
Chavez, left, stands in front of supporters with Fidel Castro of Cuba, center, and Evo Morales of Bolivia, right, during a rally at the Plaza de la Revolucion in Havana, Cuba, on April 29, 2006.
Chavez meets with Pope Benedict XVI at his private library on May 11, 2006, in Vatican City.
Chavez embraces Iranian President Mahmoud Ahmadinejad, right, in Tehran, Iran, on July 1, 2007. The two presidents have enjoyed a close relationship and Chavez has referred to Ahmadinejad as his "ideological brother."
Chavez speaks during a rally in Caracas on November 18, 2008. Chavez pushed to change term limits in Venezuela through a referendum that passed on February 15, 2009, clearing the way for him to run for a third six-year term.
Chavez, right, gives a copy of the book, "The Open Veins of Latin America" by Eduardo Galeano to President Barack Obama during a multilateral meeting at the Summit of the Americas in Port of Spain, Trinidad, on April 18, 2009.
Chavez, right, greets Russian Prime Minister Vladimir Putin during his visit to the presidential palace in Caracas on April 2, 2010.
Chavez salutes to the audience after passing a law in Caracas on November 12, 2011. Chavez has undergone several rounds of cancer treatment in Cuba, beginning in 2011.
Chavez participates in a ceremony at the Miraflores presidential palace in Caracas on January 27, 2012.
Chavez, left, jokes with American actor Sean Penn, right, during his visit to Miraflores presidential palace in Caracas on February 16, 2012. Penn thanked Chavez for the support given by the Venezuelan government to his nongovernmental organization, which benefits victims of the 2010 Haiti earthquake.
Chavez acknowledges supporters on the streets of Caracas while on his way to the airport to travel to Cuba for ongoing cancer treatment on February 24, 2012.
Chavez gestures to the crowd during his closing campaign rally in Caracas on October 4, 2012. The leftist leader won a fourth term on October 7, extending his presidency to 2019.
A handout picture released by the Venezuelan presidential press office on Friday, February 15, 2013, shows Chavez surrounded by his daughters and holding the February 14 edition of the official Cuban newspaper Granma at a hospital in Havana, Cuba.
Chavez supporters gather in Caracas' Bolivar Square to mourn Chavez's death on March 5, 2013.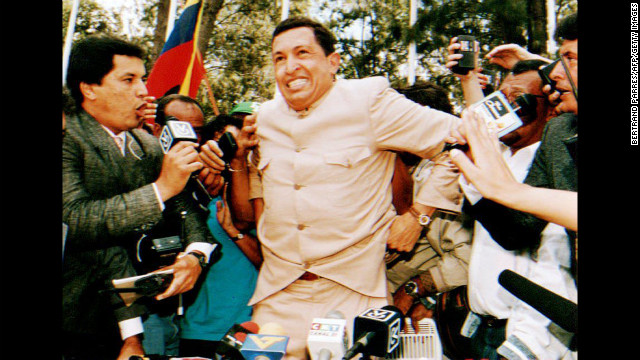 Photos: Political career of Hugo Chavez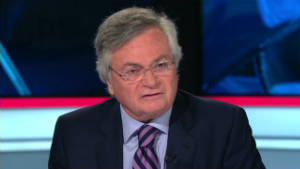 GPS: Venezuela after Chavez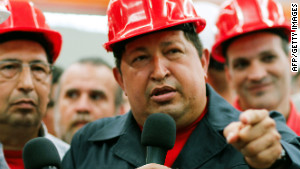 What is Hugo Chavez's economic legacy?
"His aim is to provoke the Venezuelan people," Maduro said. "He's looking for violence."
The sharp exchange gave a potential preview of what the campaign period might look like -- angry, bitter and deeply divided.
Earlier Sunday, Maduro, 50, the ruling Socialist Party's candidate, picked up an endorsement from the country's small Communist Party.
He vowed to continue the policies and vision of Chavez, who died last week of cancer.
Chavez was a larger-than-life leader, who positioned himself as a champion of the poor and cast himself as a "21st-century socialist."
Making the poor count -- a Hugo Chavez legacy
He was a polarizing figure, revered by legions even as others accused him of repressing dissenting voices and turning over once-independent institutions to partisan loyalists.
"I will be president and commander in chief of the armed forces because that's what Chavez ordered me to do. I will follow his orders, but I need the help of the people," Maduro said, according to VTV.
When Maduro was sworn in last week, Capriles protested loudly, telling reporters in Caracas the ceremony was "an abuse of power."
"To be president, the people have to elect you," he said. "The constitution is very clear."
Maduro addressed the upcoming election.
"May the best person win," he said. "The people will decide."