Italy, UK, Greece confirm Nigeria hostage deaths
updated 8:35 PM EDT, Sun March 10, 2013
STORY HIGHLIGHTS
"This was an act of cold-blooded murder," British official says
The hostages had been seized from a construction company office in February
Their captors blame a raid; Britain says blame "rests squarely with the terrorists"
(CNN) -- Britain, Italy and Greece on Sunday confirmed that hostages from their countries were among seven construction workers reported killed in Nigeria over the weekend.
"This was an act of cold-blooded murder, which I condemn in the strongest terms," British Foreign Secretary William Hague said in a statement announcing that a British construction worker was among the dead.
Nigerian militant group Ansar al-Muslimeen claimed responsibility for the February kidnappings of the seven construction workers from an office in northeastern Nigeria. The group, widely known as Ansaru, released images of some of the bodies Saturday.
Italy's Foreign Ministry said Sunday that it appeared the report of the deaths "is founded." Greece said one of its citizens was among the dead, and that his captors "at no stage either communicated or expressed demands for the release of the hostages."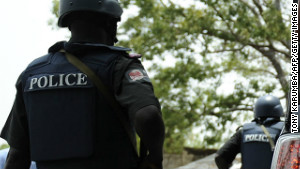 Workers abducted in northern Nigeria
Ansaru blamed the deaths on a joint Nigerian-British military operation intended to free the hostages. Without directly addressing the claim, Hague said, "Responsibility for this tragic outcome rests squarely with the terrorists."
"I am grateful to the Nigerian Government for their unstinting help and cooperation," he said. "We are utterly determined to work with them to hold the perpetrators of this heinous act to account, and to combat the terrorism which so blights the lives of people in Northern Nigeria and in the wider region."
Some of the other hostages were from Lebanon, which had not commented on the reports Sunday.
All seven hostages were seized from an office of Lebanese-based construction firm Setraco in northeastern Nigeria on February 18. In claiming responsibility for the attack, Ansaru said it taken them captive because of "transgression and atrocities" against Islam in Afghanistan, Mali and other locations.
Setraco's Nigerian subsidiary is involved in many major road construction projects in northern Nigeria.
U.S. officials say Ansaru is an offshoot of the Islamist militant group Boko Haram, which Nigerian authorities say is behind a recent rash of killings and kidnappings in the country. Boko Haram -- whose name means "Western education is sacrilege" -- has killed more than 2,800 people in an escalating campaign to impose strict Islamic law on largely Muslim northern Nigeria, according to Human Rights Watch.
Ansaru has previously claimed responsibility for the December kidnapping of a French citizen near the border with Niger and for an attack on a prison in Abuja in November.
CNN's Hada Messia in Rome and Per Nyberg in London contributed to this report.

Part of complete coverage on
updated 3:14 PM EDT, Thu May 16, 2013

Boxing legend Manny Pacquiao is using his hero status to fight human trafficking in the Philippines, pushing for an anti-trafficking law.
updated 6:25 PM EDT, Thu May 16, 2013

The U.N. says 70% of rapes committed in Somalia are carried out by men in military uniform. CNN's Nima Elbagir reports.
updated 8:38 AM EDT, Fri May 17, 2013

Christiane Amanpour writes an open letter to girls of the world, saying it is time to end the discrimination against girls in education.
updated 3:12 PM EDT, Fri May 17, 2013

Fans gasped when David Beckham wore a sarong. Then there was the nail polish and tattoos. But his masculinity was never in doubt.
updated 10:54 AM EDT, Fri May 17, 2013

Albinos in Tanzania have been attacked and killed because some people believe their body parts bring good luck. But one albino is fighting back.
updated 8:50 AM EDT, Fri May 17, 2013

Terrible results for Dell mean the future seems anything but bright for the PC industry despite a flurry of attempted innovations.
updated 12:00 PM EDT, Fri May 17, 2013

Mario Balotelli has delivered his verdict on his time in the English Premier League -- the AC Milan striker couldn't be happier to have left England.
updated 7:04 AM EDT, Fri May 17, 2013

If you thought Preakness was the poor sister to Kentucky Derby, think again. CNN brings you top five facts from the prestigious horse race.
updated 7:45 PM EDT, Wed May 15, 2013

Natasha Kampusch was held for eight years in an Austrian man's basement. She talks about her road to recovery, exclusively to CNN.
updated 5:36 PM EDT, Wed May 15, 2013

From her hospital bed, Reshma tells CNN about the 17 days she spent trapped under nine stories of rubble in Bangladesh.
updated 6:12 PM EDT, Thu May 16, 2013

A room full of partygoers in San Francisco were given power over a cocktail-making robot controlled by their smartphones.
updated 11:57 AM EDT, Thu May 16, 2013

The cast of "Star Trek Into Darkness" take a break from fighting space villains to answer questions from CNN iReporters.
updated 7:48 AM EDT, Thu May 16, 2013

CNN brings you images capturing moments to remember. Look ahead to the future and chronicle our changing world.