Afghan police officer embraces suicide bomber to save others
updated 8:50 PM EDT, Sun March 10, 2013
STORY HIGHLIGHTS
The suicide bomber attempts to enter a town, where coalition and Afghan forces are training
Police at a checkpoint recognize he is wearing an explosive vest
One officer embraces him to blunt the effects of the explosives
The bomber detonates his explosives, killing the officer and eight children
(CNN) -- A policeman sacrificed his life for the sake of others, embracing a suicide bomber in southeast Afghanistan on Saturday morning to dull the blast as it detonated, eyewitnesses said.
The bomb killed the officer, Murad Khan, and eight minors between the ages of 7 and 17.
It wounded two more people, said police spokesman Haji Yaqoob of Khost province.
The bomber attempted to enter a village where coalition forces were conducting training exercises with Afghan police, but officers at a checkpoint recognized his explosive vest and stopped him, police said.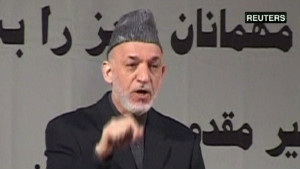 Karzai: Taliban wants U.S. to stay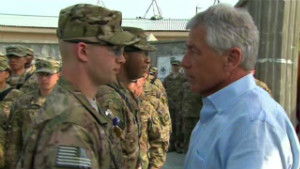 Hagel unfazed by suicide attack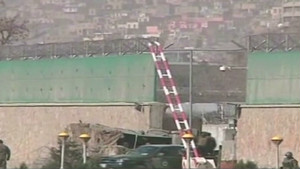 Suicide attacks in Afghanistan
The training session had convened near the checkpoint, and Yaqoob believes it was the target.
In a separate incident Saturday, a suicide bomber on a bicycle detonated himself at a gate to the Afghan defense ministry in Kabul hours after newly appointed U.S. Defense Secretary Chuck Hagel landed in the Afghan capital. Hagel was not in the area at them time of the explosion.
The secretary is in Afghanistan to visit American troops and get the lay of the land in the restive country to better advise President Barack Obama.
Hagel emphasized that the United States is still at war in Afghanistan despite the current mission to transition into a role of "training, assistance and advice."
This is the latest suicide attack in the nation.
A car bomber drove up to a U.S. military base in Khost province in December, but did not make it past the gate. The vehicle's detonation killed three people -- a security guard and two truck drivers.
Coalition forces in Khost are moving from a combat role side by side with Afghan National Army troops to an advisory role.
CNN's Ben Brumfield wrote in Atlanta; Jennifer Z. Deaton contributed to this report

Part of complete coverage on
updated 12:39 PM EDT, Mon May 20, 2013

No solutions to the violence and total confusion is no longer just news, but a terrifying daily reality. Has Nigeria descended into civil war?
updated 4:17 AM EDT, Mon May 20, 2013

On the eve of the French Open, attention turns to the illness that has struck down several players. Why is it hitting tennis so hard?
updated 10:09 AM EDT, Mon May 20, 2013

Daycare, hour-long lunch breaks, free medicine? Not all of Bangladesh's factories are sweatshops, but many fear the crisis will hit them hard.
updated 9:14 AM EDT, Mon May 20, 2013

A group of bright minds at California Institute of Technology invented the 'toilet of the future,' a solar-powered wc that could save lives.
updated 9:15 AM EDT, Mon May 20, 2013

Chinese Premier is meeting India's leaders just weeks after raising the stakes in one of Asia's least understood and longest running disputes.
updated 7:15 AM EDT, Mon May 20, 2013

Despite unemployment being close to 12%, Italians are snubbing traditional jobs no longer viewed as attractive -- like pizza-making.
updated 11:07 AM EDT, Mon May 20, 2013

The woman behind the Chelsea Flower Show talks with CNN about the preparations and the 100th anniversary of the iconic horticultural gathering.
updated 7:38 PM EDT, Sun May 19, 2013

CNN's Dan Rivers reports on the influx of companies into Myanmar after the country opened up to foreign business.
updated 3:14 PM EDT, Thu May 16, 2013

Boxing legend Manny Pacquiao is using his hero status to fight human trafficking in the Philippines, pushing for an anti-trafficking law.
updated 11:22 AM EDT, Mon May 20, 2013

On Wednesday, NASA officials announced a serious problem with the Kepler satellite, the world's most successful planet-finding machine.
updated 9:54 AM EDT, Fri May 17, 2013

Anthony Bourdain discovers a American style, fast-food chicken restaurant that opened in Libya after the revolution -- and became a hit instantly.
updated 2:22 PM EDT, Mon May 20, 2013

As we mark 140 years since blue jeans were invented, we want to see the best and worst ways you've worn denim through the years.