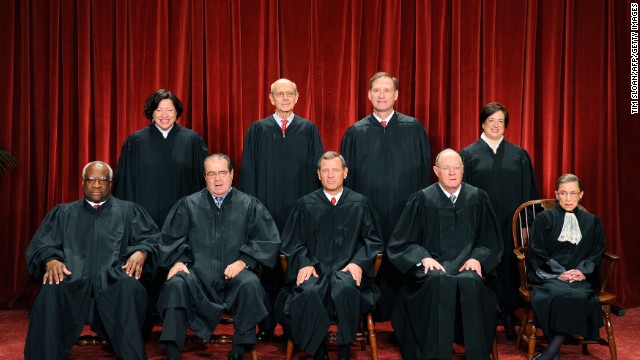 The justices of the U.S. Supreme Court sit for their official photograph on October 8, 2010, at the Supreme Court. Front row, from left: Clarence Thomas, Antonin Scalia, Chief Justice John G. Roberts, Anthony M. Kennedy and Ruth Bader Ginsburg. Back row, from left: Sonia Sotomayor, Stephen Breyer, Samuel Alito Jr. and Elena Kagan.
In 2005, Chief Justice John G. Roberts was nominated by President George W. Bush to succeed Justice Sandra Day O'Connor as an associate justice. After Chief Justice William Rehnquist died, however, Bush named Roberts to the chief justice post. The court has moved to the right during his tenure, although Roberts supplied the key vote to uphold President Barack Obama's Affordable Care Act.
Justice Antonin Scalia was appointed by President Ronald Reagan in 1986 to fill the seat vacated by Justice William Rehnquist when he was elevated to chief justice. A constitutional originalist -- and a colorful orator -- Scalia is a member of the court's conservative wing. He is currently the court's longest-serving justice.
Justice Anthony M. Kennedy was appointed to the court by President Ronald Reagan in 1988. He is a conservative justice but has provided crucial swing votes in many cases, writing the majority opinion, for example, in Lawrence v. Texas, which struck down that state's sodomy law.
Justice Clarence Thomas is the second African-American to serve on the court, succeeding Justice Thurgood Marshall when he was appointed by President George H. W. Bush in 1991. He is a conservative, a strict constructionist who supports states' rights.
Justice Ruth Bader Ginsburg is the second woman to serve on the Supreme Court. Appointed by President Bill Clinton in 1993, she is a strong voice in the court's liberal minority.
Justice Stephen G. Breyer was appointed to the court in 1994 by President Bill Clinton. He is considered a member of the court's liberal minority.
Justice Samuel A. Alito Jr. was appointed by President George W. Bush in 2006 and is known as one of the most conservative justices to serve on the court in modern times.
Justice Sonia Sotomayor is the court's first Hispanic and third female justice. She was appointed by President Barack Obama in 2009 and is regarded as a resolutely liberal member of the court.
Justice Elena Kagan is the fourth female justice and a member of the court's liberal wing. She was appointed in 2010, at the age of 50, by President Barack Obama and is the court's youngest member.
Today's Supreme Court
John G. Roberts
Antonin Scalia
Anthony M. Kennedy
Clarence Thomas
Ruth Bader Ginsburg
Stephen G. Breyer
Samuel A. Alito Jr.
Sonia Sotomayor
Elena Kagan
(CNN) -- Here's a look at the life of Antonin Scalia, associate justice of the U.S. Supreme Court.
Personal: Birth date: March 11, 1936
Birth place: Trenton, New Jersey
Birth name: Antonin Scalia
Father: Eugene Scalia, professor at Brooklyn College
Mother: Catherine Louise (Panaro) Scalia, public school teacher
Marriage: Maureen McCarthy, (September 10, 1960-present)
Children: Ann Forrest, Eugene, John Francis, Catherine Elisabeth, Mary Clare, Paul David, Matthew, Christopher James, Margaret Jane
Education: University of Fribourg, Switzerland, joint degree with Georgetown University, 1955-1956;Georgetown University, A.B., Valedictorian, summa cum laude, 1957; Harvard Law School, LL.B., 1960; Harvard University, Sheldon Fellow, editor of the Law Review, 1960-1961
Religion: Roman Catholic
Other Facts: First Italian-American justice to serve on the U.S. Supreme Court.
Considered a conservative.
Oversees the Fifth Circuit.
Votes consistently in favor of free speech.
Nicknamed 'Nino.'
Strong opponent of abortion and affirmative action and is a strong advocate of federalism and separation of powers.
With the retirement of Justice John Paul Stevens, he became the longest-serving justice on the court.
Timeline: 1961-1967 - Associate at Jones, Day, Cockley & Reavis in Cleveland, Ohio.
1962 - Is admitted to the Ohio Bar.
1970 - Is admitted to the Virginia Bar.
1967-1974 - Professor at University of Virginia School of Law.
1971-1972 - General Counsel, Office of Telecommunications Policy, Executive Office of President.
1972-1974 - Chairman, Administrative Conference of the United States, Washington.
1974-1977 - Assistant U.S. Attorney General for the Office of Legal Counsel.
1977 - Visiting scholar at the American Enterprise Institute; visiting professor at Georgetown Law Center.
1977-1982 - Law professor at the University of Chicago.
1980-1981 - Visiting professor at Stanford Law School.
August 17, 1982 - Scalia is sworn in as a member of the U.S. Court of Appeals for the District of Columbia Circuit - nominated by President Ronald Reagan.
September 26, 1986 - Is sworn in as Supreme Court associate justice, filling the seat left by William Rehnquist when he became Chief Justice.
January 2004 - Scalia takes a duck hunting trip in Louisiana with Vice President Cheney, three weeks after the Supreme Court agrees to hear the case of Cheney v. U.S. District Court for the District of Columbia.
April 7, 2004 - Tapes of a speech Scalia gave at a Mississippi high school, recorded by two journalists, are erased at the request of a United States deputy marshal, triggering outrage from journalism groups.
March 18, 2004 - Scalia issues a 21-page memo in which he explains his reasons for not recusing himself from the Cheney case.
March 27, 2006 - The Boston Herald reports that Scalia made "an obscene gesture, flicking his hand under his chin" in response to a question about whether lawyers might question his impartiality in matters of church and state. Scalia later writes a letter to the editor that the gesture was not obscene at all, but an attempt at being dismissive.
October 21, 2006 - States in a speech at the National Italian American Foundation that issues like abortion and suicide rights have nothing to do with the Constitution, and unelected judges too often choose to find new rights at the expense of the democratic process.
October 3, 2011 - The Supreme Court kicks off its new term with a brief salute to Justice Scalia who is marking his 25th year on the high court.