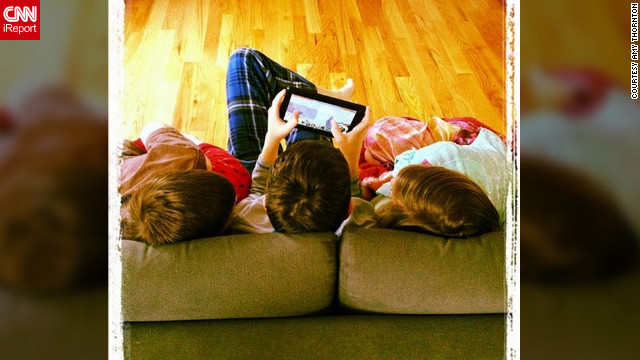 Amy Thornton
from Crozet, Virginia, woke at eight in the morning and found her three young children huddled together on the living room couch, playing with their Kindle. "A snow day is like this little stolen moment. Stolen from routine and rat-race," she said. "The highlight was getting to all play together, making memories."
Lyndsey Harn
of Frankfort, Illinois, spent her snow day with her son Dashiel and their Bandog Mastiff, Kola, playing in the snow. School was canceled that day and "the boys wanted to play in the snow," she said. "My favorite part about the snow day was seeing my son so happy to play in it."
Kristin Van Vorst
from Spotsylvania, Virginia, says her area got more than 8 inches of snow. She and her children, Sydney and Elliot, went outside to play in the fresh snow, and built this tiny snowman. "The best part of a snow day is extra time together," she said.
Laura Beaudoin
from Hopkinton, Massachusetts, spent the day painting with her daughters. "I think this storm is the 'hoorah' before spring," she said. "We decided since it was going to be messy and windy out, we were going to stay in and have an arts and crafts day," she said. Her favorite part of a snow day is getting to do things that you don't normally get to do, she said.
For her snow day,
Kimberly Page
from Dillwyn, Virginia, spent her snow day this week with her daughters. On the morning of March 7, she and her two toddlers came together and built a snowman. "I just like being able to enjoy my snow days with my two little girls. They love playing in the snow, but we had to get outside early this morning before it all melted away," she said.
Samantha Newman
of Washington, D.C. spent her "snow day" making homemade bagels. She thanked the "snowquester" for her day off. "We actually did not get any snow in D.C. and only got rain. But the Federal Government closed and when they close, everything else in D.C. generally shuts down," she said. Newman decided to make bagels because her boyfriend loves them, and because she says she can't find a good bagel shop in the city.
Meagan Jennett
says her snow day came after a recent storm hit Crozet, Virginia. "I went to the kitchen to make breakfast and was struck by the sunlight on the mountain tops," she said. She says the highlight of her snow day was finding a letter her grandfather wrote while in basic training for the U.S. Army during WWII.
Kelsey Parker
from Amissville, Virginia, says her area got more than a foot of wet, heavy snow, thus canceling school. She was able to sleep in late and spend time with her mom, who decided to make corn chowder because of the chilly weather. "It was a spur-of-the-moment idea. But you can't beat warm chowder on a snow day," she said.
Emily Brown
says she and her family spent their snow day hitting the slopes in Jay, Vermont. "We don't get to come to Jay very often, but getting my daughter on a board for the very first time has been the most amazing experience," she said. Her favorite part of the day was being with her family and "doing what we love all together," she said.
Snow day: Sharing time with the kids
Snow day: Letting the boys play
Snow day: Bonding with the family
Snow day: Bringing out the paints
Snow day: Getting the most out of snow
Snow day: Making homemade bagels
Snow day: Catching a nice view
Snow day: Bringing out a favorite tradition
Snow day: Teaching them a new activity