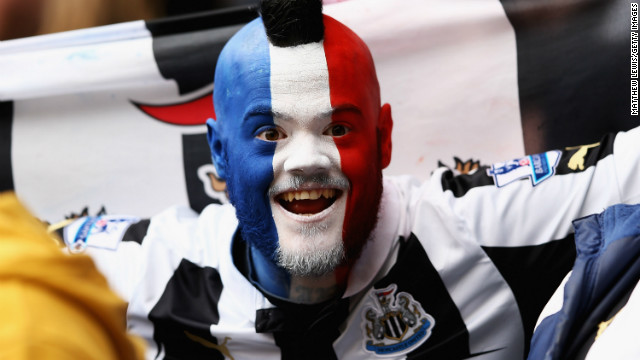 A Newcastle fan shows his support for the club's French foreign legion at the club's home game against Southampton in February.
Newcastle fans made their players from across the Channel feel at home by producing a mosaic of the French flag before the 4-2 win over Southampton at St. James' Park.
There were seven French players named in the matchday squad for Newcastle's win over Southampton, while African stars Papiss Cisse and Cheik Tiote are both French speakers. The home fans have been delighted with the impact of the new arrivals with the team beginning to turn its season around.
The locals have even renamed their own pub "La Fraise" instead of its original name, "The Strawberry." Newcastle is more famous for its Brown Ale than its Chardonnay and Merlot.
Midfielder Moussa Sissoko has been a great acquisition for Newcastle since making the move from French club Toulouse in January. The 23-year-old scored three times in his opening six appearances and is considered as one of the best purchases of the transfer window.
French President Francois Hollande (center) failed in his initial plan to raise tax to 75% but has not given up. Meanwhile, Axelle Lemaire (left), MP for Northern Europe, insists tax is not a factor behind the influx of French players to the English Premier League.
French actor Gerard Depardieu has moved to Russia following a row with the government over potential tax rises. He was welcomed by President Vladimir Putin and awarded Russian citizenship at the Kremlin in January.
Allez le Toon
Raising the flag
Bienvenue a Newcastle
Le Pub
Moussa magnifique
Taxing times
Au revoir Depardieu
STORY HIGHLIGHTS
English club Newcastle has welcomed an influx of French footballers to Premier League
Several French stars looking abroad with government planning to raise taxes
Former Newcastle defender Didier Domi backs French revolution at club
French MP labels tax exodus from her homeland as a "misconception"
(CNN) -- France is en vogue at the moment.
Its parliament has backed gay marriage, "Les Miserables" has taken the movie world by storm, McDonald's is launching the "McCamembert" Burger and David Beckham has jetted in to join the French Revolution at Paris Saint-Germain.
Vive le France? Not so for those earning more than $1.3 million a year, especially after Socialist President Francois Hollande announced he would introduce a top income tax rate of 75%.
It has become a real point of contention, with some -- including top sports stars -- threatening to move abroad.
Depardieu ditches France for Putin's Russia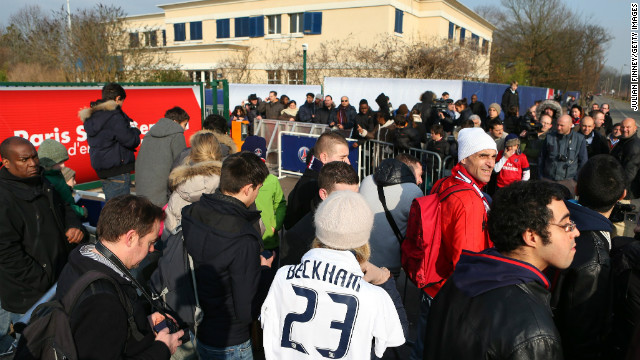 Hundreds of fans and journalists flocked to the Paris Saint-Germain training ground Wednesday to get a glimpse of David Beckham in action on the practice field. The interest in Beckham's move to the French club has caused huge excitement with the anticipation building ahead of the midfielder's possible debut on Sunday.
David Beckham took part in his first training session with his new Paris Saint-Germain teammates less than 24 hours after watching them claim a 2-1 win at Valencia in the last-16 round of the Champions League. on Tuesday.
Beckham, 37, was put through is paces at the club's open training day where more than 100 journalists turned up to witness the event. The former Manchester United and Real Madrid star is hoping to make his debut against Sochaux on Sunday, but it's not known if his pop star wife Victoria will be in attendance. Beckham's family has remained in London where his children Brooklyn, Romeo and Cruz attend school following their move from Los Angeles.
Beckham, who won 115 caps for England, has signed a five-month deal with the Qatari-backed club, but has revealed that his salary will be donated to a Paris children's charity. He will now hope to force his way into the side and link up with the likes of Zlatan Ibrahimovic, Lucas Moura and Ezequiel Lavezzi with the team six points clear at the top of Ligue 1.
Beckham waves to the waiting press pack as he makes his way out at the club's Camp des Loges training center in Saint-Germain-en-Laye, near Paris. The session, which was led by PSG's Italian coach Carlo Ancelotti, was shown live on French television.
Beckham shows off his new pink boots, a pair of which even Posh Spice might approve of. While Beckham is busy preparing for his debut, fashion designer Victoria was having her latest designs shown off by models in London.
After working up a sweat, Beckham throws off his top and gets back to work with the players who didn't feature in Tuesday's win at Valencia. If Beckham doesn't play against Sochaux on Sunday, he could line-up the following week against fierce rival Marseille and fellow Englishman Joey Barton.
Beckham takes to the sand as he steps up his training regime. Running on sand has several long-term benefits which includes strengthening the lower body muscles, burning more calories and is supposed to be easier on the joints as opposed to grass.
Beckham watched PSG's win at Valencia alongside the club's sporting director Leonardo. The pair looked on as their side edged out Valencia 2-1 in the first leg thanks to goals from Ezequiel Lavezzi and Javier Pastore, before Zlatan Ibrahimovic was sent off late on. The Swede will miss the second leg in the French capital on March 6.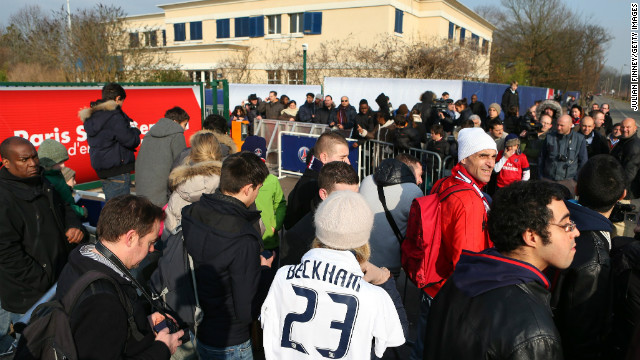 'Box Office' Beckham thrills French audience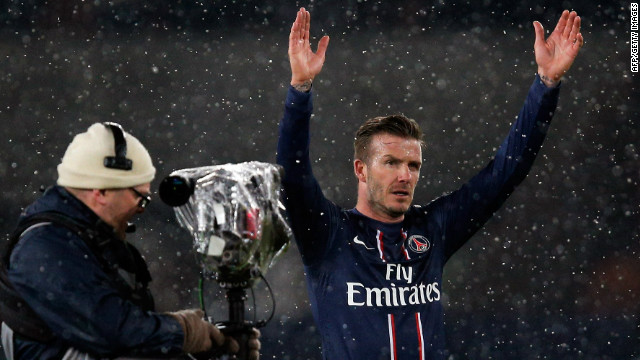 David Beckham acknowledges the crowd after making a winning debut for PSG against Marseille.
David Beckham received a rapturous reception from the 48,000 capacity crowd at the Parc des Princes.
Beckham warms up his 37-year-old limbs ahead of the match against Marseille at the Parc des Princes.
Beckham's wife Victoria weathered the bitterly cold conditions in the French capital as she watched from the stands.
Beckham's teammates celebrate their opening goal in the 2-0 win over Marseille which left them three points clear at the top.
Mario Balotelli could not find his scoring form as AC Milan were held 1-1 by his former club Inter in the San Siro.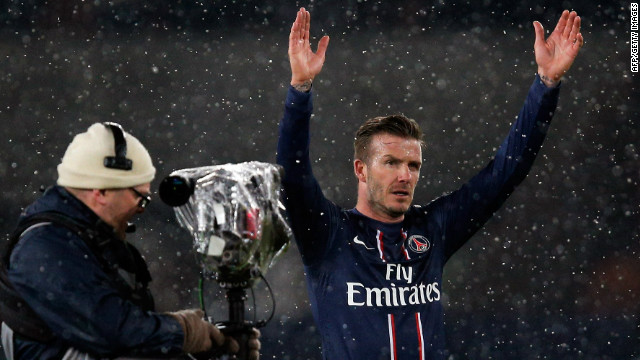 Contrasting fortunes for Beckham and Balotelli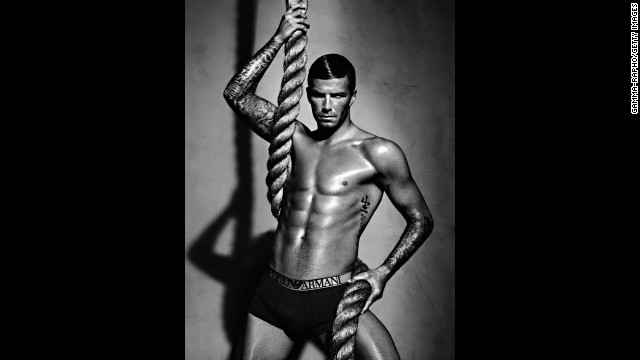 David Beckham is a man of many talents. Not only is he one of the most famous names in sports, but he's also one heck of a model. Tommy Hilfiger has now recognized the 38-year-old former soccer player as the No. 1 underwear model of the century. It's just one of several career highs for Beckham, seen here modeling Emporio Armani underwear in a 2009-2010 ad campaign.
Beckham makes his England debut at a World Cup qualifying match against Moldova in 1996.
Beckham celebrates his goal against Colombia in the 1998 World Cup.
As a player on Manchester United, Beckham cools down during the FA Charity Shield match against Arsenal in 1998.
At the 1998 World Cup, in a second-round match against Argentina, Beckham was sent off for kicking out at Diego Simeone. England lost the match on penalties and was eliminated, with Beckham becoming a hate figure for some fans.
Beckham poses after a news conference in Awaji-shima Island, Japan, in 2002.
Beckham poses with Beyonce, left, and Jennifer Lopez in Madrid during a presentation of the new Pepsi "Samourai" in 2004.
Beckham acts as England's captain during the 2004 European Championships in Portugal.
Beckham waves after a La Liga match between Real Madrid and Deportivo La Coruna in 2007.
The midfielder celebrates with his sons in 2007 after Real Madrid won the Spanish League title by beating Mallorca.
Beckham makes an appearance to promote his fragrance "David Beckham Intimately Night" in Sydney in 2007.
Beckham reveals his new No. 32 jersey after his loan move to AC Milan in 2008.
Beckham controls the ball during a 2010 World Cup qualifier.
Beckham, during his time with the Los Angeles Galaxy, walks toward the line judge to have a chat during Game 1 of the MLS Western Conference semifinals in 2009.
Beckham arrives at Sydney International Airport in 2010.
David and his wife, Victoria, arrive at the wedding of Prince William and Kate Middleton at Westminster Abbey in 2011.
The Beckhams attend the Vanity Fair Oscar Party in West Hollywood, California, in 2012.
Beckham celebrated his second MLS Cup in December 2012 when he decided to leave with a year left on his contract and seek one final challenge in Europe.
Beckham passes under London's Tower Bridge in a speedboat carrying the Olympic Torch in 2012.
Beckham poses with Paris Saint-Germain President Nasser Al-Khelaifi, left, and PSG sports director Leonardo during a news conference announcing his new gig in January 2013.
Beckham waves after PSG played Brest in his final home match in May. Beckham had signed on with the team just a few months prior to his retirement.
Beckham and his daughter, Harper, make their way through a crowd in New York in February. Harper, Beckham's fourth child, was born in 2011.
Since retiring from soccer, Beckham has tried his hand at acting. It was announced in March that he will appear in a special edition of the UK classic sitcom, "Only Fools and Horses," to raise money for a good cause.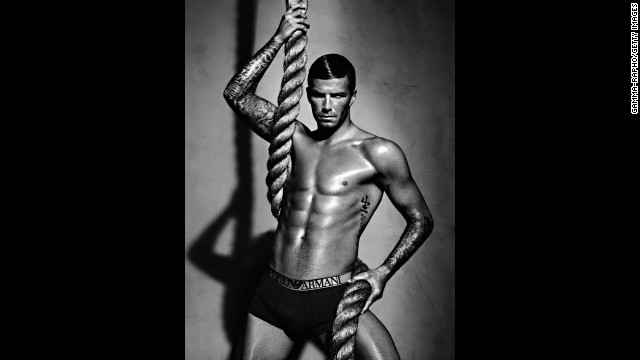 David Beckham through the years
Renowned actor Gerard Depardieu has already taken up the offer of Russian citizenship, despite France's constitutional court vetoing Hollande's proposal.
But while the plans over taxation are on hold, those involved with the nation's football are worried that their star assets are heading to the United Kingdom and abroad to seek sanctuary.
"What you see is that French football loses good players, all leaving for England, so the Premier League will be above all the other leagues," Marseille manager Elie Baup told reporters.
"In France, because of the financial side, we will have to work on young players or with recruits not well known, and then we'll make them big, and they'll go to England again. We are entering this 'cycle.' "
During the January transfer window, international striker Loic Remy left French title contender Marseille to move to Queens Park Rangers, a club which was bottom of the English Premier League and threatened with relegation.
Football's middle men eye rich pickings in transfer window
Even more remarkably in January, no less than five Frenchman made the switch to Newcastle, a move which led to the hanging of the "Tricolor" in the EPL club's canteen.
Lille's Mathieu Debuchy, Montpellier's Mapou Yanga-Mbiwa, Massadio Haidara from Nancy, Toulouse's Moussa Sissoko and Bordeaux's Yoann Gouffran all made the move to the north east of England.
They should feel at home as there's already more than a hint of Gallic flair at St. James' Park, with the wonderfully talented pair of Yohan Cabaye and Hatem Ben Arfa at the club, as well as the likes of Sylvain Marveaux, Gabriel Obertan and Romain Amalfitano.
"I'm not surprised that they want to play there because it's the best league, but I am surprised by just how many French players have gone there at the same time," former Newcastle and France player Didier Domi told CNN.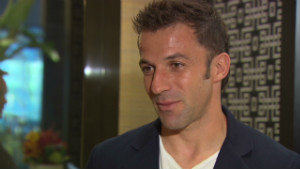 Del Piero adjusting to life down under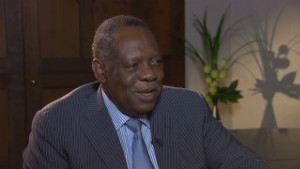 Hayatou: Good example key against racism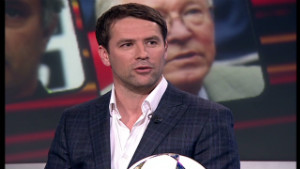 Will Mourinho replace Ferguson?
However, Domi insisted that financial motivation was not the reason for this footballing exodus to Newcastle.
"Tax is not a big factor. The biggest draw is the chance to play in front of packed stadia every week," he said.
"It's the place where all players want to play. When the French players come back to France after a spell in England, they all talk about how great it is.
"It's professional, it has great fans and atmosphere and it's where all the best players are. I loved it at Newcastle. The fans and people of the north east are so friendly and full of warmth."
Mickelson has a point on taxes
In the last French election, held in May 2012 -- the French population in London was given the opportunity to vote on the establishment of a parliamentary member for Northern Europe.
There are 120,000 officially registered as living in the British capital, but one of those -- politician Axelle Lemaire -- believes the total is nearer 400,000.
Before winning that parliamentary ballot, as a representative of Hollande's Socialist Party, Lemaire lived and worked in London for 12 years.
"Many people come and go between the two countries thanks to the new transport links and there are a lot of younger people who come to London and move on afterwards," she told CNN.
"I arrived in London 12 years ago and I remember reading the headlines in the newspapers then about how French people were moving for tax reasons.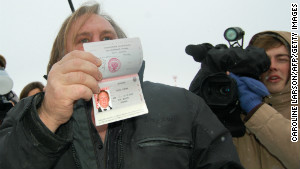 Gerard Depardieu welcomed in Russia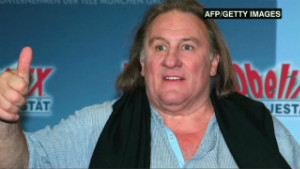 French tax hike protest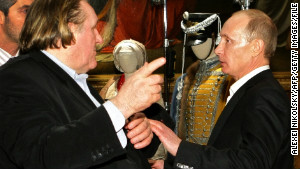 Putin gives Depardieu citizenship
"But the reality is very different. Even now there is a lot being written about people leaving because of the 75% tax reasons. I've not seen any serious figures supporting this. The reality is very different.
"People come here for a whole variety of reasons: to study, to work, to learn English, for love, for the international dimension of the UK.
"Taxes, at the end, are pretty similar in the two countries, and constitute very rarely a reason to move out.
"It has become more and more normal to spend some time in your career or to study abroad.
"Some stay and some leave after a while. Sometimes, bi-national couples move to France if they have a second child because the cost of living is expensive here."
Why Depardieu's 'pathetic' desertion has caused French storm
Lemaire also doubts that recent raft of French arrivals at Newcastle has anything to do with the levels of tax in their own country.
"I think it's a misconception to say they're here because of taxes," she said.
"These players are young and earning their first big contract in a very good club and that's a great opportunity for them.
"'I don't think they've thought to themselves, 'I want to leave for tax reasons.' "
A French guide to Geordie

Toon -- town

Oot -- out

Canny -- nice

Muckle -- very

Gan /Ganning --go / going

Bairn -- child

Divven't -- don't

Howay -- come on!

Marra -- friend
Dubbed "Neufchateau" by the French media, Newcastle is in many ways no different from many other Premier League clubs in luring talent from across the Channel.
The likes of Thierry Henry, Patrick Vieira, Nicolas Anelka, Emmanuel Petit, Marcel Desailly and Claude Makelele are just some of those to enjoy huge success in England.
While the typical English football fan might refer to the French as "Frogs" and take pleasure in mentioning the military victories at Waterloo and Agincourt, the acceptance of French talent on the football field has never been in doubt.
One Frenchman who made the move to England and then to Newcastle was football writer Kevin Quignane, who believes the most difficult task facing his fellow countrymen is understanding the locals' notorious "Geordie" accent.
"There was indeed a bit of a linguistic shock," Quignane recalled following his arrival in the city.
"I'd say that a true, thick Geordie accent is more difficult to understand than a broad Yorkshire brogue, which in itself can be pretty challenging.
"I just couldn't understand our next door neighbor and my partner, who is herself a Geordie, also had great trouble.
"It really can be challenging but by and large, most locals speak with a mild Geordie accent, thank God. That or I've got so used to it that I don't notice anymore."
While it might take time for the newcomers to adapt to the local lingo and swap their Chardonnay for a pint of Newcastle Brown Ale, Quignane believes the recent arrivals will enjoy life in the city.
"Newcastle's stock as a city has risen tremendously in the last decade," he added.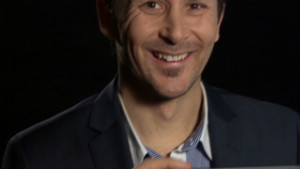 Mendieta: Barca, Real out in front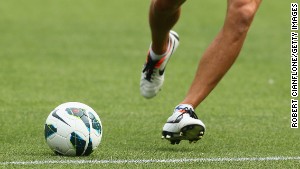 How does match fixing occur?
"It's now seen as a vibrant, party-going and sexy place, but it was a very different story 10 years earlier with the demise of the mines and shipyards and the Meadow Well riots in 1991.
"The Quayside, now Newcastle's nightlife epicenter -- revamped and regenerated -- was a mess back then."
Beckham to donate PSG wages to children's charity
Back in France the arrival of a world superstar in Beckham at Paris Saint-Germain has helped softened the blow of so many departing French players.
The midfielder signed a five-month deal with PSG last month and has pledged to donate his salary to a children's charity within the city.
And while worries persist over the numbers of young French players moving aboard, Beckham arrives at a time where big-name foreign players are playing a starring role in Ligue 1.
Backed by its Qatari-based owners, PSG recently paid out $52.8 million for young Brazilian Lucas Moura after securing a $72 million deal for Zlatan Ibrahimovic and defender Thiago Silva from Milan last July.
The club has qualified for the quarterfinals of the Champions League and leads the domestic title race.
"I am very glad," Lemaire said of Beckham's arrival in the French capital.
"I think that it's great that he decided to move to Paris and to donate his wages to charity. It's a very good example.
"It also shows that Paris is a good club and an attractive city."