Ikea finds horse meat in Russian hotdogs
updated 11:29 AM EST, Thu March 7, 2013
STORY HIGHLIGHTS
Ikea says horse meat has been found in hotdogs produced for sale in Russia
The company says testing has shown the vast majority of its products are not affected
The horse meat scandal has extended across Europe in recent weeks
(CNN) -- It's another case of horse meat being found in products that are not supposed to contain it.
Furniture giant Ikea said Thursday it pulled hotdogs from its stores in Russia after tests revealed they contained rogue horse meat.
Dozens of processed meat products have been pulled by European suppliers, retailers and food outlets in the past several weeks after the discovery of unauthorized horse meat in them.
Opinion: Scandal shines spotlight on murky horse trade
Ikea said in a statement Thursday it had undertaken wide-scale testing of its meat products from different suppliers in all its markets.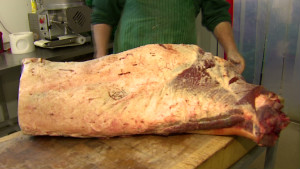 From the farm to your freezer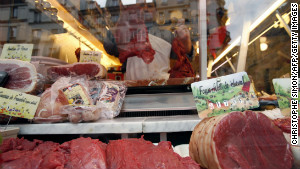 Horse meat coming to America?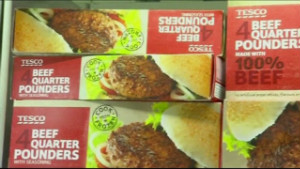 Horse, pig meat found in frozen burgers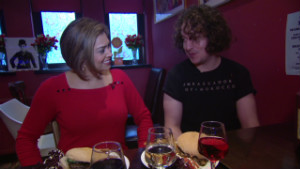 Burger taste test: Beef vs. horse
"The vast majority of these tests show no indication of horse meat. However, there are also a few tests that do. In those cases we remove the product from sales," the company said.
"IKEA Group is committed to serving and selling high quality food that is safe, healthy and produced with care for the environment."
The test result from Russia concerns locally produced hotdogs and only affects the Russian market, Ikea said.
The alert over the hotdogs has added to what has been a difficult couple of weeks for Ikea.
What's behind the horsemeat contamination scandal?
Ten days ago, the company suspended sales of its Swedish meatballs after testing in the Czech Republic revealed traces of horse DNA.
Testing since has revealed the presence of horse meat in a few samples of Ikea meatballs from a supplier in Sweden, the firm said Thursday.
Ikea also said Tuesday it was withdrawing its almond cake with chocolate and butterscotch from sale in 23 countries after traces of coliform bacteria -- organisms found in the environment and in the feces of warm-blooded animals and humans -- were found in two batches.
The horse meat scandal has extended across Europe, with questions raised over slaughterhouses and food suppliers in a number of countries.
The UK Food Standards Agency released the results Friday of the latest round of testing ordered on products labeled beef across the UK food industry.
Horse: Coming soon to a meat case near you?
So far, more than 99% of tests continue to show no horse DNA at or above the level of 1%, it said.
Horse meat is not harmful in itself but authorities are concerned by its unauthorized presence in case it is tainted with a veterinary drug used to treat horses. Phenylbutazone, also known as bute, is not allowed to enter the food chain because it can pose a risk to humans.
The European Union said last month it intends to begin testing meat across all 27 member states.

Part of complete coverage on
updated 3:14 PM EDT, Thu May 16, 2013

Boxing legend Manny Pacquiao is using his hero status to fight human trafficking in the Philippines, pushing for an anti-trafficking law.
updated 6:25 PM EDT, Thu May 16, 2013

The U.N. says 70% of rapes committed in Somalia are carried out by men in military uniform. CNN's Nima Elbagir reports.
updated 8:38 AM EDT, Fri May 17, 2013

Christiane Amanpour writes an open letter to girls of the world, saying it is time to end the discrimination against girls in education.
updated 3:12 PM EDT, Fri May 17, 2013

Fans gasped when David Beckham wore a sarong. Then there was the nail polish and tattoos. But his masculinity was never in doubt.
updated 10:54 AM EDT, Fri May 17, 2013

Albinos in Tanzania have been attacked and killed because some people believe their body parts bring good luck. But one albino is fighting back.
updated 8:50 AM EDT, Fri May 17, 2013

Terrible results for Dell mean the future seems anything but bright for the PC industry despite a flurry of attempted innovations.
updated 12:00 PM EDT, Fri May 17, 2013

Mario Balotelli has delivered his verdict on his time in the English Premier League -- the AC Milan striker couldn't be happier to have left England.
updated 7:04 AM EDT, Fri May 17, 2013

If you thought Preakness was the poor sister to Kentucky Derby, think again. CNN brings you top five facts from the prestigious horse race.
updated 7:45 PM EDT, Wed May 15, 2013

Natasha Kampusch was held for eight years in an Austrian man's basement. She talks about her road to recovery, exclusively to CNN.
updated 5:36 PM EDT, Wed May 15, 2013

From her hospital bed, Reshma tells CNN about the 17 days she spent trapped under nine stories of rubble in Bangladesh.
updated 6:12 PM EDT, Thu May 16, 2013

A room full of partygoers in San Francisco were given power over a cocktail-making robot controlled by their smartphones.
updated 11:57 AM EDT, Thu May 16, 2013

The cast of "Star Trek Into Darkness" take a break from fighting space villains to answer questions from CNN iReporters.
updated 7:48 AM EDT, Thu May 16, 2013

CNN brings you images capturing moments to remember. Look ahead to the future and chronicle our changing world.