STORY HIGHLIGHTS
Livingstone calls Chavez's death a "sad loss," calls him a "friend and comrade"
Ex-mayor of London signed controversial deal for discounted Venezuelan fuel in 2007
Livingstone agreed to advise Chavez in exchange for £14 million fuel discount
Ex-mayor: Chavez saw struggle between "corporations and people who get screwed by them"
London (CNN) -- Former London mayor Ken Livingstone paid tribute to his "friend and comrade" Hugo Chavez, calling him the first Venezuelan president to "put his people before the interests of American oil companies."
Chavez, who died Tuesday, used some of Venezuela's vast oil wealth to bankroll huge social programs for the poor during his 14-year presidency. Critics, on the other hand, say much of the country's oil riches were squandered by a corrupt administration more focused on consolidating political power than lifting people out of poverty.
MORE: Divided Venezuelans mourn death of Chavez
Livingstone, nicknamed "Red Ken" for his socialist leanings, struck a controversial deal in 2007 with Chavez to fuel London's buses with discounted Venezuelan fuel, in exchange for advice on how to develop Venezuela's urban infrastructure.
While Livingstone used the £14 million ($21m) fuel discount to subsidize buses for the poor in London, his critics say the deal exploited and further impoverished the poor people of Venezuela. His successor, Boris Johnson, promptly cancelled the deal upon taking office in 2008.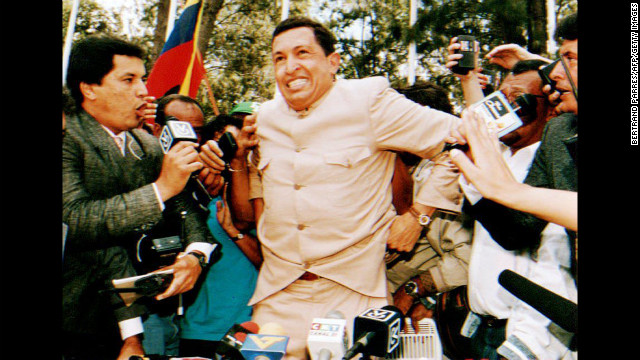 Army Lt. Col. Hugo Chavez, who led a 1992 attempted coup, speaks to reporters on March 26, 1994, after he was freed from jail. Chavez was freed after charges were dropped against him for leading the first of two attempted coups against the government of former President Carlos Andres Perez, who was later removed from office.
Venezuelan president-elect Chavez visits Bogota, Colombia, on December 18, 1998. On December 6, Chavez had been elected the youngest president in Venezuela history.
President Chavez greets supporters with his then-wife, Marisabel Rodriguez de Chavez, beside him as he arrives to preside over a parade in his honor on February 4, 1999, in Caracas. Chavez was sworn in as president on February 2.
Chavez inspects military maneuvers of the national Air Force on March 17, 2001, in Catilletes near the border with Colombia. In June 2000, Chavez was re-elected to the presidency for a six-year term, under the new constitution created by his government in 1999.
People try to take shelter from gunshots fired near Altamira Square in Caracas on August 16, 2004. At least three people were wounded by gunshots after Chavez supporters fired on opposition demonstrators, police said. A vote to recall Chavez as president failed on August 15.
Chavez, left, stands in front of supporters with Fidel Castro of Cuba, center, and Evo Morales of Bolivia, right, during a rally at the Plaza de la Revolucion in Havana, Cuba, on April 29, 2006.
Chavez meets with Pope Benedict XVI at his private library on May 11, 2006, in Vatican City.
Chavez embraces Iranian President Mahmoud Ahmadinejad, right, in Tehran, Iran, on July 1, 2007. The two presidents have enjoyed a close relationship and Chavez has referred to Ahmadinejad as his "ideological brother."
Chavez speaks during a rally in Caracas on November 18, 2008. Chavez pushed to change term limits in Venezuela through a referendum that passed on February 15, 2009, clearing the way for him to run for a third six-year term.
Chavez, right, gives a copy of the book, "The Open Veins of Latin America" by Eduardo Galeano to President Barack Obama during a multilateral meeting at the Summit of the Americas in Port of Spain, Trinidad, on April 18, 2009.
Chavez, right, greets Russian Prime Minister Vladimir Putin during his visit to the presidential palace in Caracas on April 2, 2010.
Chavez salutes to the audience after passing a law in Caracas on November 12, 2011. Chavez has undergone several rounds of cancer treatment in Cuba, beginning in 2011.
Chavez participates in a ceremony at the Miraflores presidential palace in Caracas on January 27, 2012.
Chavez, left, jokes with American actor Sean Penn, right, during his visit to Miraflores presidential palace in Caracas on February 16, 2012. Penn thanked Chavez for the support given by the Venezuelan government to his nongovernmental organization, which benefits victims of the 2010 Haiti earthquake.
Chavez acknowledges supporters on the streets of Caracas while on his way to the airport to travel to Cuba for ongoing cancer treatment on February 24, 2012.
Chavez gestures to the crowd during his closing campaign rally in Caracas on October 4, 2012. The leftist leader won a fourth term on October 7, extending his presidency to 2019.
A handout picture released by the Venezuelan presidential press office on Friday, February 15, 2013, shows Chavez surrounded by his daughters and holding the February 14 edition of the official Cuban newspaper Granma at a hospital in Havana, Cuba.
Chavez supporters gather in Caracas' Bolivar Square to mourn Chavez's death on March 5, 2013.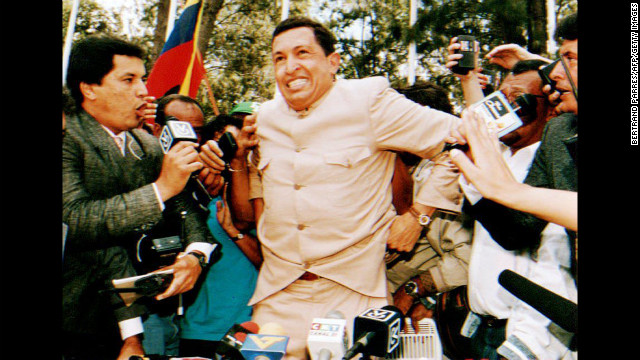 Photos: Political career of Hugo Chavez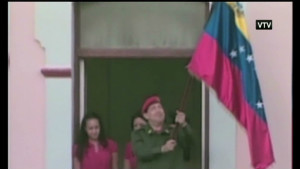 Polarizing life and times of Hugo Chavez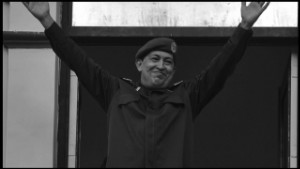 The quotable Hugo Chavez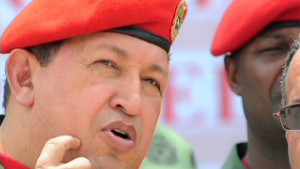 Amanpour: Hugo Chavez had cult following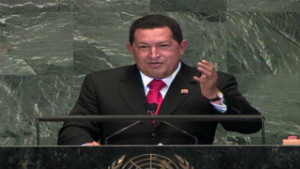 Venezuela faces a challenging future
Livingstone dismissed criticism of the deal, saying the advice he and his associates gave Venezuela would have cost "hundreds of millions of pounds" from the private sector, and insisting Chavez only ever had the interests of Venezuelans in mind.
"It's very few world leaders who remain unchanged," Livingstone told CNN. "And it's hard to think of anyone who has been in power that long who's carried on looking after the ordinary population rather than enriching themselves."
MORE: Venezuela's interim leader in the spotlight
The former mayor first met Chavez during the Venezuelan leader's 2006 visit to London and said Chavez's offer of discounted oil for advice was characteristic of a man who saw himself as more than just the president of Venezuela.
He said: "Chavez saw clearly that his job was to look out for the people of Venezuela, but he also saw that it was a global struggle between the great corporations and the vast mass of the people who get screwed by them."
Livingstone, who would end up travelling to Caracas in 2008 to deliver the advice he promised as part of the oil deal, was taken aback by the "proper welfare state" Chavez had created through his initiatives.
"I found it amazing the number of 40-year-olds wandering around with braces on their teeth, because there hadn't been a dentist when they were a kid," he said. "There were little old ladies carrying around copies of the constitution which they could read, because [under Chavez] everyone got access to literacy programs."
Calling him a "pleasure to be with," Livingstone said Chavez told him he never planned on being a politician - and that Chavez only became more radical following the failed 2002 coup attempt, which he blamed on the U.S.
MORE: America reacts to Chavez's death
The coup fell apart within 48 hours and "El Comandante," as he is affectionately known in Venezuela, was restored to office. Livingstone, who called Chavez a man with great tales, says the South American leader's "best story" was his version of events during the coup.
Livingstone said Chavez told him that the generals who sprung the coup didn't want to kill the president themselves, so Chavez claimed three Americans whom he did not identify were flown in to kill him instead.
"Chavez told me that the three Americans were ushered into the room where a sergeant with a machine gun was guarding him. And the sergeant, who wasn't stupid, realized that after they killed Chavez they'd kill him as a witness. And so he turned his gun on the three men and said 'you leave the room or I'll kill you'," Livingstone told CNN.
A State Department official categorically denied Chavez's "ridiculous" claim and told CNN the U.S. had in fact alerted Chavez to a "credible assassination plot" on his life in the days before the coup.
Souring U.S.-Venezuela relations reached their nadir when Chavez called George W. Bush "the devil" in a speech in front of the United Nations General Assembly.
WATCH: Chavez calls Bush "the devil" at U.N.
"Coming so close to death [in 2002] really pushed Chavez to the left," Livingstone said.
"If you think George W. Bush has authorized your assassination, you're not going to be very friendly about the U.S. after that."