Sarkozy considering return to French politics
updated 12:32 PM EST, Wed March 6, 2013
STORY HIGHLIGHTS
Patriotic "duty" may force former President Sarkozy back to politics, he tells a magazine
He says he balks at picking up France "where the Socialist Party will leave it"
A poll says 56% of his party supporters want him to be the candidate in 2017
(CNN) -- Former French President Nicolas Sarkozy will consider returning to politics to save his floundering center-right party, not because he wants to but because of patriotic "duty," according to an article to be published Thursday in a right-leaning magazine.
In an eight-page special called "In the head of Nicolas Sarkozy," the former president discusses his political future in public for the first time.
He is quoted as saying in Valeurs Actuelles magazine that he has no desire to return to politics, a world that "bores him to death," and balks at the task of "picking up France in the state where the Socialist Party will leave it."
But, Sarkozy said, "there will be unfortunately a moment when the question will no longer be: 'Do you want to?' but 'Do you have a choice?'"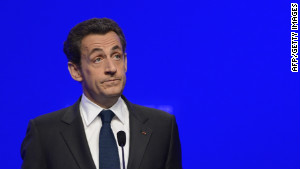 2012: Sarkozy concedes election
"In this case, I cannot continue to say: 'I am happy, I take my daughter to school and I give conferences all around the world.' In this case, effectively, I will be obliged to come back. Not by desire. By duty. Only because it is for France."
According to a French Institute of Public Opinion poll released Wednesday, 56% of the supporters of his party -- the Union for a Popular Movement, known as UMP -- prefer Sarkozy as their candidate for the 2017 presidential election.
In the article, Sarkozy criticizes President Francois Hollande, saying the Socialist Party leader "has smashed everything that I managed to build with (German Chancellor) Angela Merkel. Not because he does not get along with her but because his politics are completely opposed to that of Germany."
On the subject of Mali, Sarkozy questioned the government's purpose: "What are we doing over there? Apart from supporting coup-makers and attempting to control a country that is three times the size of France with 4,000 men?"
Since being defeated by Hollande last May -- and vowing never to return to politics -- Sarkozy has kept a low profile, working at his law firm in central Paris.
But rumors of a comeback have intensified since the UMP's confused attempt to elect a successor last November, in which both candidates Francois Fillon and Jean-Francois Cope claimed victory amid intraparty squabbling and allegations of vote-rigging.
After a two-day gridlock, Cope was declared the winner. Fillon disputed this and the pair eventually agreed to a re-election later this year.

Part of complete coverage on
updated 2:48 AM EDT, Fri May 24, 2013

"It's always the one we feared, the lone wolf that can come from nowhere and not be on our radar," said ex-London police chief John Yates.

Learn about one woman's tireless battle against sex slavery in the Philippines, with Manny Pacquiao in her corner. Watch the full version here.
updated 6:43 AM EDT, Thu May 23, 2013

Ai Weiwei, the controversial Chinese artist-activist, has released a music single and video inspired by his harrowing detention by the government.
updated 2:13 AM EDT, Fri May 24, 2013

CNN's Christiane Amanpour and Nic Robertson give their insight on the brutal murder of a man in broad daylight.
updated 10:15 AM EDT, Thu May 23, 2013

Imagine if you could paint a working light switch directly onto your wall, without any need for sockets, cables or wiring. Well, now you can.
updated 10:45 AM EDT, Thu May 23, 2013

A rare Apple 1 computer, with only 50 in existence today, could sell at auction for $400,000.
updated 1:14 PM EDT, Tue May 21, 2013

Did you know that hurricanes can also produce tornadoes? Read facts you didn't know about destructive twisters.
updated 7:19 AM EDT, Thu May 23, 2013

The World Economic Forum has declared Egypt one of the most dangerous places for tourists, above Yemen and Pakistan in terms of risks for visitors.
updated 5:07 PM EDT, Thu May 23, 2013

Doctors used an experimental technique never tried before on humans to save the life of a six-week-old baby from a rare lung condition.

Five years after the 2008 Olympics construction boom, new Beijing hotels have steadily cropped up.