STORY HIGHLIGHTS
Rory McIlroy apologizes for walking off at Honda Classic
World No. 1 will tee off at WGC Cadillac Championship Thursday
Northern Irishman says he has no concerns over new Nike equipment
McIlroy unlikely to add an extra event to calendar ahead of April's Masters
(CNN) -- Rory McIlroy has apologized for his decision to walk off the course at last week's PGA Tour tournament, and insists he will not repeat the mistake anytime soon.
The world No. 1 left fellow professionals, fans and commentators in shock after leaving in the middle of his second round at the Honda Classic in Florida, where he was defending his title.
The Northern Irishman had two bogeys, a double bogey and a triple bogey before hitting his tee shot at the 18th into the water, having started at hole nine.
Read: McIlroy walks off as slump continues
That led him to walk away citing a sore wisdom tooth, although he now admits that his actions were wrong and regrettable.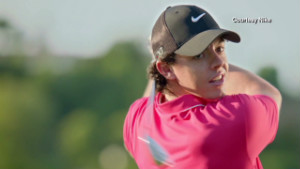 Inside McIlroy's mega deal with Nike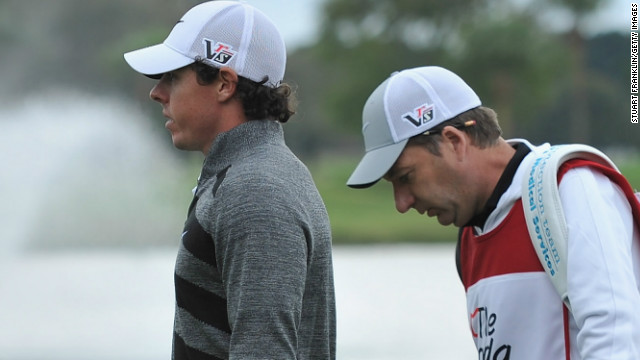 Rory McIlroy and his caddie J.P Fitzgerald walk off the course after the Northern Irish stars pulls out of the second round of the Honda Classic.
McIlroy looks pensive as he tees off on the 16th where he ran up a triple bogey seven to derail his Honda Classic title defense.
McIlroy looks crestfallen after finding the water again during his disastrous second round of the Honda Classic.
McIlroy shakes hands with British Open champion Ernie Els before making his exit from the Honda Classic in Florida.
Flanked by officials and security, McIlroy makes a quick exit from the course at Palm Beach Gardens in Florida.
Gathering gloom: McIlroy suffered a first round defeat to Ireland's Shane Lowery at the WGC Match Play event in Arizona last week.
McIlroy and his girlfriend Caroline Wozniacki celebrate his winning the European Tour title with victory in the final event of the 2012 season in Dubai.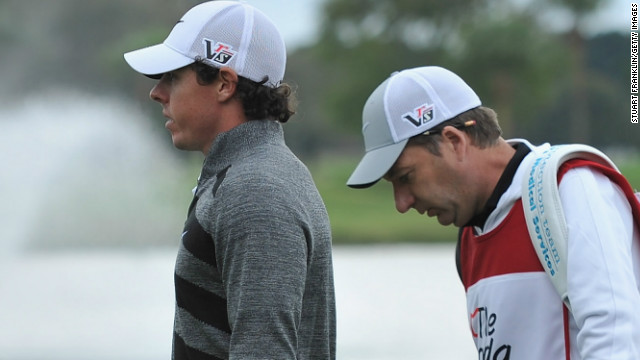 McIlroy walk off in Florida as form slump continues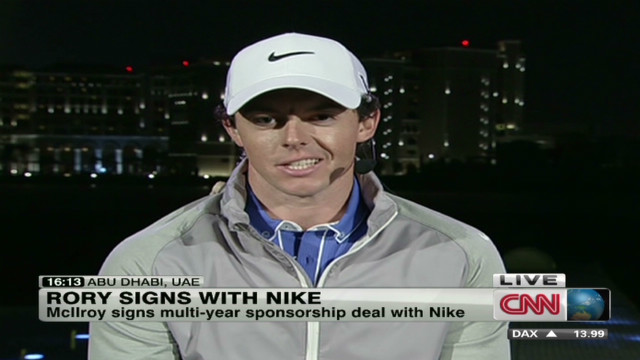 Golfer Rory McIlroy signs with Nike
"I realized pretty quickly that it wasn't the right thing to do," McIlroy told reporters Wednesday. "No matter how bad I was playing I should have stayed out there.
Read: Let's see some action Rory. Just do it!
"I wasn't in a good place with my golf game. My head was all over the place. It was a mistake. Everybody makes mistakes -- most of my mistakes are in the public eye.
"I'm 23. I'm still learning. I have learned from it and it won't happen again."
A year in sport is a long time and McIlroy's start to 2013 pales into insignificance compared to the form he was showing 12 months ago.
Following the signing of a 10-year deal with Nike, which is reported to be worth $250 million, McIlroy has failed to recapture the magic which secured him the 2011 U.S. Open and 2012 PGA Championship titles.
Read: McIlroy and Woods crash out in Abu Dhabi
Since changing from his Titleist clubs to the Nike brand, he has failed to shine, missing the cut at Abu Dhabi and exiting the WGC Accenture World Matchplay event in Arizona at the first-round stage.
With the Masters in Augusta on the horizon, McIlroy is aiming to rekindle the form which propelled him to the top of the PGA and European Tour money lists last year.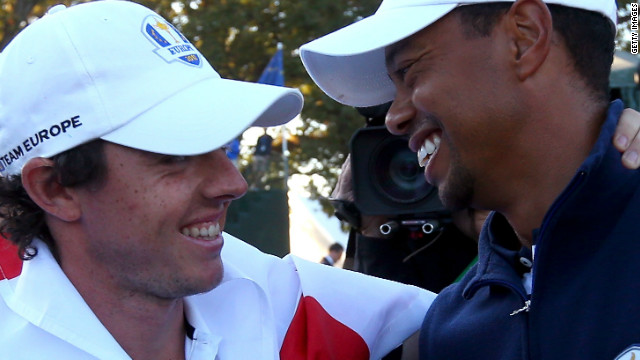 Tiger Woods, right, congratulates Rory McIlroy after Europe's remarkable victory over the U.S. on the final day of the 2012 Ryder Cup in September. The two are big rivals on the golf course, but a friendship has also blossomed this year.
Golf great Nick Faldo has questioned whether they should be so close. Sports psychologist Dan Abrahams says they would benefit from keeping a bit of distance. "In the heat of battle it becomes more difficult to emotionally detach yourself from that person's performance if you're good friends with that person," he told CNN.
McIlroy has admitted idolizing Woods as a boy, but has now usurped him as golf's No. 1. "Once they step on the first tee, those competitive juices are flowing and they're focused either on their own game or beating each other," Abrahams said.
They are following in golf's great tradition of rivalries -- most notably Jack Nicklaus, left, and Arnold Palmer. "The power of the mind and the capability of that mental discipline is what separates the good from the great," sports leadership expert Khoi Tu told CNN. "That might allow them to become friends with people off the course, but not on the course."
Formula One's greatest rivalry was between Alain Prost and Ayrton Senna. "They absolutely detested each other," Tu says. "They were two very different personalities, and often that's one of the features of great sporting rivalries: Fire and ice."
Fernando Alonso, left, has now twice been beaten to the F1 championship by Sebastian Vettel -- who is widely rumored to be his teammate at Ferrari come 2014. "When you get two No. 1 drivers together with no team rules, then the sparks can really fly," Tu says. "It's rare for them to be good mates. They may get along, they may trust and respect each other in a professional capacity, but hanging out is a different issue."
Former world champion Jackie Stewart, seen here playing with the children of F1 rival Graham Hill, was remarkably friendly with his peers, Tu says. "He was incredibly fond of a number of people who drove with him. That partly is because there was a clearer distinction of him being a number one and them being number two drivers."
A new rivalry has grown in tennis this year between U.S. Open and Olympic champion Andy Murray, left, and childhood friend Novak Djokovic, the world No. 1. "People say that Murray and Djokovic are close but I think it's rare," Tu says. "The best sporting rivalries are the ones where there are these very distinct, almost opposite personalities, but they're very close in terms of their competence."
Rafael Nadal, left, ended the tennis dominance of Roger Federer but they have publicly expressed their friendship despite reports of arguments about on-tour issues. "As people get older they've done so much, broken lots of records, I think that competitive edge is slightly dulled," Tu says. "That makes it easier to be friendlier. You can keep your dignity if you're not crying every time you lose to a younger, faster athlete."
Martina Navratilova, left, and Chris Evert had one of the biggest rivalries in women's tennis. "They ended up as good buddies, but that was when the battling had been done," Tu says. "All of the respect and friendship you get in sport comes through competence first -- ' I know how hard it is to be this good, so I respect them for that.' "
Fiery American John McEnroe, left, and ice-cool Swede Bjorn Borg created an iconic tennis rivalry. "When those two collided, at the height of tennis perfection, that's when the audience is really enthused and enthralled," Tu says. "To get that rivalry, they have to leave any friendship on the sidelines."
Sometimes you get two great athletes, but they are too close to be proper rivals -- such as tennis star Serena Williams, left, and her sister Venus. "The great things about sport is the sense of competition, the uncertainty of the outcome, the fairness of the playing field," Tu says. "You might be able to suspend enough of your fraternal or sisterly love to play a decent game of tennis but it won't reach the heights of the rivalries that make the sport."
Muhammad Ali, left, "demonized" Joe Frazier to hype up their fights despite being showed respect outside the ring by his rival. "He came up with the gorilla term to create a spectacle, which he knew was important, but it revved himself up too," Tu says. "He needed to have a real enemy. By the end of the (Manila) fight, he said that Frazier brought out the best of him."
Then there's modern football's greatest rivalry -- Lionel Messi and Cristiano Ronaldo. "I'm not sure Messi is a rival with anyone, he still has that unique joy of just playing," Tu says. "But I think with Ronaldo, the truth is Messi is his nemesis -- and the fact that Messi doesn't care makes it even worse."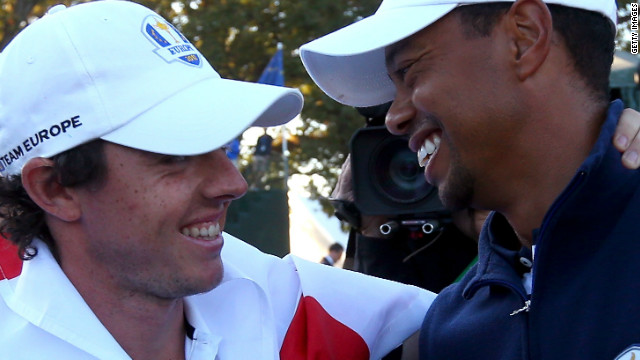 Great sporting rivalries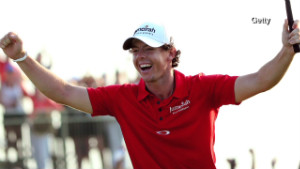 2012: A game changer for McIlroy?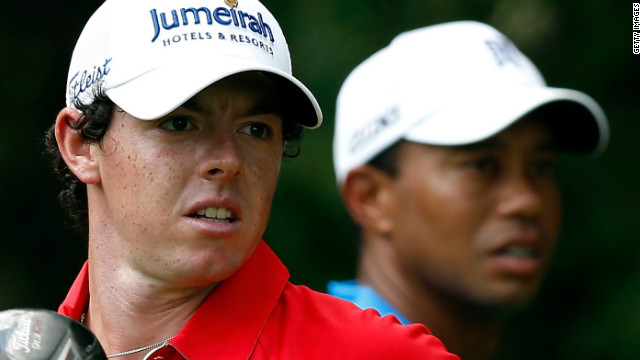 Sports giant Nike now has the two biggest names in golf on their books after Rory McIlroy (L) joined Tiger Woods at their stable.
McIlroy, currently ranked the No. 1 player in the world, has signed a multi-year contract reputed to be worth in excess of $200 million with Nike. The deal catapults the 23-year-old into the top bracket of sporting earners, a stratosphere Tiger knows all about.
Woods signed a deal reportedly worth $40 million with Nike when he turned pro in 1996 and the firm built their golf business around him in the coming years. When he renegotiated in 2000, a five-year deal was said to have earned him $100m. But of late, his star has waned.
Tiger's last major title -- his 14th in total -- came at the 2008 U.S. Open. The following year news of his extra marital affairs broke and he took a break from the game. Nike stood by him, chairman Phil Knight calling it a "minor blip" but the 37-year-old has struggled to recapture his best form since.
Conversely, McIlroy's star is on the rise. After grabbing his first major at the 2011 U.S. Open he took his second at the U.S. PGA Championship last year. He finished top of the money lists on both the PGA and European Tours, matching Luke Donald's feat from the 2011 season.
Despite being rivals on the course Woods and McIlroy's relationship off it has strengthened in recent years. They have been paired together numerous times at tournaments around the world, much to the delight of sponsors, marketers and spectators.
The pair are continually in demand and played an exhibition match in China, dubbed the "Duel at Jinsha Lake", for which they were reportedly paid $2 million. Both players clearly enjoyed each other's company.
Even at the Ryder Cup, after Europe had completed one of the most dramatic comebacks in the competition's history to retain the trophy and stun the U.S. team, a triumphant McIlroy and despondent Woods managed to share a joke.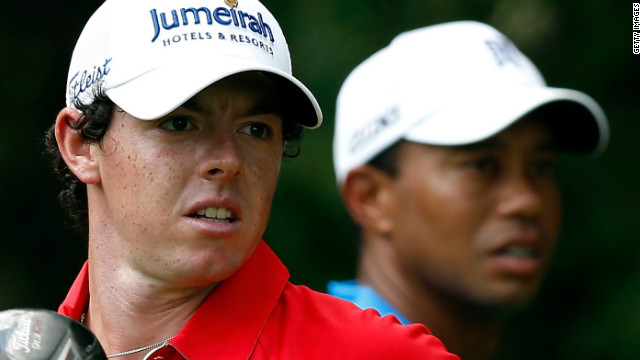 Tiger's heir apparent joins Nike
And he is now hoping to start his resurgence at the $8.75 million WGC Cadillac Championship at Doral Thursday -- beginning with his swing.
"I know it's purely the swing. The equipment is fantastic. No problem at all," he said of his new equipment.
"When I make a good swing it does exactly what I want. It doesn't make a difference what clubs I play.
Read: McIlroy wants putting saga sorted
"I'm trying to change my swing but I'm trying to change it back to where it was. I have been in that position before and I can get it back again.
"There's no quick fix in golf. You've got to get to the root of the problem. It's still a work in progress."
McIlroy also revealed that he is waiting before deciding whether to add an extra event to his schedule before the Masters begins on April 11. His only other scheduled tournament after Doral is the Houston Open from March 28-31.
"I was waiting to see how I do this week," he said. "Right now I haven't made a decision. The likelihood is I won't add an event. It's a possibility. I don't think it's likely."