STORY HIGHLIGHTS
"We shouldn't be partying," says Chavez opponent in South Florida
"Chavez ruled Venezuela with an iron hand," says Sen. Menendez
"Good riddance to this dictator," says Rep. Ed Royce
Chavez sought to help "people who had felt neglected and marginalized," says Jimmy Carter
(CNN) -- Minutes after the death of Venezuelan President Hugo Chavez was announced, scores of his fellow citizens made their way to El Arepazo, a Venezuelan restaurant outside Miami.
The colors of the Venezuelan flag -- red, blue and yellow -- predominated among the crowd of about 200 people, many of whom cheered and waved tiny flags as they bellied up to a buffet stocked with "pabellon criollo," the traditional Venezuelan dish of rice, beans, shredded beef and stewed black beans.
"We shouldn't be partying," said Ernesto Ackerman, a Chavez opponent and president of the Independent Venezuelan-American Citizens, a non-profit organization that helps Latinos become U.S. citizens.
"We're only half of the country; the other half still supports Chavez. We should be asking (for) democracy, democracy, democracy, constitution. This is a most critical moment."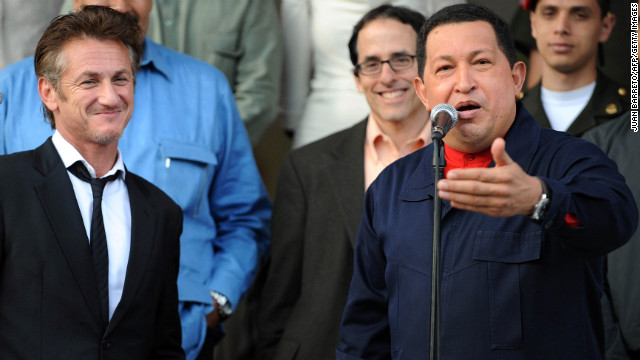 Venezuelan President Hugo Chavez greets actor Sean Penn after a meeting at the Miraflores presidential palace in Caracas on March 5, 2011. Penn thanked Chavez for the support given by the Venezuelan government to his nongovernmental organization, which benefits victims of the 2010 Haiti earthquake.
Chavez kisses the hand of British supermodel Naomi Campbell during a meeting in Caracas on October 31, 2007.
Director Oliver Stone and Chavez attend the "South of the Border" premiere during the 66th Venice Film Festival on September 7, 2009, in Venice, Italy.
Chavez speaks to actor Kevin Spacey during a meeting at the Miraflores presidential palace on September 24, 2007.
Actor Danny Glover and Chavez embrace while attending the The CITGO-Venezuela Heating Oil Program inauguration ceremony in Harlem, New York, on September 21, 2006. Chavez addressed the United Nations General Assembly a day earlier.
Actress Susan Sarandon poses for a picture with Chavez and his daughter, Rosa, at the afterparty of the "South of the Border" premiere in New York on September 23, 2009.
After attending the premiere of his film "Che," actor Benicio del Toro meets with Chavez at the Miraflores palace on March 4, 2009.
Boxing promoter Don King speaks with Chavez and an unidentified woman at the presidential palace in Caracas on February 2, 2004.
Argentine soccer legend Diego Maradona shares a laugh with Chavez at a press conference in Caracas on July 22, 2010.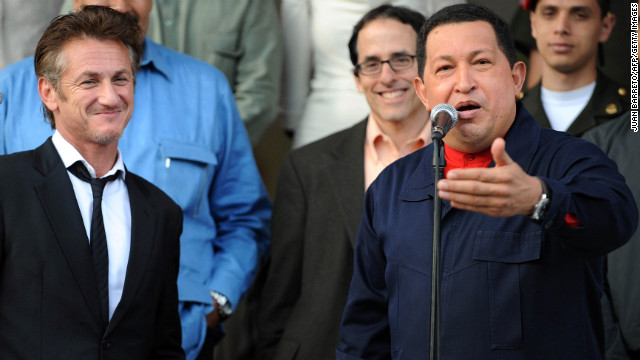 Photos: Celebrities and Hugo Chavez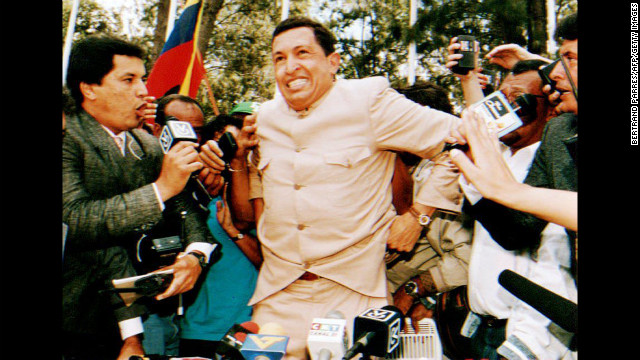 Army Lt. Col. Hugo Chavez, who led a 1992 attempted coup, speaks to reporters on March 26, 1994, after he was freed from jail. Chavez was freed after charges were dropped against him for leading the first of two attempted coups against the government of former President Carlos Andres Perez, who was later removed from office.
Venezuelan president-elect Chavez visits Bogota, Colombia, on December 18, 1998. On December 6, Chavez had been elected the youngest president in Venezuela history.
President Chavez greets supporters with his then-wife, Marisabel Rodriguez de Chavez, beside him as he arrives to preside over a parade in his honor on February 4, 1999, in Caracas. Chavez was sworn in as president on February 2.
Chavez inspects military maneuvers of the national Air Force on March 17, 2001, in Catilletes near the border with Colombia. In June 2000, Chavez was re-elected to the presidency for a six-year term, under the new constitution created by his government in 1999.
People try to take shelter from gunshots fired near Altamira Square in Caracas on August 16, 2004. At least three people were wounded by gunshots after Chavez supporters fired on opposition demonstrators, police said. A vote to recall Chavez as president failed on August 15.
Chavez, left, stands in front of supporters with Fidel Castro of Cuba, center, and Evo Morales of Bolivia, right, during a rally at the Plaza de la Revolucion in Havana, Cuba, on April 29, 2006.
Chavez meets with Pope Benedict XVI at his private library on May 11, 2006, in Vatican City.
Chavez embraces Iranian President Mahmoud Ahmadinejad, right, in Tehran, Iran, on July 1, 2007. The two presidents have enjoyed a close relationship and Chavez has referred to Ahmadinejad as his "ideological brother."
Chavez speaks during a rally in Caracas on November 18, 2008. Chavez pushed to change term limits in Venezuela through a referendum that passed on February 15, 2009, clearing the way for him to run for a third six-year term.
Chavez, right, gives a copy of the book, "The Open Veins of Latin America" by Eduardo Galeano to President Barack Obama during a multilateral meeting at the Summit of the Americas in Port of Spain, Trinidad, on April 18, 2009.
Chavez, right, greets Russian Prime Minister Vladimir Putin during his visit to the presidential palace in Caracas on April 2, 2010.
Chavez salutes to the audience after passing a law in Caracas on November 12, 2011. Chavez has undergone several rounds of cancer treatment in Cuba, beginning in 2011.
Chavez participates in a ceremony at the Miraflores presidential palace in Caracas on January 27, 2012.
Chavez, left, jokes with American actor Sean Penn, right, during his visit to Miraflores presidential palace in Caracas on February 16, 2012. Penn thanked Chavez for the support given by the Venezuelan government to his nongovernmental organization, which benefits victims of the 2010 Haiti earthquake.
Chavez acknowledges supporters on the streets of Caracas while on his way to the airport to travel to Cuba for ongoing cancer treatment on February 24, 2012.
Chavez gestures to the crowd during his closing campaign rally in Caracas on October 4, 2012. The leftist leader won a fourth term on October 7, extending his presidency to 2019.
A handout picture released by the Venezuelan presidential press office on Friday, February 15, 2013, shows Chavez surrounded by his daughters and holding the February 14 edition of the official Cuban newspaper Granma at a hospital in Havana, Cuba.
Chavez supporters gather in Caracas' Bolivar Square to mourn Chavez's death on March 5, 2013.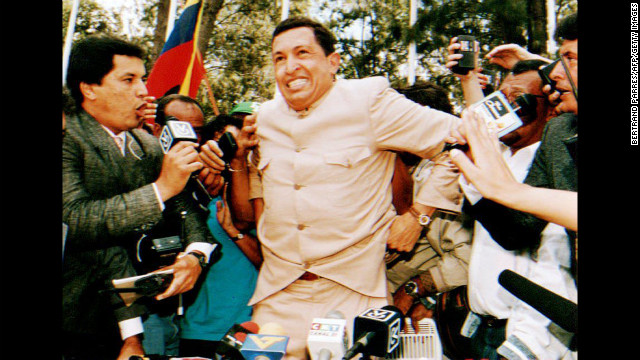 Photos: Political career of Hugo Chavez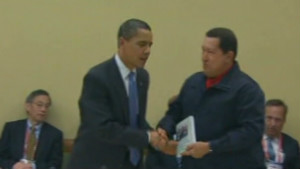 The relationship between Chavez and U.S.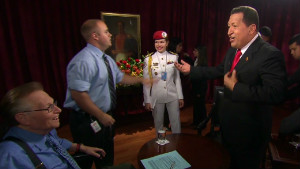 Chavez sings a tune with Larry King
Borger: U.S. open to 'more constructive relationship' with Venezuela
As he spoke, more people -- many of them wearing Venezuelan baseball caps -- entered the restaurant, which advertises itself as "your little piece of Venezuela in Doral," Florida. As Spanish-language television blared out the news, they sat down to plates piled with shredded gouda cheese, plantains and stuffed cornbread patties.
Some took pictures to memorialize the moment. One elderly man clutched six tiny flags in his fist.
In Washington, politicians reacted almost as quickly as the South Florida crowd. "Hugo Chavez ruled Venezuela with an iron hand and his passing has left a political void that we hope will be filled peacefully and through a constitutional and democratic process, grounded in the Venezuelan constitution and adhering to the Inter-American Democratic Charter," said Sen. Robert Menendez, D-New Jersey, chairman of the Senate Foreign Relations Committee.
Menendez called for "free and fair elections" so that "Venezuela can begin to restore its once robust democracy and ensure respect for the human, political and civil rights of its people."
The chairman of the House Committee on Foreign Affairs, Rep. Ed Royce, R-California, was harsher, calling Chavez "a tyrant who forced the people of Venezuela to live in fear" and adding, "Good riddance to this dictator."
But the news was not red meat to all U.S. politicians.
Hugo Chavez's death draws sympathy, anger
Former President Jimmy Carter noted that he had gotten to know Chavez while observing elections in Venezuela. "We came to know a man who expressed a vision to bring profound changes to his country to benefit especially those people who had felt neglected and marginalized," he said in a statement. "Although we have not agreed with all of the methods followed by his government, we have never doubted Hugo Chavez's commitment to improving the lives of millions of his fellow countrymen."
He said that poverty rates were cut in half during Chavez's time in office but also noted the divisions that were created in the drive toward change.
"His focus on the issues faced by the poor and disenfranchised in his country made him a truly revolutionary leader in the history of Latin America," said Rep. Jose E. Serrano, D-New York. "He understood that after 400 years on the outside of the established power structure looking in, it was time that the poor had a chance at seeing their problems and issues addressed. His core belief was in the dignity and common humanity of all people."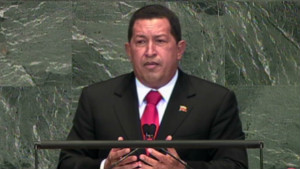 2009: Chavez compares Obama to Kennedy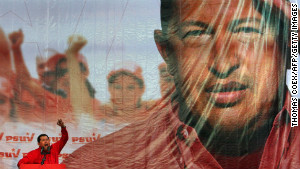 Hugo Chavez's legacy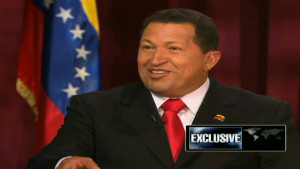 Hugo Chavez's 2009 interview with CNN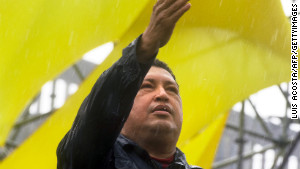 Chavez: From failed coup to presidency
Serrano cited Chavez's sale of home heating oil at discount prices to poor families in the Bronx as an example of the Venezuelan leader's largesse.
"Though President Chavez was accused of many things, it is important to remember that he was democratically elected many times in elections that were declared free and fair by international monitors," he said. "Even today, people in North America seem unable to accept that Venezuelans had taken our admonitions to have democracy to heart and elected the leader of their choice. President Chavez carried out the programs that his constituents wanted enacted, and won re-election. This too was revolutionary in the history of Latin America."
Citizens Energy Chairman Joseph P. Kennedy II lauded the same program.
Chavez used force of personality to win votes, influence leaders
"President Chavez cared deeply about the poor of Venezuela and other nations around the world and their abject lack of even basic necessities, while some of the wealthiest people on our planet have more money than they can ever reasonably expect to spend," he said in a statement. "There are close to 2 million people in the United States who received free heating assistance, thanks to President Chavez's leadership. Our prayers go out to President Chavez's family, the people of Venezuela, and all who were warmed by his generosity."
Human Rights Watch criticized Chavez's 1999-2013 presidency, saying it was "characterized by a dramatic concentration of power and open disregard for basic human rights guarantees."
The rights group said Chavez enacted a constitution "with ample human rights protections in 1999" but began to amass and centralize power after surviving a coup d'etat in 2002. He grabbed control of the Supreme Court and limited the ability of journalists to report freely, it said.
"By his second full term in office, the concentration of power and erosion of human rights protections had given the government free rein to intimidate, censor, and prosecute Venezuelans who criticized the president or thwarted his political agenda," HRW said.
But Sean Penn mourned Chavez's death. "Today the United States lost a friend it never knew it had," the actor and activist said in a statement. "And poor people around the world lost a champion. I lost a friend I was blessed to have."
CNN's John Zarrella contributed to this report from Doral, Florida