New Samsung Galaxy phone might be controlled by your eyes
STORY HIGHLIGHTS
Report: Samsung Galaxy S IV can be controlled with your eyes
The company has filed for a patent for an "eye scroll" feature
It would scroll down when a user's eyes reach the bottom of the screen
Samsung is expected to unveil the new phone on March 14
(CNN) -- Samsung's next Galaxy smartphone might be controlled by nothing more than the user's eyes, according to a new report in advance of its March 14 unveiling.
"Eye scrolling" will do things like scroll down a page of text when the user's eyes have reached the bottom of the screen, according to a New York Times report.
Quoting an unnamed Samsung employee who has used the phone, the Times said the Samsung Galaxy S IV, the next generation in its popular Galaxy S line, will be more heavily geared toward new software than a physical reboot of the Android-based device.
The Korean company has for all practical purposes announced the Galaxy S IV will be unveiled at a New York City event on March 14.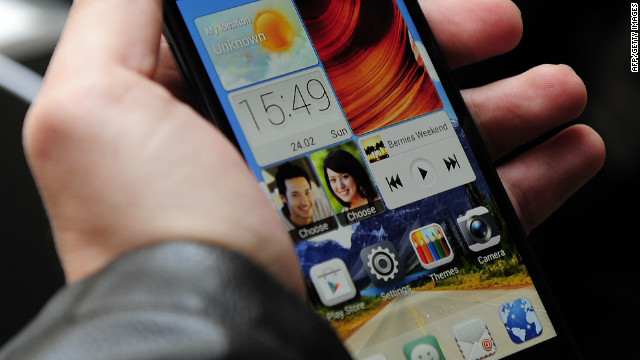 Chinese manufacturer Huawei's flagship Ascend P2 smartphone can be operated by users wearing gloves. It's just one of the innovations on display at year's Mobile World Congress -- a showcase of gadgets and gizmos that will allow us to wave goodbye to dying batteries, water damage and a whole range of perilous situations that dare to threaten the lives of our beloved mobile phones.
Fujitsu's Generation walking stick features GPS technology to track and monitor users
YotaPhone features both a color touch screen and a screen using low-power monochome e-ink
Sensirion's tiny temperature and humidity sensors will put a weather station in the palm of your hand.
Spheron's robotic balls, which can be controlled by Bluetooth-enabled mobile devices, were a hit at the Mobile World Congress
In the absence of any new phones, HTC offered acrobatic Parkour displays.
Sony's Xperia Tablet Z is waterproof, making it ideal for using in the bath or outdoors in bad weather.
The new Qualcomm Snapdragon processor comes with the ability to replicate a 7.1 surround sound speaker system via your mobile -- even through a pair of standard headphones.
Paddle is a shopping system that tries to make shopping online easier and safer. The idea is that e-commerce sites add a "buy with Paddle" button at the checkout, simplifying the payment process.
Nokia's 105 is a no-frills phone that just makes calls but boasts a 35-day battery life on standby. Sometimes it works just to keep things simple.
Nvidia has been showing off real-time High Dynamic Range photography capabilities that automatically adjust a picture for light and dark areas on the fly.
Ford has teamed up with Spotify to bring the music-streaming service to its Ford Sync AppLink cars in Europe. It's Ford SYNC AppLink allows drivers to control smartphone apps from the driver's seat, using voice control.
FonePad, Phablet, call it what you will -- the phone-tablet hybrid is the next step in the evolution of mobile technology.
French start-up Wysips has developed a transparent film (costing just over one dollar to make) that could bring an end to the dreaded dead-battery message forever. A photovoltaic display will let you charge your phone in the sun or even indoors via ambient light.
Chinese tech giant Huawei exhibits its water-resistant Ascend D2 smartphone in a fishbowl at their stand at the Mobile World Congress.
Nokia's wireless charging device is a pillow for your phone to rest on so that "it will wake refreshed and recharged". It is co-branded with Fatboy designer furniture and comes in a range of colors.
LG introduced the world's smallest wireless charger at the show -- just 6.9cm in diameter.
There's no need to worry about somebody sneakily reading your private messages ever again. Fujitsu's new flagship smartphone, the Arrows V F-04E, has "biometric security", which requires your fingerprint to unlock the phone.
The 'phablet' seems to be MWC 2013's must-have item. Samsung's Galaxy Note 8.0 is an eight inch tablet with phone capabilities.
Asus' phablet is the PadFone Infinity: A five inch smartphone that, once slotted into a dock, becomes a 10.1 inch tablet.
The Olloclip is the iPhone photographer's dream gadget: A quick-connect lens for the iPhone and iPod touch that includes fisheye, wide-angle and macro lenses in one.
A flamenco dancer performs for visitors at the Mobile World Congress to demonstrate the imaging capabilities of Intel's latest smartphone design.
Two men test a new Samsung 3D device during the first day of the Mobile World Congress.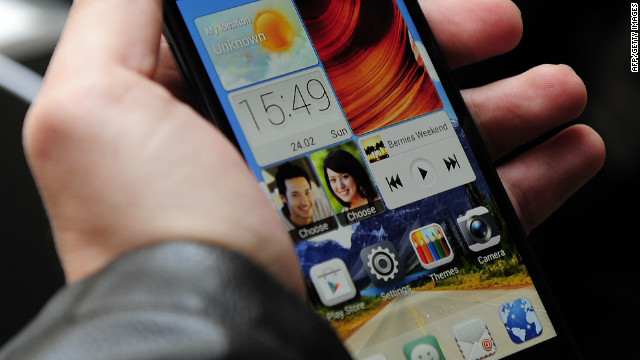 New gadgets at the Mobile World Congress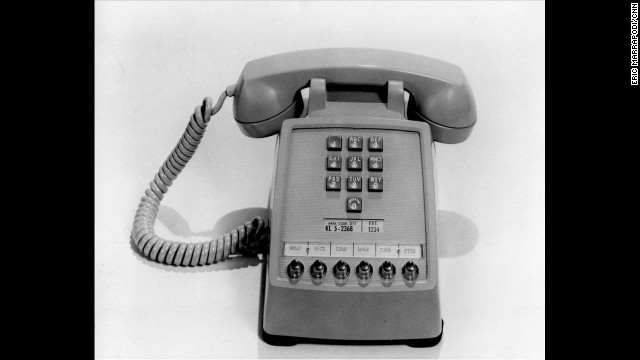 Fifty years ago, the first push-button telephone was introduced. The electronic system featured Touch-Tone dialing and was offered to Bell customers on November 18, 1963. Click through the gallery to see a visual history of the telephone.
Alexander Graham Bell invented the liquid transmitter, the first practical means of sending voice calls, in 1876.
This 1924 phone booth in London features a wall-mounted phone with separate mouthpiece and receiver.
The telephone has come a long way from the 1930s, when rotary-dial models like this one were popular.
This rotary phone in Reading, Pennsylvania, could be used to summon police, ambulance or fire services at a moment's notice in the 1930s.
Rotary-dial telephones with separate mouthpieces and receivers were commonly referred to as "candlestick" phones. This model from the mid-1930s features the rotary dial in the shaft of the telephone.
This 1950s rotary phone features an attached mouthpiece and receiver.
Here English troops call their loved ones in 1956 after being told to prepare for duty in the Suez Canal Zone. Payphones were common until cell phones became popular and affordable.
Some of the first push-button phones are pictured here in 1971.
French skier Franck Piccard talks on his mobile phone after an event at the 1988 Winter Olympic Games in Calgary, Alberta, Canada.
This mobile phone was marketed by Racal-Vodac Limited in 1997 to serve either as a portable unit or as a mobile unit installed in a car. The unit was sold with a battery charger and extension antenna for areas with poor reception.
Cell phone manufacturers made great strides between 1997 and 2004. The Palm Treo 600 smartphone, pictured here in 2004, integrated telephone with e-mail and Internet-browsing capabilities.
Motorola's MPx wireless device, released in the second half of 2004, took the smartphone to a new level with Wi-Fi capabilities and a fully functional keyboard.
The first-generation Apple iPhone, released on June 29, 2007, had people lining up for days to buy one. A huge advancement in phones at the time, it incorporated a touchscreen, apps, e-mail, Web surfing and a host of other features.
The BlackBerry Bold 9930, shown here, was one of many BlackBerry devices so popular in the early 2000s they were dubbed "CrackBerries." Popular for business applications because of their full keyboards and advanced e-mail capabilities, most BlackBerrys have since been eclipsed by flashier smartphones.
The iPhone 4S, released in 2011, expanded on the iPhone's innovations with its high-resolution screen and Siri, Apple's voice-activated virtual "assistant."
The original Motorola Droid was the thinnest of its kind at its 2011 release. Motorola's Droid Razr Maxx, seen here on display at the 2012 International Consumer Electronics Show in Las Vegas, has a longer battery life than previous models.
Last year, Samsung's Galaxy S III overtook Apple's iPhone 4S to become the world's best-selling smartphone for the third quarter, according to research by Strategy Analytics.
The iPhone 5 looks similar to previous models but has a larger screen and is lighter and thinner than the iPhone 4S. The phone also comes with a faster processor called the Apple A6, which connects to mobile carriers with a 4G LTE connection.
BlackBerry CEO Thorsten Heins displays two new Blackberry 10 smartphones January 30 in New York. The Z10, left, features an all-touch keyboard. The Q10 features a classic BlackBerry tactile keyboard.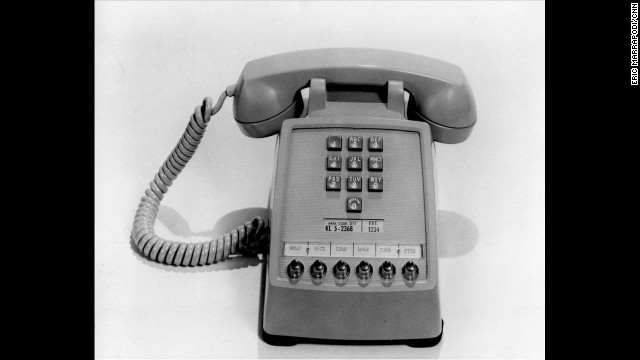 Photos: A visual history of the telephone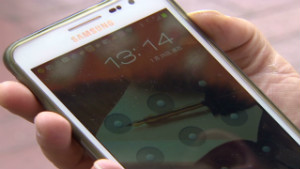 Samsung takes a bite out of Apple
The Times interviewed Kevin Packingham, Samsung's chief product officer. While he declined to talk about software upgrades, he said hardware upgrades will be significant. "It's an amazing phone," he said.
Reports of an eye-control innovation make sense. Samsung has filed in Europe to trademark a technology called "Eye Scroll" and another named "Eye Pause."
Samsung described "Eye Scroll" as "computer application software having a feature of sensing eye movements and scrolling displays of mobile devices, namely, mobile phones, smartphones and tablet computers according to eye movements; digital cameras; mobile telephones; smartphones; tablet computers."
The Samsung Galaxy S III already has a similar feature called "Smart Stay." It uses the phone's front-facing camera to register whether the user is looking at it and keeps the display screen from going into sleep mode until the user looks away.
Samsung's Galaxy S line has emerged as the strongest challenger to Apple's industry-leading iPhone.
The Galaxy S III shipped 18 million units worldwide from July to September, compared with 16.2 million for the iPhone 4S, according to research by Strategy Analytics.
With the release of the iPhone 5, Apple retook the lead in the final months of 2012, selling an estimated 27 million. But the S III hung in there with another 15 million units sold.