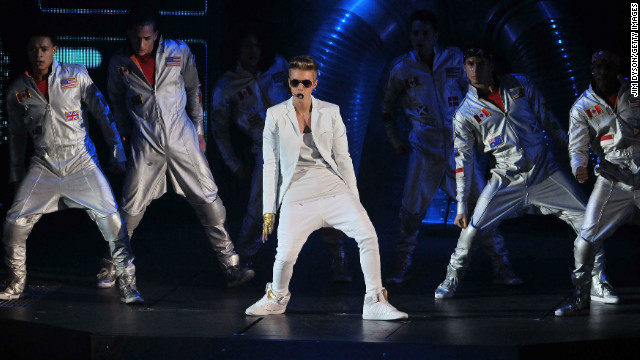 Justin Bieber apologized to fans via
Twitter
after taking the stage at London's O2 Arena later than he planned on Monday night. "I was 40 min late to stage. there is no excuse for that and I apologize for anyone we upset. However it was great show and Im proud of that," the singer wrote, noting that he wasn't two hours late, as some media outlets, including
CNN
, reported. But Bieber, who chalked the delayed entrance up to
"3 opening acts" and "technical issues,"
isn't the tardiest artist by a long shot.
Chicago Tribune
, "If you expect them to go onstage on time, you're going to be disappointed." And rather than cutting his shows too short, Axl Rose has been known to break concert curfews. According to
the UK's Telegraph
, he was fined for playing past 11 p.m. at the O2 Arena in October 2010.
Guns N' Roses has such a reputation for being late to the stage that, in 2011, the general manager of Rosemont, Illinois', Allstate Arena told the
There's a good chance Madonna misplaced her watch during her MDNA tour in 2012. She took the stage late in
waiting 33 years
for the Quadrophenia Tour to make its way to Rhode Island.
If Bieber fans were enraged after waiting for 40 minutes (or two hours, depending on whom you ask), imagine how fans of the Who felt after
In 2012, Rihanna's tardiness during her 777 tour caused some media outlets to joke that, contrary to popular belief, she's not the "only girl in the world." The singer showed up late multiple times during the seven-show run.
wetpaint.com
. She also
reportedly
showed up late to play a July festival in Scotland.
Nicki Minaj is known for being a bit of a diva, but fans were still angry when she showed up nearly three hours late for her Christmas concert in New York, according to
Performers who've been late to the stage
Performers who've been late to the stage
Performers who've been late to the stage
Tardy to the party: Performers who've been late to the stage
Performers who've been late to the stage
Performers who've been late to the stage
Performers who've been late to the stage
Performers who've been late to the stage