STORY HIGHLIGHTS
LZ Granderson: 10 years ago, Dixie Chicks' comments on Iraq war drew denunciations
He says history vindicated them. Many decry Iraq war; weapons of mass destruction not found
He says many still denounce them, as though they were responsible for war mistake
Editor's note: LZ Granderson, who writes a weekly column for CNN.com, was named journalist of the year by the National Lesbian and Gay Journalists Association and is a 2011 Online Journalism Award finalist for commentary. He is a senior writer and columnist for ESPN the Magazine and ESPN.com. Follow him on Twitter: @locs_n_laughs.
(CNN) -- Two days past 18
He was waiting for the bus in his Army green ...
Those are the first two lines from one of the most powerful songs I have ever heard, "Traveling Soldier." If you don't know it, I encourage you to look it up -- unless you're one of those folks who still hates the group that made the song popular, in which case, its beauty might be lost on you.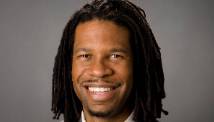 LZ Granderson
It was 10 years ago this week -- as the country was barreling toward war with Iraq -- that Natalie Maines, lead singer of the Dixie Chicks, stood in front of a packed house in London and said:
"Just so you know, we're on the good side with y'all. We do not want this war, this violence. And we're ashamed the president of the United States is from Texas."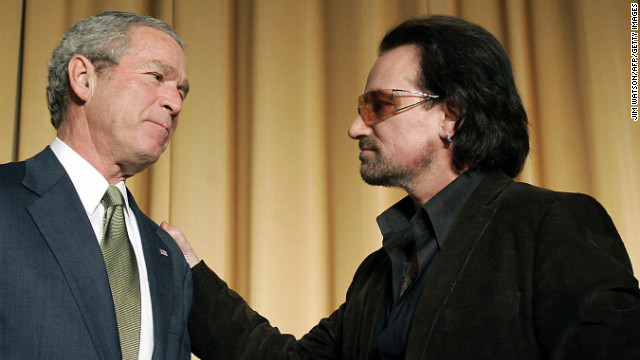 U2 frontman Bono, who was named the most politically effective celebrity of all time by the National Journal, has campaigned for third-world debt relief since 1999. In March 2002, he appeared next to President Bush for the unveiling of a $5 billion aid package for the world's poorest countries. The two also attended the National Prayer Breakfast in Washington in February 2006, seen here.
Actress Emma Watson, a U.N. goodwill ambassador, joins U.N. Secretary-General Ban Ki-moon for the launch of the HeForShe campaign Saturday, September 20, at the United Nations. Watson's speech on gender equality has gone viral. Here are some other celebrities' forays into international diplomacy:
After filming a movie in Cambodia, actress Angelina Jolie began to visit refugee camps around the world. In 2001, she was named a goodwill ambassador by the U.N. Refugee Agency. Since then, Jolie has visited refugee camps in more than 30 countries, and she was appointed special envoy of the U.N. Refugee Agency in April 2012.
After a February visit to North Korea that included a basketball outing with Kim Jong Un, former NBA star Dennis Rodman called the country's supreme leader a "friend for life." In May, Rodman asked Kim via Twitter to release U.S. citizen Kenneth Bae, who was sentenced to 15 years of hard labor for unspecified "hostile acts" against North Korea. Rodman's relationship with Kim is certainly unprecedented, but it's not the first time a celebrity has tried to use the limelight to advocate causes or steer policy.
In March 2003, in the days leading up to the U.S. invasion of Iraq, Dixie Chicks frontwoman Natalie Maines said to a London audience: "Just so you know, we're on the good side with y'all. We do not want this war, this violence. And we're ashamed the president of the United States is from Texas." That comment led to nationwide backlash, and the Texas-based band has not had a song in the top 30 since. In this photograph, the Dixie Chicks perform live on stage at the Point Theatre in Dublin, Ireland, on September 2003.
While in self-induced exile in Europe, legendary aviator Charles Lindbergh became an advocate for the prevention of World War II. In 1938, Lindbergh penned a secret memo to the British, stating that military response to Adolf Hitler's violation of the Munich Agreement would be "suicide." In 1941, he spoke on behalf of the isolationist America First Committee in Des Moines, Iowa, claiming that if the U.S. were to engage in war against Germany, victory would not be likely. Here, Lindbergh testifies before the House Foreign Affairs Committee in January 1941.
In 1972, actress Jane Fonda visited North Vietnam in protest of the Vietnam War. Fonda's visit to Hanoi was marked by a number of controversial events, including a photo showing Fonda seated on an anti-aircraft battery used against U.S. forces. Fonda later apologized for the photo. In this photo, Fonda tours destruction in Hanoi on July 25, 1972.
After her career as child star, Shirley Temple Black was appointed ambassador to the United Nations by President Richard Nixon, ambassador to Ghana by President Gerald Ford and ambassador to Czechoslovakia by President George H.W. Bush. Here, Temple Black, right, confers with her secretary, Ruth Underwood, in her embassy office in December 1989.
Geri Halliwell, also known as Ginger Spice in the British pop group the Spice Girls, became a representative for the U.N. Population Fund in 1999 and released the documentary "Geri's World Walkabout," which documented her travels with the U.N. In 2006, Halliwell traveled to Zambia to promote the prevention of HIV/AIDS and bring awareness to the steadily increasing rates of maternal death. Here, Halliwell speaks at a news conference in Washington in May 2008.
In 2006, singer Harry Belafonte appeared in Venezuela with then-President Hugo Chavez and made controversial statements about Bush: "No matter what the greatest tyrant in the world, the greatest terrorist in the world, George W. Bush says, we're here to tell you: Not hundreds, not thousands, but millions of the American people support your revolution." In this photo, Belafonte, center, speaks with residents of a low-income neighborhood in Caracas, Venezuela, before meeting Chavez in January 2005.
In 2002, a year before the Iraq war began, actor Sean Penn met with Iraqi Deputy Prime Minister Tariq Aziz and paid a visit to al-Mansour Children's Hospital in Baghdad. Aziz says Penn spoke very strongly against aggression against Iraq by U.S. forces. In 2007, Penn also visited Chavez, to whom he penned a letter criticizing Bush.
Actress Mia Farrow, a longtime advocate for child rights, traveled to Darfur in 2004 and 2006 to advocate for the freedom of Darfuri refugees. Farrow later wrote an opinion piece for the Wall Street Journal that is widely credited with heightening awareness about Darfur and eventually led to Sudan accepting a U.N. peacekeeping force.
In 2012, actor George Clooney was arrested for civil disobedience during a protest outside the Sudanese Embassy. Clooney, who appeared in the documentary "Darfur Now," has advocated vehemently for a resolution of the Darfur conflict.
Singer Bob Geldof, alongside fellow Irishman Bono, has been a prominent advocate for anti-poverty efforts in Africa. In 1984, he helped found the charity Band Aid to raise money for famine relief in Ethiopia. And he organized the Live Aid concert the following year.
In 2004, Oprah Winfrey documented her travels to South Africa, where she brought attention to young children who are affected by HIV/AIDS and living in poverty. Her trip brought in $7 million in donations from around the world. Three years later, Winfrey established the Oprah Winfrey Leadership Academy for Girls for students from disadvantaged backgrounds.
Actor Don Cheadle has been a prominent activist for the end of genocide in Darfur. Along with fellow actors Clooney and Brad Pitt, Cheadle helped start the Not On Our Watch Project, an organization focused on preventing mass atrocities. Cheadle was named U.N. Environment Program Goodwill Ambassador in 2010.
Actress Ashley Judd, a global ambassador for YouthAIDS, actively campaigns for awareness of international poverty. In 2010, Judd traveled to the Democratic Republic of Congo to raise awareness of how sexual violence is driven by conflict minerals in Congo. Here, Judd speaks in Mumbai, India, while raising awareness about AIDS in March 2007.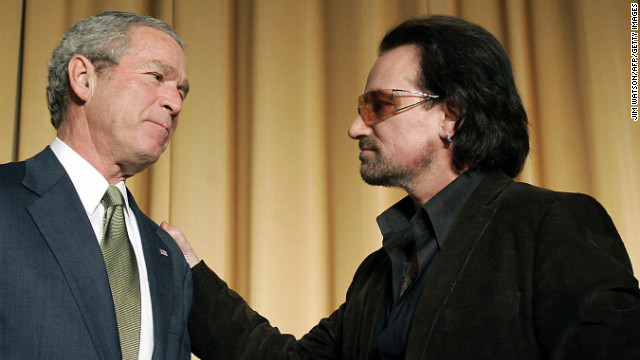 Photos: Celebrities' forays into diplomacy
It didn't matter that the evidence to invade Iraq was questionable or that Maines later apologized. The damage was done, and one of the most popular acts in the country became its most hated. Its music was banned from radio, CDs were trashed by bulldozers, and one band member's home was vandalized. Maines introduced "Soldier" with a call for peace, but she would soon find that the group needed metal detectors installed at entrances to shows on its stateside tour because of death threats.
It was a classic case of freedom of speech meeting the irrational repercussions of that speech. "Soldier" is not only their last No. 1, it's still their last single to chart in the top 30. Officially, they've been on hiatus since 2006, but Maines, who is planning on releasing a solo CD in May, recently said, "I just don't feel like it's the Dixie Chicks' time."
For anyone who appreciates great music, this admission should be vexing. Prior to Maines' 2003 comments, the group's previous two CDs had sold at least 10 million copies each, and they were singing the National Anthem at the Super Bowl. In two years, they had won eight Academy of Country Music Awards, including the male-dominated Entertainer of the Year category in 2000. But they didn't reach that level of popularity because of sexy outfits and Auto-Tuned vocals. They are immensely talented.
If anything, Maines and company should be viewed as prophets, not pariahs, considering that the weapons of mass destruction the Bush administration led the country to believe Saddam Hussein was housing were never found. Or that since 2006, the majority of Americans have felt the invasion was a mistake to begin with.
And yet, despite all that we now know, the Chicks remain ostracized in the world they came from, as if they were the ones who presented false information to the United Nations Security Council; as if they waged a war Tony Blair's right-hand man now says "cannot be justified"; as if the misguided attack were their fault.
Before the group was set to do an interview with Diane Sawyer in late April 2003 -- with hopes of stopping the public relations bleeding -- they questioned why they needed to grovel and beg for Bush's forgiveness. In a scene from the 2006 documentary "Dixie Chicks: Shut Up and Sing," their own PR rep explains, "he's got sky-high approval. The war couldn't be going better. By the time this interview airs ... the looting will be done; the rebuilding of Iraq will be started. ... Two weeks from now, it's going to be even a more positive situation."
Soon after, Bush delivered a victory speech on the deck of an aircraft carrier, underneath a banner that read "Mission Accomplished." The war wasn't declared over until eight years later.
And somehow, folks remain mad at the Chicks.
Last week, in marking the 10-year anniversary of Maines' comments, Country Music Television asked fans whether the Chicks should be forgiven, and more than a third of responders said "no."
Which probably explains why their next performances are in Canada.
Follow @CNNOpinion on Twitter.
Join us at Facebook/CNNOpinion.
The opinions expressed in this commentary are solely those of LZ Granderson.