Iraqi official: 48 Syrians killed in attack in western Iraq
updated 5:34 AM EST, Tue March 5, 2013
STORY HIGHLIGHTS
Most of the 48 Syrians were soldiers; nine Iraqi soldiers were also killed
Their convoy was ambushed by gunmen using roadside bombs and machine guns
The violence raises concerns that Syria's civil war could spill over into Iraq
Baghdad (CNN) -- Some 48 Syrians, most of them soldiers, and nine Iraqi soldiers were killed Monday in an attack near the western Iraqi town of Ar Rutbah, an official said, raising concerns that Syria's civil war could spill over into Iraq.
The Syrian soldiers' convoy was ambushed by gunmen using roadside bombs and machine guns.
"From the beginning, we have warned that some militant groups want to move the conflict in Syria to Iraq," said Ali al-Mussawi, adviser to Iraqi Prime Minister Nuri al-Maliki.
"Militant groups are very active on the border areas between Iraq and Syria. Some of these groups affiliate with al Qaeda in Iraq," he added.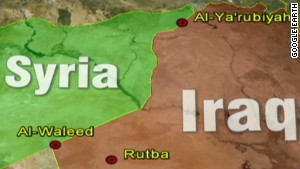 Syrian soldiers reported killed in Iraq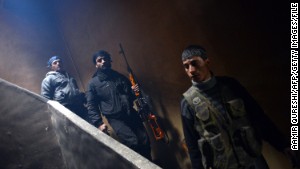 U.S. promises aid to Syrian rebels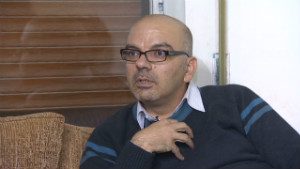 Inside Syria's detention centers
Al-Mussawi said that many of the Syrians killed in the ambush had earlier received medical treatment in Iraq. They were wounded during a battle at the Yaarabiya-Rabia border crossing a few days ago. The point is called Rabia in Iraq; Yaarabiya in Syria.
According to security officials in Ramadi, Iraq, several Syrians were wounded in that battle between the Free Syrian Army and Syrian soldiers.
Dozens of Syrian soldiers and officials took refuge in Iraq by surrendering to that country's army on Friday after rebels took over the Yaarabiya post, the officials said.
They added that the convoy had been headed from Rabia to the al-Waleed border crossing in Iraq's Anbar province when it was attacked.
The United Nations has estimated that about 70,000 people have been killed in Syria's civil war, which began roughly two years ago.
Just on Monday, at least 149 people were killed, according to the Local Coordination Committees of Syria, an opposition group. The deaths include 40 in and around Damascus, 35 in Raqqa province and 25 in Aleppo.

Part of complete coverage on
Syrian crisis

There's more to the Syrian civil war than rebels versus the regime. Syria's neighbors in the Middle East also have a stake in the conflict.
updated 5:13 PM EDT, Thu May 9, 2013

Israel is taking steps to defend itself against threatened retaliation from Syria after claims it launched airstrikes on Damascus.
updated 12:36 PM EDT, Tue May 14, 2013

Domestic political will is a necessary for intervention and polls show Americans are reluctant to support military interventions in Syria.
updated 1:38 PM EDT, Mon May 6, 2013

Syria's claim that Israel launched airstrikes presents a dangerous escalation of Israel's involvement in Syria's war, writes Fawaz Gerges.
updated 5:41 AM EDT, Tue May 7, 2013

The U.N. says a Syrian rebel group may have used a nerve agent -- it would not be the first time the al-Qaeda-affiliated group used chemical weapons.
updated 2:00 PM EDT, Wed May 1, 2013

Having willfully avoided direct military involvement in Syria for the past two years, Obama may not be so lucky anymore, writes Aaron David Miller.
updated 5:44 AM EDT, Fri May 10, 2013

What began as a protest movement became an uprising that metastasized into a war, a vicious whirlpool dragging a whole region toward it.

A devout man prays. A fighter weeps over a slain comrade. These are a few faces of the Syrian conflict captured by photographer LeeHarper.
updated 4:59 AM EDT, Thu April 25, 2013

A group of pro-Syrian regime hackers that has targeted major news organizations but its cyber attacks can have real-life impact.
updated 6:24 PM EST, Thu March 7, 2013

The role of women in Syrian uprising is little reported, but many have played a key part as activists and medics since the bloodshed began.

Are you in Syria? Share your stories, videos and photos with the world on CNN iReport, but please stay safe.