Queen Elizabeth II released from hospital
updated 11:49 AM EST, Mon March 4, 2013
STORY HIGHLIGHTS
NEW: Britain's Queen Elizabeth II is now out of King Edward VII's Hospital
Gastroenteritis is an inflammation of the lining of the stomach and intestines
The illness can cause dehydration and kidney problems in the elderly, a doctor says
Elizabeth II was hospitalized "as a precautionary measure," Buckingham Palace says
(CNN) -- Britain's Queen Elizabeth II was discharged Monday from a London hospital, where she was treated for symptoms of gastroenteritis.
The 86-year-old monarch had been taken to King Edward VII's Hospital on Sunday morning "as a precautionary measure," a Buckingham Palace spokesman said, speaking with customary anonymity.
The queen smiled as she left the hospital Monday.
It was the first time the queen had been hospitalized in a decade. Her official engagements for the week were postponed or canceled Sunday.
Elizabeth had already canceled a planned trip to Wales on Saturday after showing symptoms of the illness, Buckingham Palace said.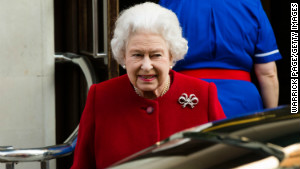 Should British princes do more?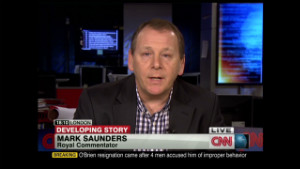 Mark Saunders discusses Queen's illness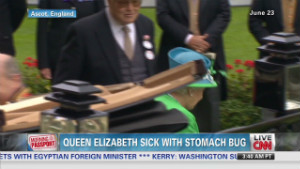 Why Queen Elizabeth will never abdicate
Five things to know about gastroenteritis
Gastroenteritis is an inflammation of the lining of the stomach and intestines. Though commonly known as "stomach flu," it is not caused by the influenza virus, according to the U.S. Centers for Disease Control and Prevention.
The illness is usually caused by a virus and passed from person to person, said Dr. Corey Siegel, a gastroenterologist and professor at Dartmouth College's Geisel School of Medicine. But it can also be caused by bacteria, either foodborne or personally transmitted, he said.
The bug usually has to run its course. But doctors often give hospitalized elderly patients intravenous fluids to prevent dehydration, which can lead to kidney problems, Siegel said.
Queen's illness: Concern behind the castle walls
Elizabeth celebrated her 60th anniversary on the throne in 2012 and turns 87 in April. She was last hospitalized in 2003 for knee surgery.
Her husband, the 92-year-old Prince Philip, was hospitalized three times between December 2011 and August 2012 -- once for treatment of a blocked coronary artery and twice for a bladder infection.
Get the latest news from CNN.com
CNN's Richard Quest, Elizabeth Cohen, Per Nyberg and Max Foster contributed to this report.

Part of complete coverage on
updated 11:45 AM EDT, Fri May 24, 2013

When the former teacher Ingrid Loyau-Kennett saw the bloodied man wielding a knife, she tried to engage him in a conversation to distract him.
updated 6:53 AM EDT, Fri May 24, 2013

A man dressed up as a woman to expose sexual harassment in Egypt -- and says he can't imagine how women put up with the daily abuse.
updated 6:29 AM EDT, Fri May 24, 2013

The breakdown of the education system, growing youth unemployment and insecurity swelled Boko Haram, 'Funmi Olonisakin writes.
updated 8:51 AM EDT, Fri May 24, 2013

"It's always the one we feared, the lone wolf that can come from nowhere and not be on our radar," said ex-London police chief John Yates.
updated 2:13 AM EDT, Fri May 24, 2013

Christiane Amanpour and Nic Robertson give their insight on the brutal murder of a man in broad daylight. What's behind the horrific attack?
updated 6:54 AM EDT, Fri May 24, 2013

In India, a child goes missing every eight minutes. What is behind this devastating statistic felt most by the parents left searching?

Learn about one woman's tireless battle against sex slavery in the Philippines, with Manny Pacquiao in her corner. Watch the full version here.
updated 6:43 AM EDT, Thu May 23, 2013

Ai Weiwei, the controversial Chinese artist-activist, has released a music single and video inspired by his harrowing detention by the government.
updated 7:56 AM EDT, Fri May 24, 2013

Meet Ugandan Ruganzu Bruno who uses recycled materials to create functional pieces of art, raising environmental awareness through his art.
updated 8:27 AM EDT, Fri May 24, 2013

The Germans are coming, this time in the form of the first all-German Champions League football final -- and this time, London cannot wait.
updated 7:06 AM EDT, Thu May 23, 2013

Bayern Munich's super fan Boris Becker takes a tour of London ahead of the 2013 Champions League final. What are his favorite spots?
updated 10:15 AM EDT, Thu May 23, 2013

Imagine if you could paint a working light switch directly onto your wall, without any need for sockets, cables or wiring. Well, now you can.