Queen Elizabeth II released from hospital
updated 11:49 AM EST, Mon March 4, 2013
STORY HIGHLIGHTS
NEW: Britain's Queen Elizabeth II is now out of King Edward VII's Hospital
Gastroenteritis is an inflammation of the lining of the stomach and intestines
The illness can cause dehydration and kidney problems in the elderly, a doctor says
Elizabeth II was hospitalized "as a precautionary measure," Buckingham Palace says
(CNN) -- Britain's Queen Elizabeth II was discharged Monday from a London hospital, where she was treated for symptoms of gastroenteritis.
The 86-year-old monarch had been taken to King Edward VII's Hospital on Sunday morning "as a precautionary measure," a Buckingham Palace spokesman said, speaking with customary anonymity.
The queen smiled as she left the hospital Monday.
It was the first time the queen had been hospitalized in a decade. Her official engagements for the week were postponed or canceled Sunday.
Elizabeth had already canceled a planned trip to Wales on Saturday after showing symptoms of the illness, Buckingham Palace said.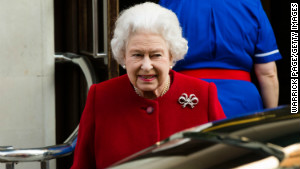 Should British princes do more?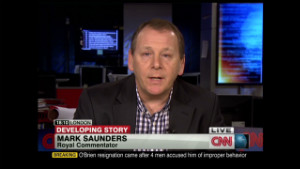 Mark Saunders discusses Queen's illness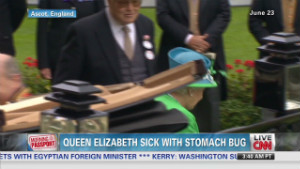 Why Queen Elizabeth will never abdicate
Five things to know about gastroenteritis
Gastroenteritis is an inflammation of the lining of the stomach and intestines. Though commonly known as "stomach flu," it is not caused by the influenza virus, according to the U.S. Centers for Disease Control and Prevention.
The illness is usually caused by a virus and passed from person to person, said Dr. Corey Siegel, a gastroenterologist and professor at Dartmouth College's Geisel School of Medicine. But it can also be caused by bacteria, either foodborne or personally transmitted, he said.
The bug usually has to run its course. But doctors often give hospitalized elderly patients intravenous fluids to prevent dehydration, which can lead to kidney problems, Siegel said.
Queen's illness: Concern behind the castle walls
Elizabeth celebrated her 60th anniversary on the throne in 2012 and turns 87 in April. She was last hospitalized in 2003 for knee surgery.
Her husband, the 92-year-old Prince Philip, was hospitalized three times between December 2011 and August 2012 -- once for treatment of a blocked coronary artery and twice for a bladder infection.
Get the latest news from CNN.com
CNN's Richard Quest, Elizabeth Cohen, Per Nyberg and Max Foster contributed to this report.

Part of complete coverage on
updated 10:27 PM EDT, Wed May 22, 2013

The nature of the London attack is not unprecedented, says one terror analyst. There's a track record of Islamist extremists targeting soldiers in the West.
updated 6:17 PM EDT, Tue May 21, 2013

The image of the Gaza boy and his father under a hail of Israeli bullets became a powerful symbol. Now Israel insists its military is not to blame.
updated 2:31 PM EDT, Wed May 22, 2013

The tornado that ripped through Oklahoma saw teachers rise to be surrogate parents, protectors and heroes, according to LZ Granderson.
updated 1:14 PM EDT, Tue May 21, 2013

Did you know that hurricanes can also produce tornadoes? Read facts you didn't know about destructive twisters.
updated 9:01 AM EDT, Wed May 22, 2013

The petite frame of 19-year-old Zoe Smith should fool nobody -- she's a weightlifting warrior who has fought stereotypes and broken a British record.
updated 12:41 AM EDT, Wed May 22, 2013

Prime Minister Shinzo Abe calls women "Japan's most underutilized resource," yet traditions have been hard to overcome.
updated 10:55 AM EDT, Wed May 22, 2013

According to the United Nations' mission in Iraq, 712 Iraqis were violently killed in April 2013. This is both normal and extraordinary.
updated 7:21 AM EDT, Wed May 22, 2013

Myanmar's Muslims have generally coexisted with the Buddhist majority. But ethnic fault lines are exposed as it emerges from military rule.
updated 10:21 PM EDT, Wed May 22, 2013

A quarter century after his death, American pop artist Andy Warhol has popped up in China again after his first and only trip to the country in 1982.
updated 10:39 AM EDT, Wed May 22, 2013

Revolutionary bionic exoskeletons like the metal suit worn by comic book hero Tony Stark may be closer than you think.